My sincere apologies to author Ann Brashares for paraphrasing the title of her best selling book but I needed a catchy title for this effort. I'll be using it until I hear otherwise from her attorney.
Occasionally I have a book that needs to find a new reader and a new (but temporary) home.
But first, let's talk about your reading space, that location where you curl up and get comfortable for a long reading session. Mostly I read in bed in the evening. If I'm going to take time out from my day to read I mosey over under the locust tree where I have a chair hidden under the leafy bower.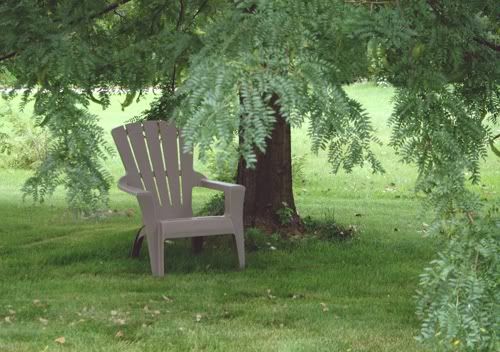 I have forbad The Farmer from whacking off the low hanging branches. It makes mowing the grass underneath an interesting problem, but I manage. The locust tree has lacy leaf formations and that means the light is not blocked, but filtered. It's just perfect for reading. There's a road behind this scene but it has no outlet - one way in, one way out. Not much traffic to break my concentration.
Where do you read? Do you have a special spot?
On to the Sisterhood of the Traveling Book. I've just finished a wonderful book that one of the neighbors brought to our Tuesday night Mah Jongg gathering. I don't talk about that group much because it would need to look up the spelling each and every time. Anyway, she brought two books and laid them on the buffet, inviting whoever was interested to take them to read and pass along.
I grabbed this one, "Three Cups of Tea" by Greg Mortenson and David Oliver Relin. This book gets a big thumbs up from me. Have you read it? I can't imagine how this one missed my radar for so long.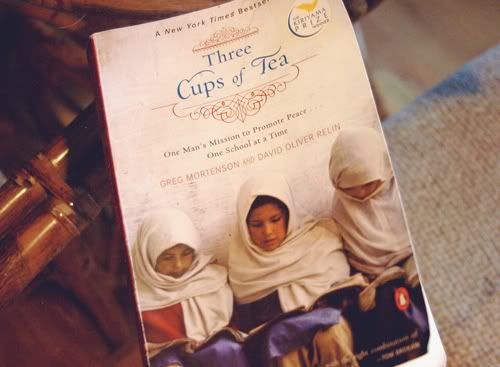 It's about a mountain climber who arrived in Pakistan to climb K2. He almost died in the process and while recuperating in a very poor and remote village he had an awakening which set him on a course and gave his life purpose. This book is a real education in the realities of living in such a beautiful but remote spot and it informs the reader about the cultures. It's simply fascinating and uplifting. You're going to want to help Greg with his vision by the time you've finished reading.
As per my neighbors instructions I'm going to be passing this book along to one of my readers. Please leave me a comment. I'll be drawing a name at our Monday Morning Staff Meeting.
My only requirement is that after you've read the book, pass it along to someone else. Thanks for participating.