How are you feeling this morning? It's Saturday. Does that mean you have lots of errands to run? Perhaps you've planned to do the dusting and vacuuming. Well, forget all those plans. You're going to accompany me to the barn sale at nearby Nada Farm.
This farm is home to Anne Marie and her family. It's very rural and surrounded by thousands of acres of corn and soybeans.
What do you think of when you hear the phrase barn sale? I bet it's not what we're going to see today.
Everybody hop in the car, it's only a 25 minute ride from here.
The sale is being held in the pole barn because the big traditional barn burned down a couple of years ago. Look how Anne Marie has created an entance to the sale.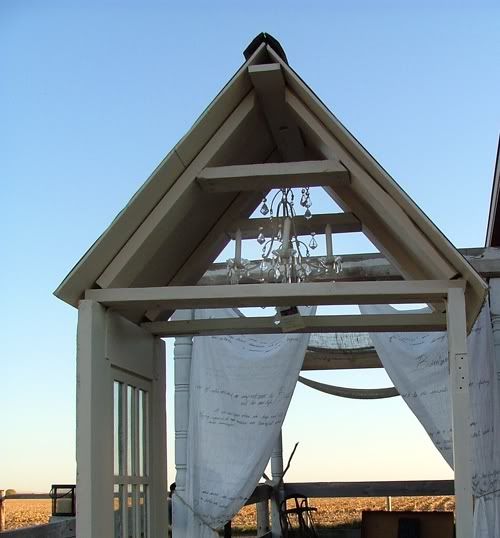 It appears that she has constructed this from doors and other repurposed lumber. How clever.
Through the curtains we go....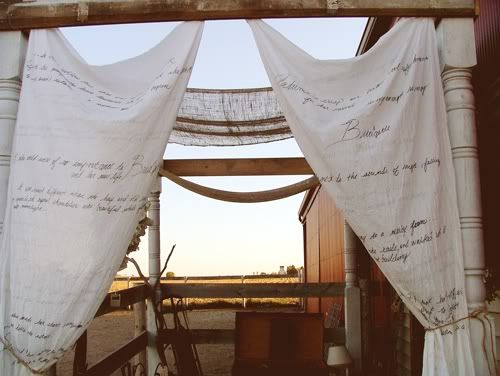 When you peek inside the door you get a glimpse of the treasures that await us inside.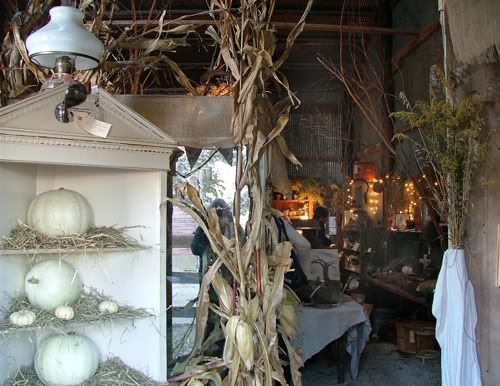 This is the Champagne and Ball Gown Night. In addition to champagne, Anne Marie has prepared some cheesy pumpkin soup and the clever chalkboard says to help ourselves. The soup is served in a pumpkin, of course!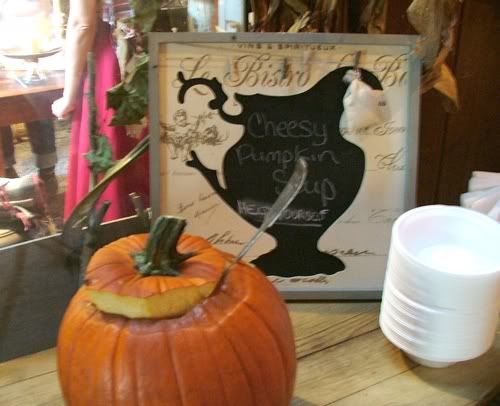 Let the treasure hunt begin.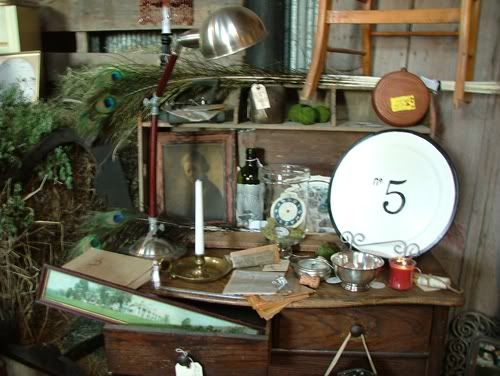 Shop till you drop.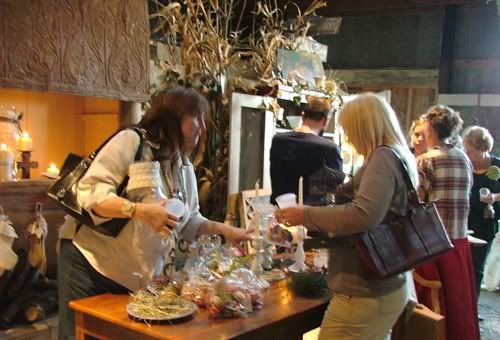 Oh look, there's Jen Rizzo.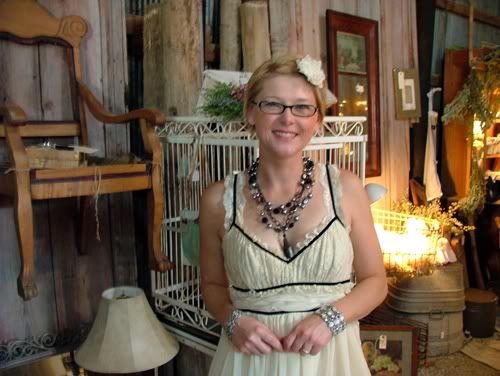 She helped Anne Marie put this sale together. I can assure you this was a ton of work and yet Jen doesn't look frazzled at all.
Did you know I love old typewriters? I do.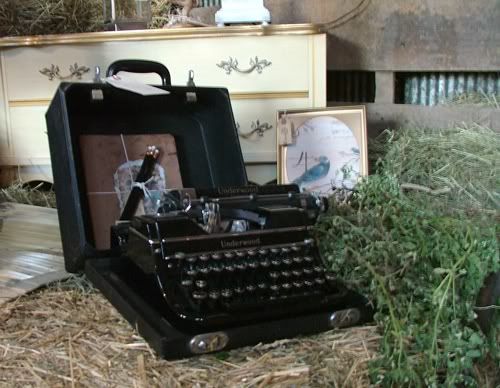 There are several in the barn but I already have TWO at home! Please talk me out of this.
They've created a fitting room in the back corner where you can try on some of Jen's creations. She repurposes and embellishes clothing.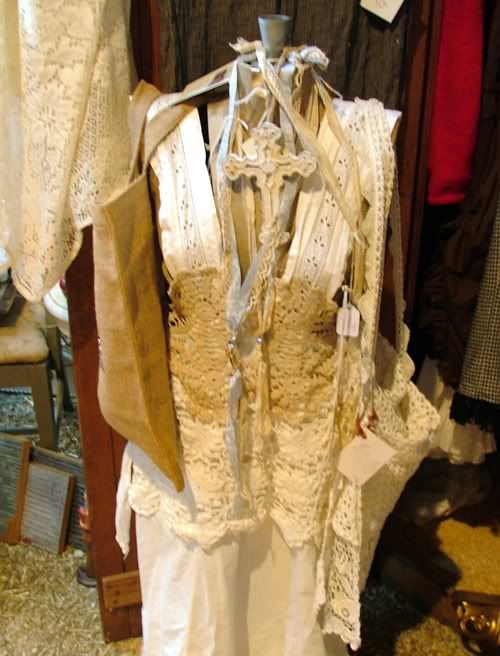 These handmade soaps smell so wonderful. And they look great in that galvanized tub.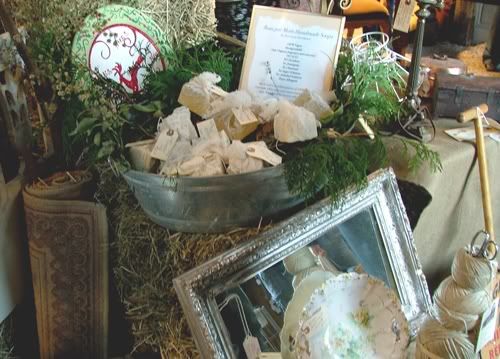 These ladies are experts at display. Look at this old sink.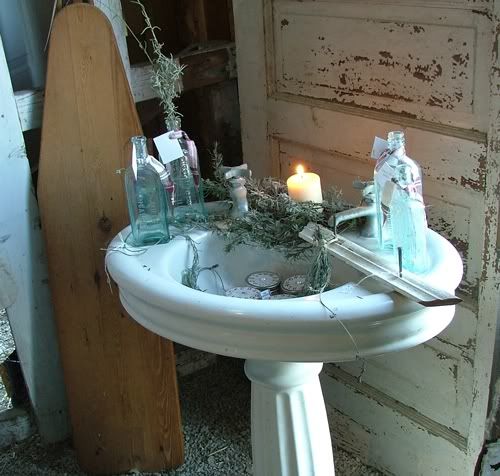 What's inside? Oh look, they're jar candles with clock faces on the lids. How clever.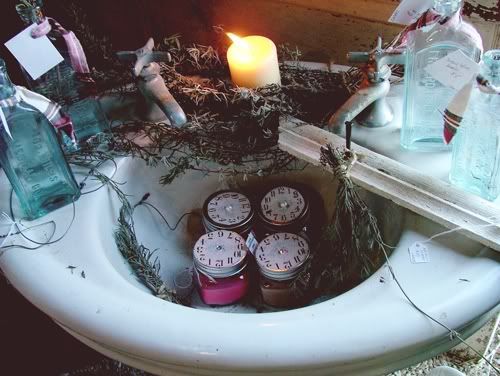 Here I am with our gracious hostess Anne Marie.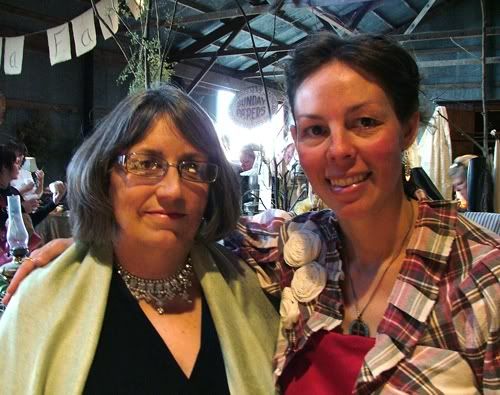 I can tell it's time for me to get a haircut...... and a facelift.
Oh, oh, oh..... LOVE the white chair. What do you think, should I get it?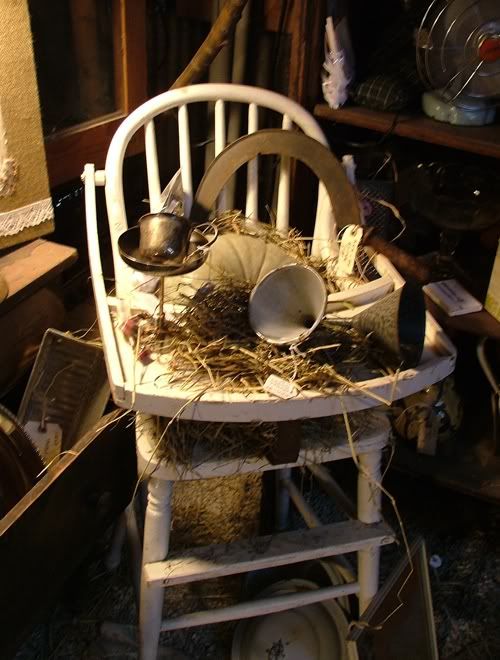 No, I guess not. I don't have any grandchildren yet.
What do you think is in this old shopping cart?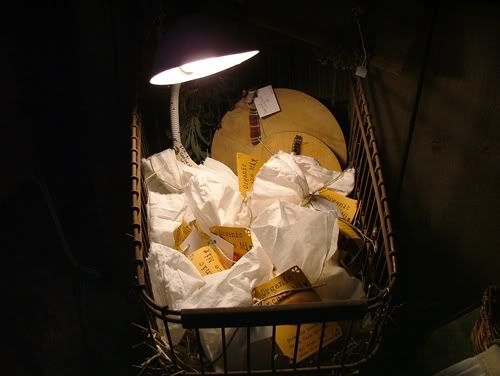 It's packages of Anne Marie's organic pancake mix. You KNOW what I'm thinking when I look at this vignette -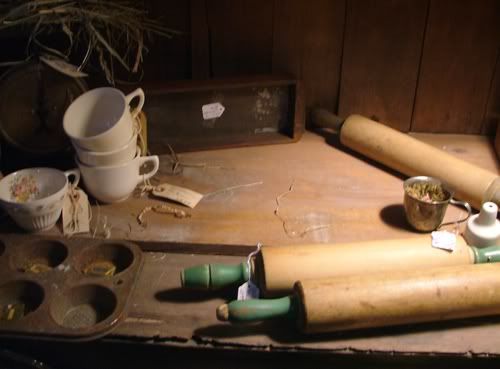 Pie!
All this talk of pancakes and pie is making me hungry. Let's take a break and have something to eat and we'll continue shopping the sale tomorrow.
Are you having fun yet? I hope so.