Did you enjoy the cheesy pumpkin soup and the champagne? Let's continue shopping the barn sale. Stay with me to the end because there's something really beautiful I'd like you to see.
Are you still hungry? Probably not. Let's think about buying a bag of these macarons to eat on the car ride home. I'll have to admit I lead a sheltered life. I've never had a macaron. Have you?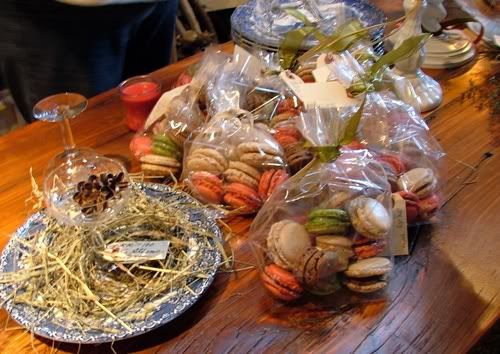 There's also big carrot cake cupcakes packaged beautifully in a presentation box. One woman was buying a cupcake to take to a friend. Lucky friend.
Do you think I should get a pair of toe shoes to display in my sewing room?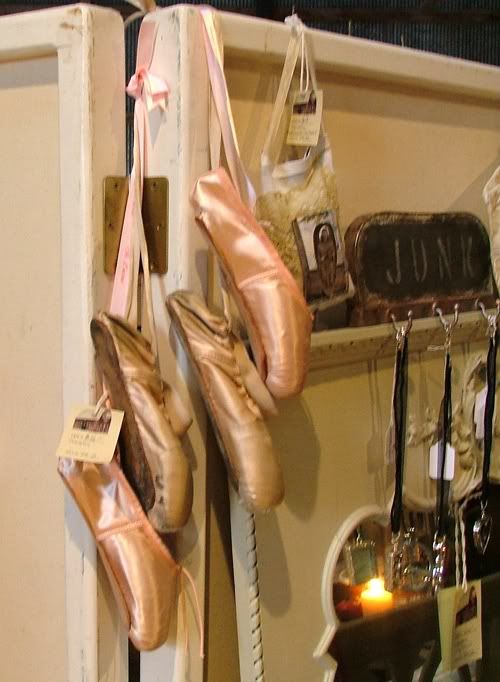 This brought back memories.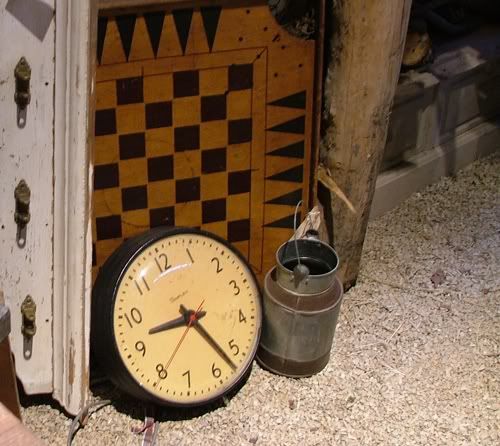 I've spent hundreds of hours staring at a clock just like this, waiting for 5 o'clock.
Jen remains calm amidst all the hustle and bustle.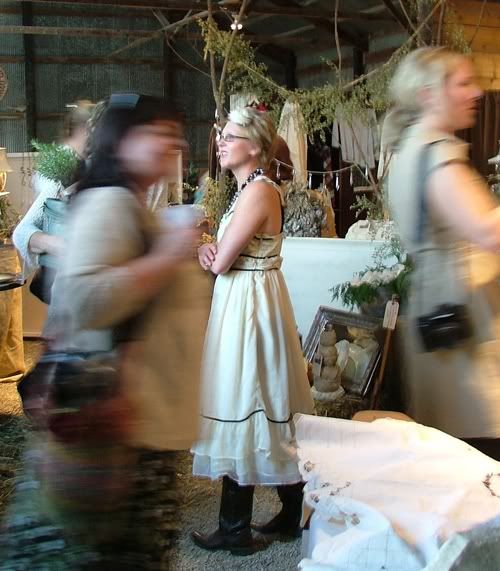 Notice her cowboy boots. There are lots of cowboy boots at this sale, paired with all type of fashion.
Anne Marie fashioned a display fireplace from an old cabinet.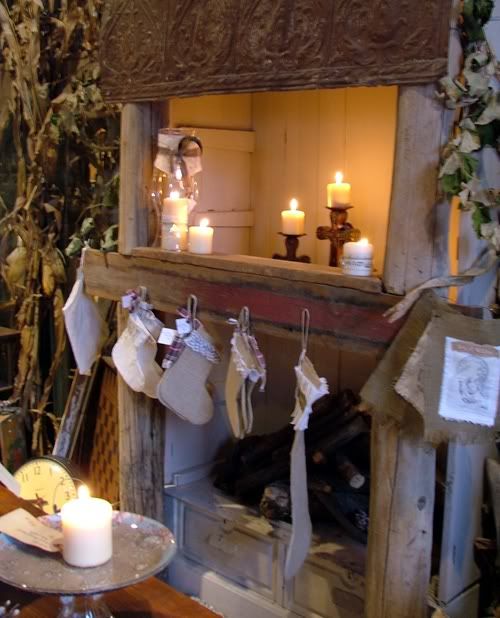 Milk glass and Haeger pottery fill a cupboard.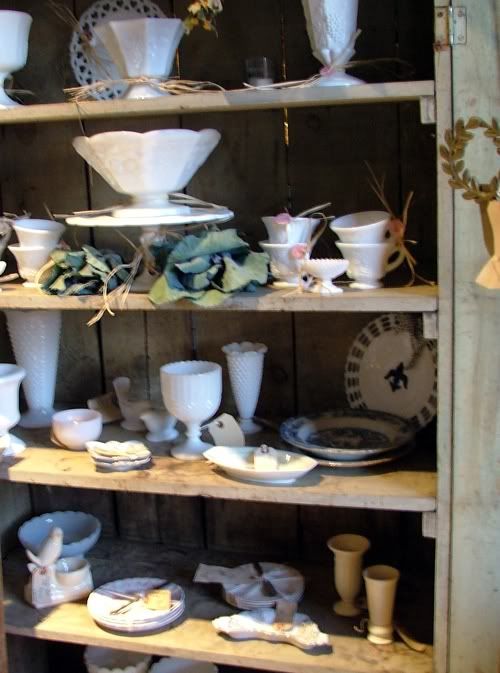 Here's a small covered cake stand.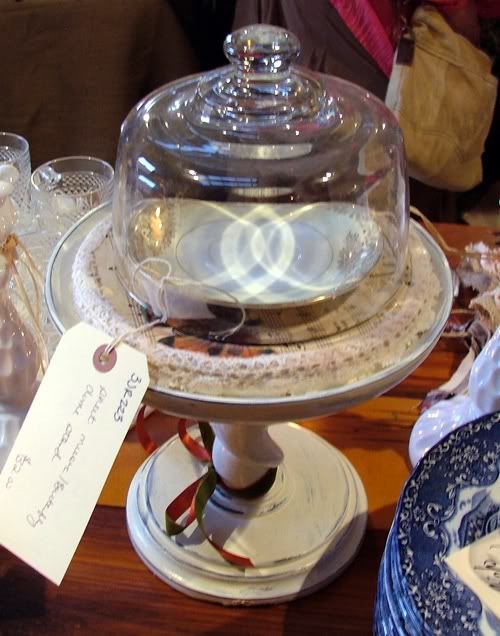 You can put one together for yourself. Pick up a cheese dome at a resale shop and make a small cake stand from a candlestick and a plate. Here's how:
MAKE YOUR OWN CAKE STANDS
This is a nice display of garden related stuff.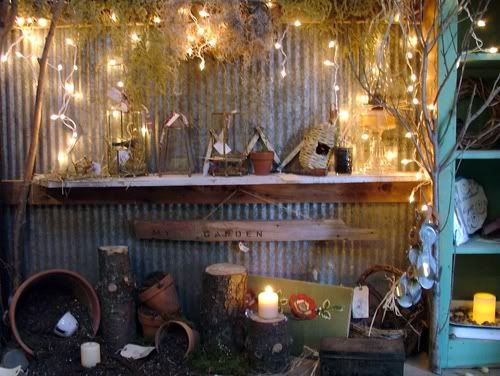 I could use one of those magnifying glasses. How about you?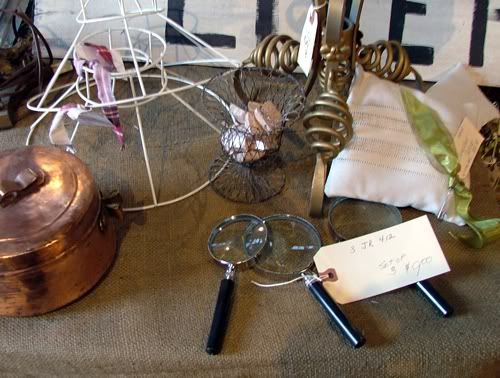 There's a paper wreath hanging at the entrance to the sale. It's created from the pages of an old book.
I'm drawn to this large paper garland.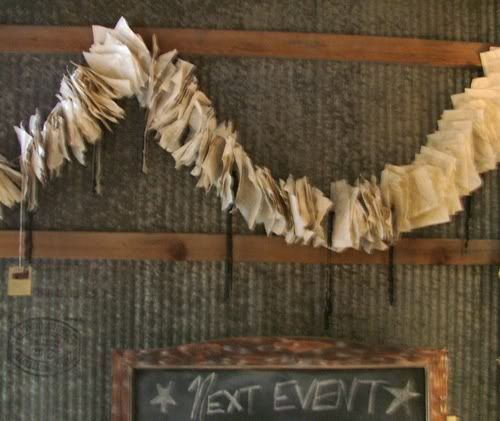 Here's Anne Marie and her friends standing in front of the corn crib.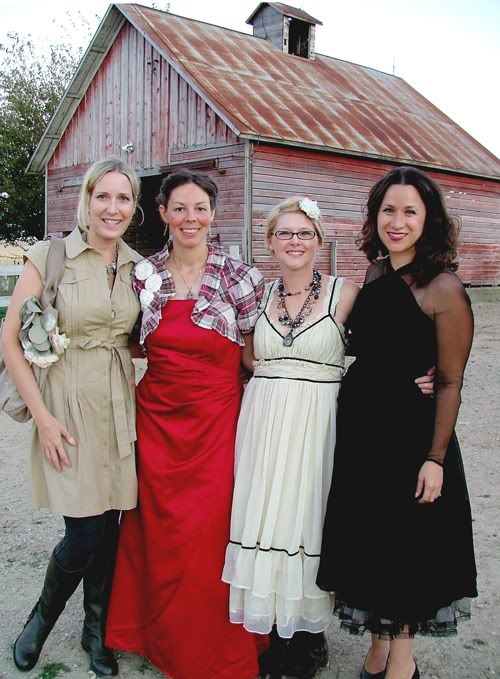 She made the little plaid jacket to go with her red gown.
Thanks for coming along with me to the barn sale. It's much more fun shopping with friends. Mark your calendars because the next event is scheduled for May 20 and 21, 2011. There's a small hotel about 25 minutes away. I told you it's rural!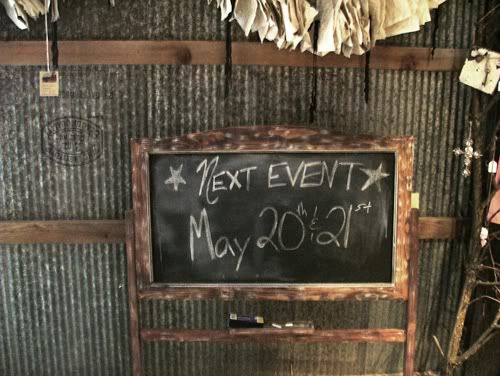 I promised you something beautiful. Here it is.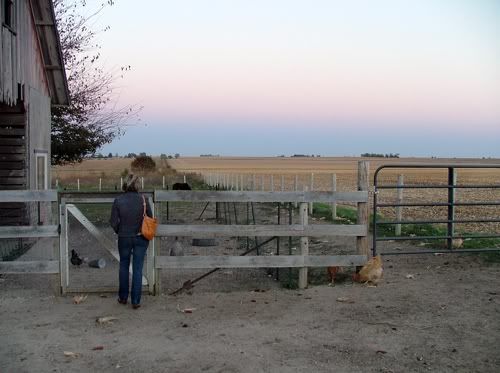 Twilight on the farm. I'll talk more about this tomorrow at our Monday Morning Staff Meeting. See you there!