Yeah. Say that ten times fast.
I've been talking way too much. Yesterday I said to myself, "For tomorrow's entry you've got to make something, bake something or get out and go somewhere."
I decided to make something. Next week we're going to bake something really cool using one of my crazy expensive $30 cake pans and hope that it turns out. Next Tuesday we're going to go somewhere. Mark your calendars because Donna Neiler, whose gorgeous gardens and outbuildings are featured in the May/June edition of Cottage Living has invited my readers over for a private tour. Trust me, it's spectacular.
And so, we're going to make something together. I think you're really going to love this. I call it "Make & Take Cake Plate", because if you were here in my community I'd invite you over and we'd actually make them together so that you could take one home.
I love cake plates, I have lots of them. But they can be a bit expensive even when you find them in a thrift shop or estate sale. My sister developed a method of making them and we've made lots of them. I like to create tablescapes when I entertain. What that means is that I arrange things on the table in different levels, even if I have to tuck a box or pan under the tablecloth. Different height of cake plates allow you to do that without any fuss.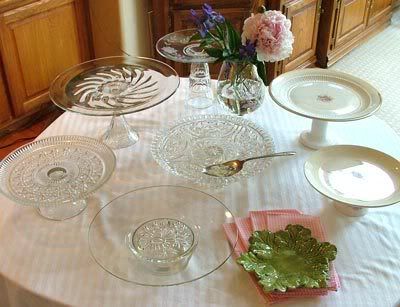 The first I did yesterday was to take a quick trip over to Goodwill. I came home with two candlesticks that will be perfect for our project. You want something that has some weight or is wide at the bottom so that the plate will be stable. These were 99 cents each. The candlestick on the left was a bit dirty on the inside and there was no way to get in there to clean it. So here's a tip: Fill a pan or container with just enough water to cover the candlestick. Drop in one or two denture cleaning tablets. Let it stand for a couple hours. The inside should be perfectly clean.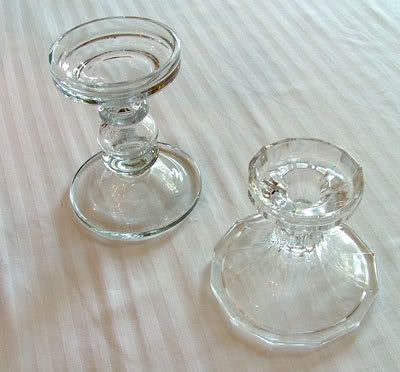 I also found some glass plates. These were between 99 cent to $1.99. Pay attention to the underside of the plate because you're going to glue the candlestick to the bottom of the plate and you're going to need surfaces that are flat to flat.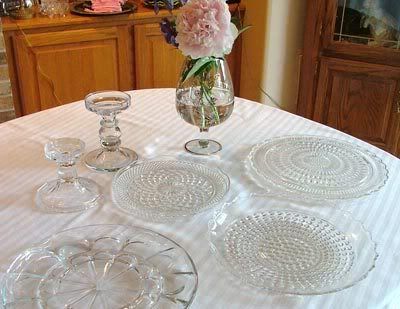 This plate will be a bit of problem because the hobnail design means there's no flat surface to adhere too. This will simply be the flat "bottom feeder" of the tablescape.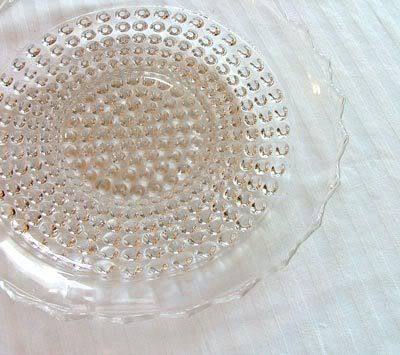 For this type of glass you're going to need the two-part epoxy glue. It's two tubes side by side and you mix the two to create the chemical reaction. This is much stronger than the single tube epoxy.
Turn your plate upside down. Decide which side the of the candlestick you want to attach to the bottom. Center it, making sure that the two surfaces will make good contact. Mark around with a china marker if you wish, otherwise just eyeball it. Spread the glue on the candlestick and quickly turn upside down onto the plate. Take a q-tip and wipe off excessive glue. A little bit won't be a problem and you actually want a little welling up to make a good seal. Don't worry, this is underside and no one will see it. Follow directions for drying time.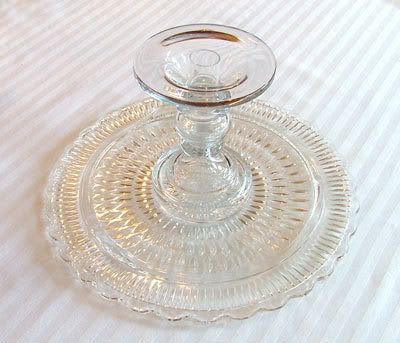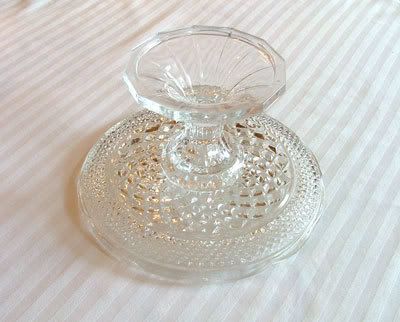 You're done. It's that easy. Here's the two cake plates we just made.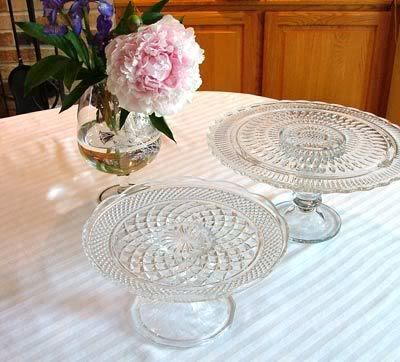 Now you can really get creative. Think of different things you can use for the base. Here's an old fashioned soda glass used as a base:
A plain glass bowl makes shorter cake plate. This is one of my favorites. It's tall, thin and elegant.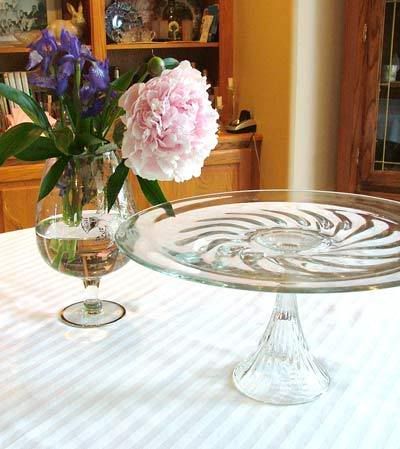 Don't just think glass. These were made with dinner plates. This one uses a similar design flower pot as the base: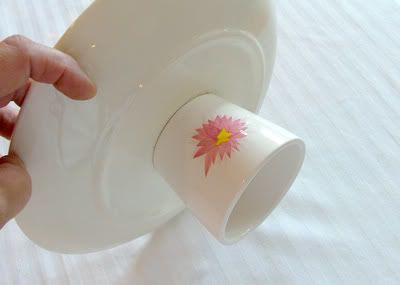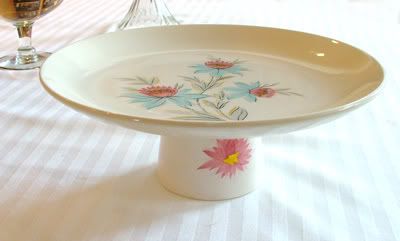 If you use dinner plates for your project then you might want to try White Gorilla Glue. That's what we've used. Don't use too much Gorilla Glue because it bubbles up as it dries.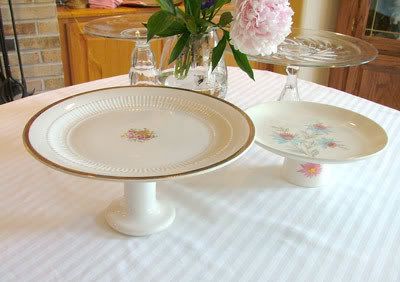 I don't run these through the dishwasher or allow them to soak in water. I hand wash and dry immediately. They've all held up really well.
These aren't just for serving dessert, although I have been known to throw dessert parties. Think about displaying tea sandwiches for a tea party, or plates covered with cupcakes.
Let me know if you actually make one of these cake plates. Post the photo on your site and we'll have a show and tell.
Thanks for visiting and participating in the Make and Take.
NOTE: Early this morning I'm off to photograph this house being moved to nearby LaFox. The last building I saw being moved created some interesting problems that had to be solved on site. Should be fascinating.