My recent trip south was dangerous in the sense that I encountered many treasures that were hard to resist. This necessitated me sending back a box packed with important stuff.
Tucked safely amongst all my vintage linen finds were these crazy figurines.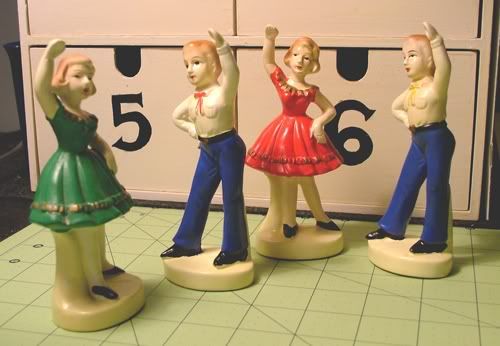 The Square Dancers
They were made in Japan. Guessing by the hairstyles I'd say they were produced in the mid-1950's. I'm also guessing that originally there were four sets of square dancers. All that remained of the other two pairs was a disembodied set of hands tucked in the box.
At this point let me say that when you are shopping a treasure/estate/garage sale you must examine every box and table carefully because the greatest treasures are hiding!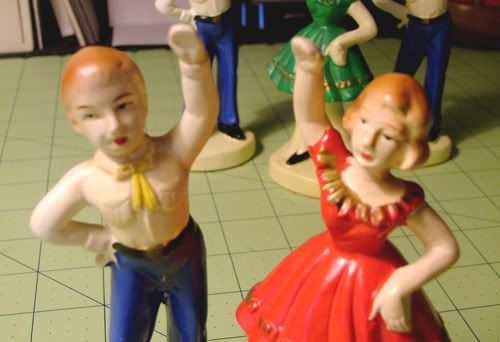 The male square dancers are curiously androgynous. Doesn't he remind you of the character Pat from Saturday Night Live? Yes, it's Pat!
There was no room in the
inn
box for the next treasure, so I tucked this in my carry on bag, wrapped in a tee shirt.
Madonna and Child
I am not Catholic but I love iconic religious figurines. Besides, the Infant of Prague needed some companionship. I've hand painted several mother and child figurines for my mother (she
is
Catholic).
Last but not least is a piece given to me by my 92-year-old friend Judy.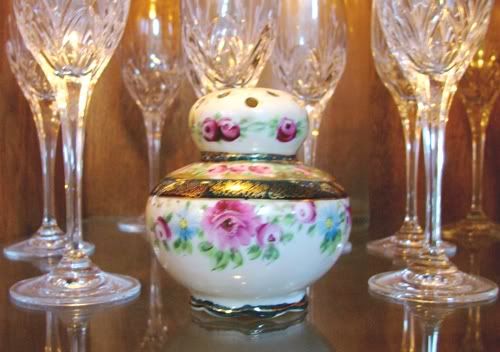 She is in the process of divesting herself of items gathered in a lifetime of travels. She was married to a Naval Admiral and has lived all over the U.S. and traveled the world. It's now time to seriously downsize and she seems to be joyously embracing the next chapter in her life. This attitude has served her well.
I will treasure this piece always and although I'm currently in the process of decluttering my life, this will be one of the last pieces to ever leave my possession.
Thanks for joining me today. I appreciate your continued loyalty to my sometimes unreliable posting schedule. Life gets in the way and after almost 6 years of blogging it's difficult to remember what I've already said!