This was the first year for the Fall Harvest Fest in Belvidere, Illinois. My sister and I both agreed that the organization did a terrific job. Everything was well organized, they had provided interesting and fun things for families to do, the signage was great and it was in a beautiful location along the Kishwaukee river.
All the activities were located across from the
historic Baltic Mill
, built in 1845. There were guided tours of the mill being given all day.
You will remember that shortly after setting up our pop-up tent (those things are amazing) it began to rain. Lots of rain. The other crafters had heavy plastic panels that attached to the sides of their tents. We did not and so we improvised with blankets and other covering that we thought might be used as table coverings. It all looked a bit sketchy but we soon discovered that our tent sided in fabric was a far superior design.
We sat inside the tent and stared through the rain at the couple selling decorated gourds and birdhouses. One of the other crafters had a phone that could connect to the internet and gave us all a weather report. The weatherman said the rain would work it's way across the area and it would be clear after 10 a.m.
We waited. The rain slackened and we were hopeful. What the weatherman failed to mention was that trailing behind the rain were strong, gusting winds. I've mentioned before that wind in northern Illinois is as part of the landscape as the trees and the crops. But the winds that followed were gusting strongly, the air filling one tent like a balloon, picking it up and tossing it aside. Those crafters soon gave up and left.
Our tent, with it fabric sides that allowed air to breathe through, was steady and strong. Then there's the fact that the fabrics were soaked and heavy, anchoring the sides. It was quite an adventure! My sister and I sat in the tent, her knitting while I crocheted. What's a girl to do?
As promised things cleared up and finally we had a break. Everyone came out of their tents and the husband and wife who owned the Kettle Corn business started popping up their treats - traditional kettle corn (slightly sweet) and caramel corn. My sister ran over to buy our first treat of the day, a bag of kettle corn.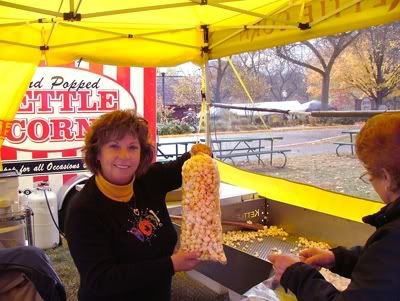 Fresh Kettle Corn
The corn is popped in a very large open kettle and it's wonderful and fresh.
I wandered off to find the bathrooms which were inside the old mill. These interesting wooden sculptures are displayed outside.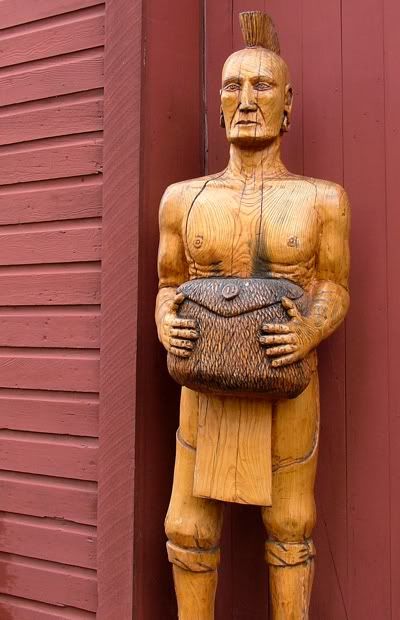 Wooden Indian
This shows some of the detail.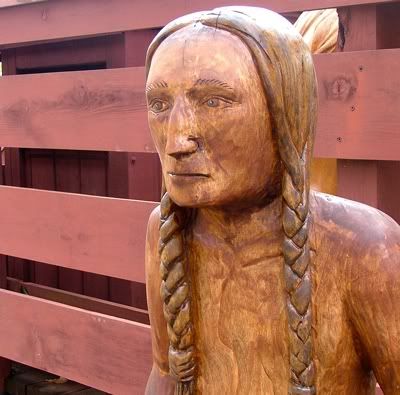 Another wooden Indian
One of the local businesses sponsored a wine tasting.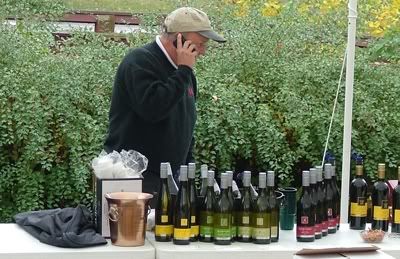 There was a scarecrow contest and all the entrants were lined up facing the street. There were some very clever entries. I'll add a photo of the People's Choice Winner later because my photo editing software is giving me fits right now.
Like I said, the organizers did a great job. They hired a face painter and she was so talented. The kids looked great and were having a good time.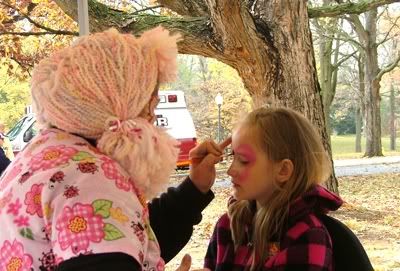 Face Painting
There was an area filled with pumpkins for the taking and just behind that area was the Make-and-Take-a-Scarecrow.
There were piles of clothes.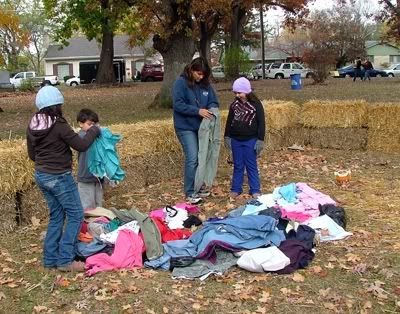 And piles of hay.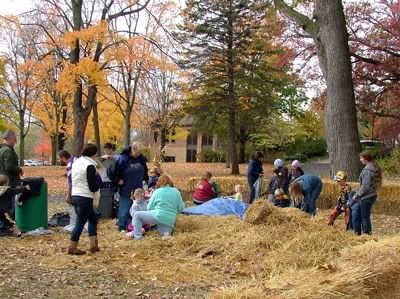 And scarecrows were born!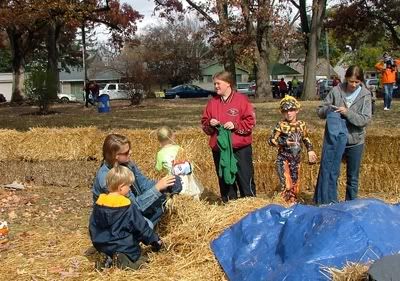 Woman working on a baby scarecrow.

If you grabbed one of those pumpkins, you had yourself a scarecrow.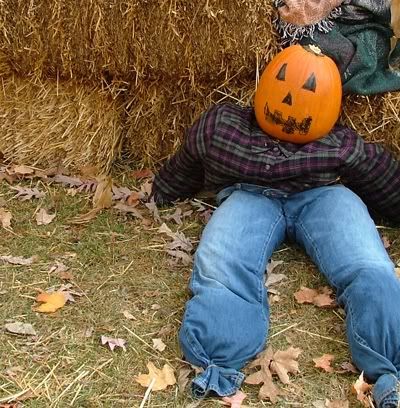 At this point the wood fired pizza guy rolled up. Oh yeah! Can you imagine having your own wood fired pizza oven that you could take anywhere with you?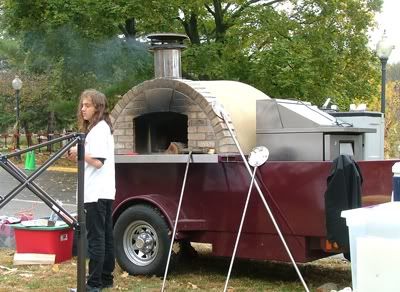 Wood fired pizza.
My sister and I shared a artichoke and Gorgonzola pizza. At this point it seemed a possibility that we would spend more money than we were taking in. Luckily, with the break in the weather people starting showing up and shopping! At this point we were glad we'd stuck it out, unlike some others that had packed up and left.
The park was ablaze with fall colors and what happened next was one of those beautiful serendipitous moments in life.
From behind the mill came a whirlwind of purple, traveling fast across the landscape. It was Quinceanera on the move! A
Quinceanera
is a girl's 15th birthday celebration and most times it outshines even her wedding day.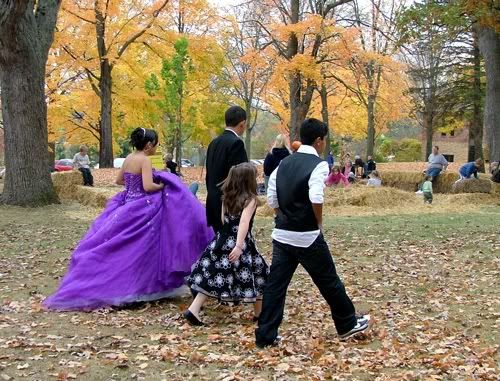 Many of these gowns are actually wedding gowns that have been ordered in a signature color. This group was in the park for a photo session before heading off to the party. Can you imagine the stroke of genius ordering this purple gown? It was magic against the blaze orange, red and yellow palette of the forest.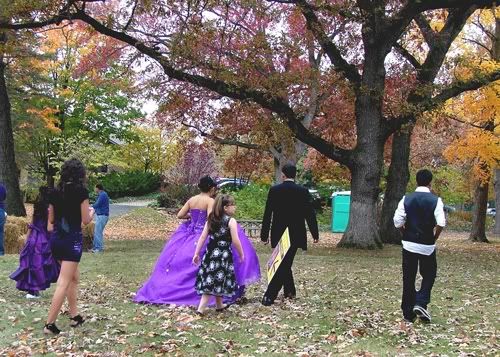 Quinceanera gown
After the early disappointments the day got better and better. In the afternoon one of my readers arrived and introduced herself, it's Marianne!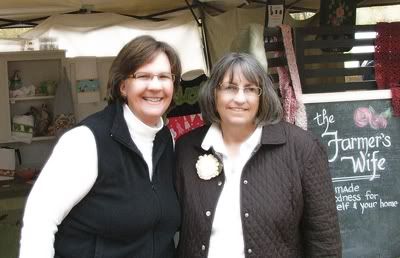 She lives on a nearby farm with her husband and daughters. She has a wonderful blog called
Spend the Thyme Farm
. Go visit with her. Marianne and I talked chickens and stuff. I was so happy to see her because you know..... you guys left me sitting all by myself under a tree one time, with a picnic basket full of food. Seriously, how rude!!! HA.
Marianne got free stuff. Do you see how it's a good thing to show up? I totally understand that it's impossible to drive to a craft show in Illinois from say, California or Germany. And that is why I'm going to give you a chance to win free stuff also.
Here's what you do. Leave a comment telling me where you're from. I think we're all interested in knowing where our blogging friends call home. Just say, "Sorry, I couldn't meet up because I live in _________________." Fill in that blank. Lurkers should feel free to de-activate the cloaking device and join in.
Thanks for coming along to the Fall Harvest Fest. After that early rain it was a great day and I'm looking forward to doing this fair again next year.