My bedroom closet has reached critical mass. Again.
I hate when this happens because it means a large chunk of my time will be spent de-fusing a situation that threatens to get ugly. Yes, my closet has exploded many times before, leaving bits of handbags and old sweatshirts strewn around my bedroom and into the hall.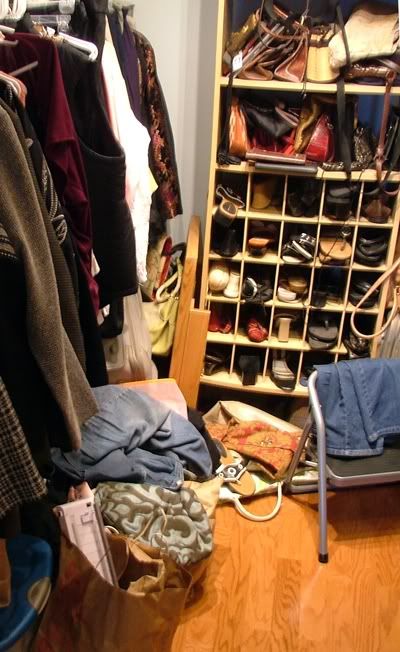 This stuff is breeding at night. I've found evidence, a tiny baby handbag that looks suspiciously like two of my favorite purses. I haven't caught them in the act yet but someone has promised to lend me a nanny-cam with night vision.
The last house we lived in when I was growing up was my mom's dream come true. It was actually a closet nightmare. The house was a victorian style farmhouse that stood surrounded by some land. It was eventually swallowed up by the advancing Chicagoland sprawl.
The house had lots of detail and charm. There were lovely leaded glass windows, heavy woodwork, pocket doors and a fireplace in the main parlor that was edged in porcelain tiles imported from England. Not so charming was the fact that there were no closets. Well, there were closets but looking back I realize that
all
the closet space in that place housing seven people would equal the space in my master bedroom closet alone.
I don't think my parent's had a closet at all. They converted a side parlor into their bedroom. There was a tiny space under the staircase that might have been a storage closet, but it had been converted to a bathroom years before. I'm using the term bathroom loosely because it was actually just a toilet squeezed into the miniscule space. If I remember correctly you had to back into the "room". I have no clue where my parents stored their clothing. Maybe they wore the same thing every day. You don't pay attention to those things when you're a teenager.
When you've grown up a situation like that, a house with plenty of closets and storage space seems like a dream come true. But remember the saying, "Be careful what you wish for". We are currently living in a house that's a closet lover's dream. There are closets everywhere. Two coat closets, two pantries, large closets in each bedroom and four, count 'em, FOUR linen closets, one for each bedroom.
Those of you living in 100-year-old farmhouses are now drooling on the keyboard. Hold up. There's a huge problem with having ample storage space. I've thought about this for awhile and I've come up with a universal rule.
THE UNIVERSAL RULE OF CLOSET SPACE
The amount of stuff occupying a space will expand at a known rate. This expansion is directly related to the volume of space available. The rate will increase exponentially until it reaches critical mass, at which time more space must be added or the stuff will create sufficient energy to escape it's confinement.
TRANSLATION:
The more closets you have, the more stuff you will acquire, knowingly or unknowingly.
Having more closets means you are less likely to pitch the stuff that needs pitching.
Stuff breeds at night when you're not looking.
The stuff builds up imperceptibly and before you know it, you're drowning in stuff.
If you build a closet on to the back of the house, it will fill up quickly, requiring you to build another closet.
OK, enough of this. I need to go de-fuse that closet!