The storm has passed. There are reports from some of my readers further south and west of here that had up to 29 inches of snow. The official reports are that we had 20 inches, but it hardly seems like that to me.
In my lifetime's experience with snow, this was just a blip.
It's said that the Eskimos have a hundred words for snow and I can understand that concept. This snow was what I'd call salty, sandy snow. It is small grained and dry, blowing freely. This was not the wet, heavy type that fell in 1979 and caused our wedding reception to be cancelled and rescheduled! Yes, that's my snowstorm story. I had to freeze my wedding cake, thaw it and serve it at a later date.
Here's a photo in which I have removed the color and upped the constrast so that you can see the sandy nature of the snow. It was drifting and moving like a sand dune.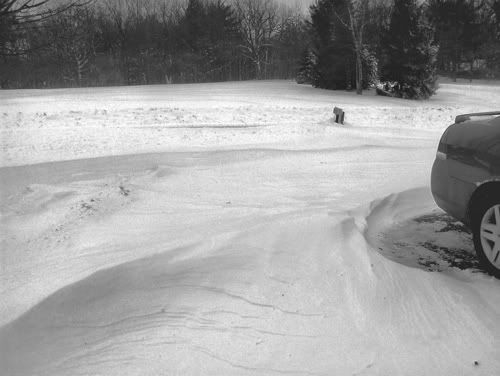 It's difficult to determine the depth but that becomes apparent when we follow behind the snowblower.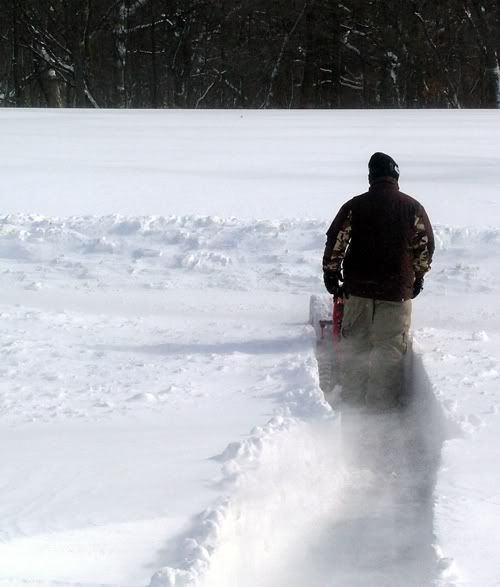 This is an OK method of snow removal but I much preferred when I had a snow blade on my tractor. The Farmer got tired of attaching the blade and rear weights every fall so we moved to this method.
I totally agree that without the proper equipment this snowfall would be a disaster..... say, in Seattle or San Antonio. Hey, I've been in San Antonio when an inch of snow fell. It was BAD.
Here's the front of our house after the snowfall.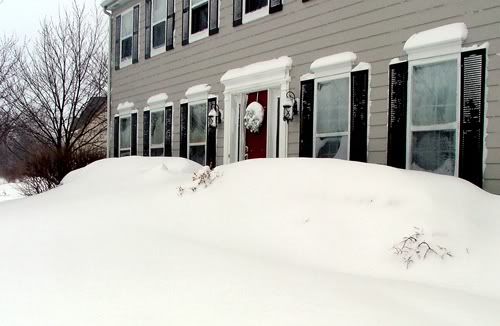 It looks bad but that is drifting, not simply accumulated snowfall. That's the level of the sidewalk.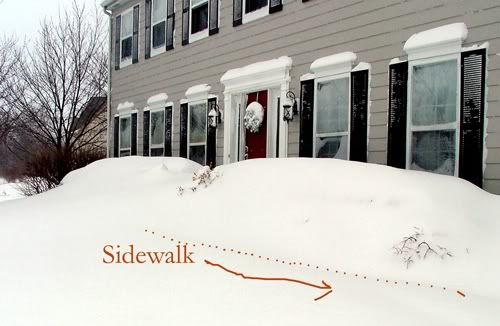 We're not going to worry about clearing that sidewalk for now.
All in all, from my perspective the snowstorm in 1999 was much worse. The Farmer was in Florida and I was left to clear a driveway of wet, heavy and deep snow. It took me TWO days to accomplish the task, much of which had to be done by hand. It was just too much, even for the tractor and blade.
The grandaddy of all storms was in January 1967. I'll talk about that tomorrow but take a peek at what transpired.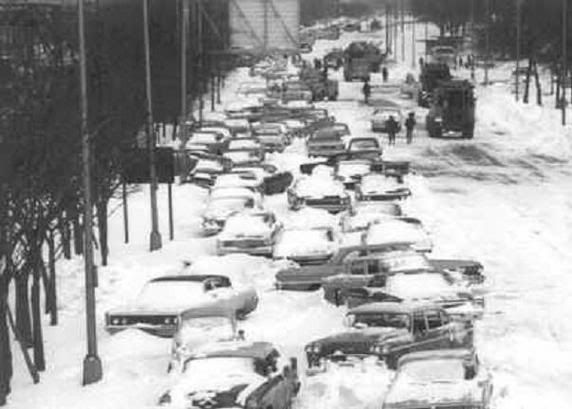 Keep warm!