Based on the title of this post you might think the subject matter will be all sweetness and light. You would be wrong.
I am very loving and accepting of most of God's creatures. I respect their right to carve an existence for themselves. Heck, we share this beautiful land with coyotes, raccoons, groundhogs, squirrels, hornets, owls, barn swallows, ash borer beetles (which killed our trees whilst carving out an life), hawks bigger than house cats and so much more.
The idea is that they occupy their space and we occupy ours. Now, as accepting as I am, I'm going to get a little upset if a coyote decides to take up residence in my garage, or squirrels in my attic. Which brings us to my most despicable enemy. The enemy on which I wish a firery death in hell........ the Boxelder bug.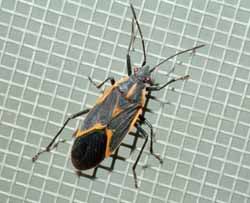 Source
I'm not too crazy about insects in general but the Science Channel assures me that they are a valuable part of the environment. I'm not so sure but if the Science Channel says it's true, it must be so.
I'm pretty sure that Mother Nature can do without at least one species of insect and I vote for the Boxelder Bug to make the list. Unfortunately I do not have a photo of the thousands and THOUSANDS of them sunning themselves on the south side of my house as if they were on a beach in St. Croix.
It was imperative for me to act fast, before the Other Mother was tempted to dig into her 90-year-in-the-making collection of deadly chemicals. They're stored on a shelf in the garage and will someday pose a disposal threat for us, but for now my task is to keep her from using them. A quick search on the internet reveals that no noxious chemicals are necessary because Boxelder Bugs can be dispatched with a mixture of household laundry soap and water.
I quickly whipped up a batch and spray the heck out of them. They dropped like flies. (Do you wonder where that phrase came from? I do.) Unfortunately, they've found some tiny hole in the exterior of the house and they're making their way inside. That's where they've crossed the line and that's why they DIE.
Internet sources also state that these bugs live and feed off female Boxelder trees. They suggest to convince your neighbor, or whomever owns the tree, to cut it down. OK, well, Houston we have a problem. We are surrounded on three sides by heavily forested areas. Forests full of trees.
How about you? Have you ever battled these beasties? Do you have other insect invaders? I remember living in Texas and having to deal with scorpions and tarantulas but honestly these bugs are much more annoying.