Yesterday I promised you something fun and not related to my home improvement projects. Well, we are going to do something fun in the kitchen but it includes paint stirring sticks. What possible use could paint stirrers have in the kitchen? Wait until you see.
Don't ask my how I stumbled across the blogs of some of the cookie bakers/decorators but I did and was inspired by their creativity to bake some cookie favors for my nieces baby shower last weekend. It was so much fun putting them together. I promise you can do it too!
One of the most frustrating things for me when I'm baking my Christmas sugar cookies is that I can never roll the dough out uniformly. The recipe will say to roll out the dough to 1/8 or 1/4 inch thickness. Heck, how can I tell if it's 1/4 inch without careful scrutiny with a ruler? Well, those clever cookie decorators had the solution. Paint stirrers!
Take two new and unused paint stirrers and cover them with foil. Tape them to your kitchen counter.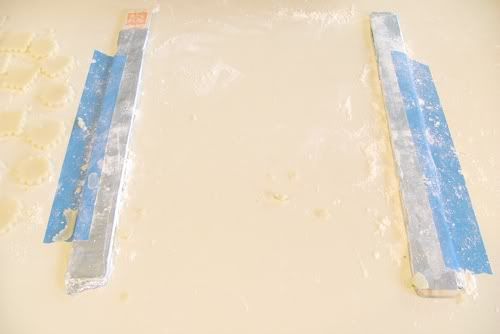 They should be spaced a distance that will allow your rolling pin to sit on top, thereby holding it in a raised position. Put a portion of the dough in the center and just keep rolling and the result will be a perfectly uniform piece of cookie dough! So clever. For thicker cookies you just use the 5 gallon paint stirrers.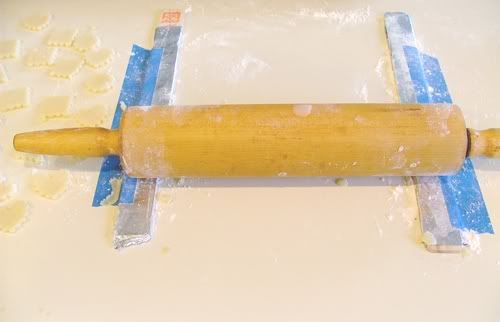 My trust Kitchen Aid helped me mix up the dough.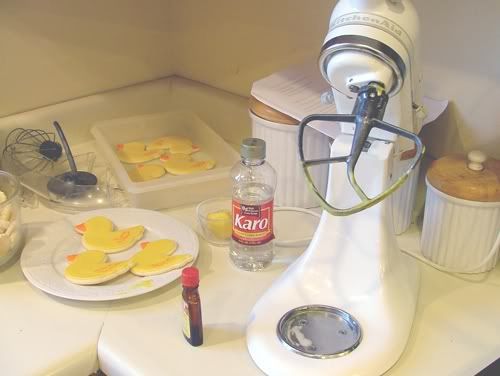 Following an idea from one of the cookie bakers I decided to make rubber duckies cookies. Here they are in different stages of completion. The first task is to outline the cookie in roayl icing. After that dries you thin the icing and "flood" inside the lines. It's pretty easy although there's drying time involved.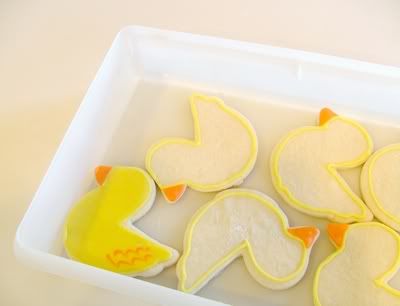 Then I did the beaks in orange using thick royal icing. This area is small so no need to flood.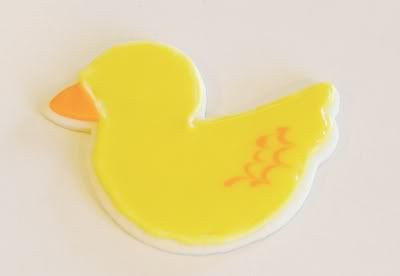 Another cookie baker showed how to do wings by drawing a line of orange onto the wet yellow icing and drawing a toothpick through. Next I gave the duckies blue eyes, packed them in cellophane bags and arranged them in a large basket.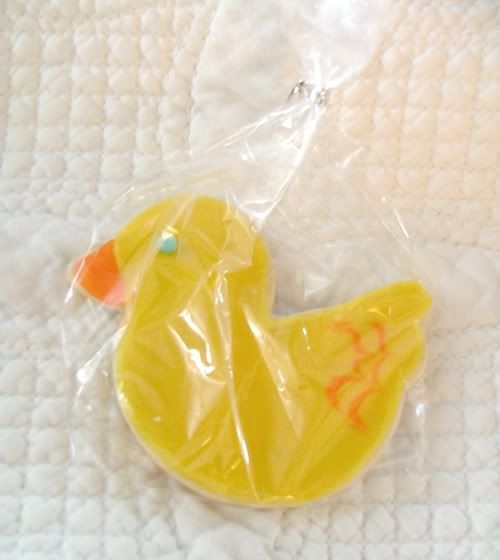 Everyone loved them and it was a fun project. This put me in the baking mood so I decided to make some small cookie bites. These were made with some small cookie cutters that are probably meant for appetizers. One batch of dough made ALOT of cookie bites. I stopped counting at 120.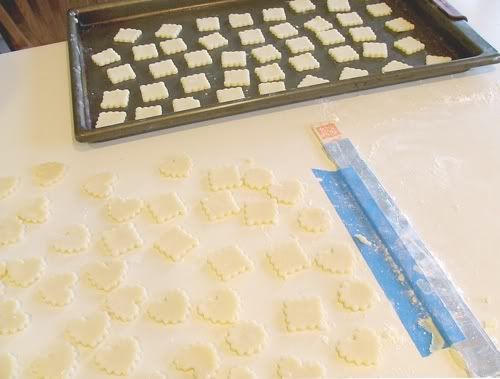 I decorated them with green leaves, pink "plop" flowers and some squiggly white. Actually the icing tips do all the work and these went pretty fast. I did them all in one evening after dinner.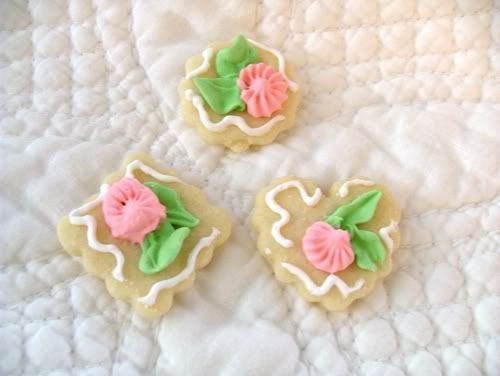 Although everyone appreciated the rubber duckie cookie favors, they were CRAZY for the cookie bites. They are just really, really delicious and you can't stop popping them in your mouth. I use Wilton's sugar cookie recipe that was included on the packaging of my snowflake cookie cutters.
WILTON'S ROLL OUT COOKIE RECIPE
Visit some of the talented cookie baker/decorators and see if you don't get inspired.
I AM BAKER
THE SWEET ADVENTURES OF SUGARBELLE
THE DECORATED COOKIE
THE UNIVERSITY OF COOKIE
BAKE AT 350
(Check out her cute Scrabble tile cookies)
Remember, do something creative every day.