The Other Mother went shopping last week and brought home some strawberries, bananas and apples. She usually buys several containers of blueberries also.
The blueberries have become somewhat of a family joke. The Other Mother and her sister read somewhere the blueberries help you live longer and so they both eat a tiny bit of cereal with their blueberries. Panic ensues if the blueberry stash reaches a critically low point.
Phone discussion between the two sisters focuses on the price of blueberries, as if it was a commodity being traded like gold. The Farmer and I always challenge her claims of "They say....."
"They say blueberries help you live longer......"
"Mom, you've already lived longer that almost everyone you know."
There are hundreds of variations of the "They say..." to which the Farmer always counters, "Who are THEY and why should we believe what THEY SAY?"
Anyway, it's amazing to me that in this time of global markets we can buy strawberries year round. It's always summer somewhere I guess. The berries the Other Mother brought home were as big as my fist.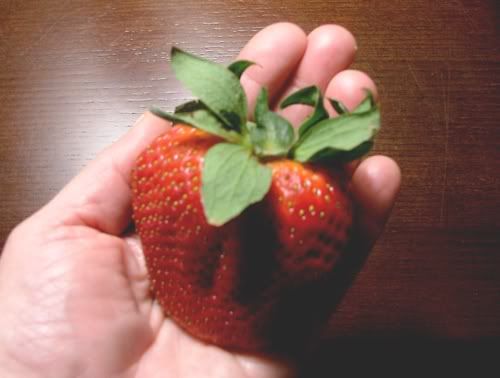 Each pint only contained about 4 or 5 berries, but they were monsters. Lately the fruit is tasteless. Do you think it's because they are picked before they are ripe and ripen off the vine in shipment?
I wasn't expecting much from these super large berries but they were absolutely delicious. Very sweet and juicy. I grabbed some ingredients and ate them as Strawberries Chantilly. A co-worker introduced me to this years ago and it remains my favorite. If you give each person their own set up they can double dip to their heart's content.
Very simple.....
Strawberries
Sour cream
Brown sugar
Dip the strawberry in the sour cream, then into the brown sugar. Take a bite. Be amazed. Repeat and repeat until you've eaten all the berries.
Have a great day everyone.