You are such patient readers. I promised you a look into the Royal Wedding Tea that I attended last Friday. I've heard it said that the news cycle is only 15 minutes but we're going to extend that and relive that wonderful royal event.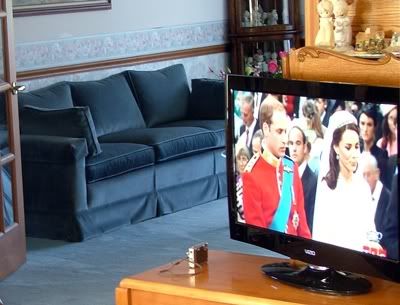 Billions worldwide watched the wedding on TV. That's alot of pressure on two young people.
My very first thought was, "They have trees in Westminster??" That was the most beautiful and ethereal touch.
The tea was hosted by neighbors Jacki and the Queen Bee - Elizabeth! Yes, Neighbor Betty's given name is Elizabeth. How perfect is that?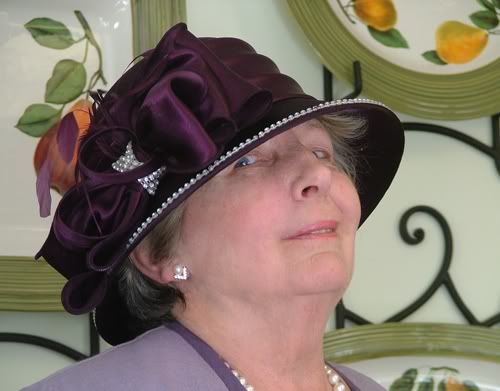 Queen Bee Betty was looking regal in her purple suit and matching hat. Doesn't she have the most beautiful blue eyes?
Here's Jacki, the other hostess. She's our resident Brit. Her parents were both British, she was born in Canada and now lives in the U.S. She's multi-cultural. Here she is in her beautiful hot pink hat.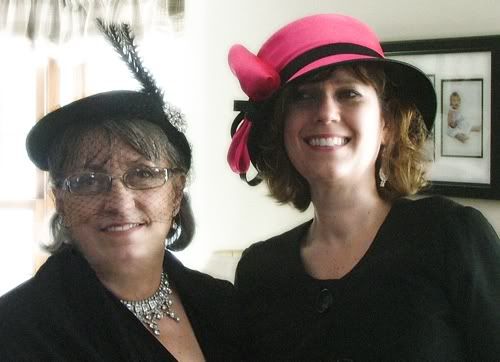 The Farmer's Wife and Jacki.
As you can see, you convinced me to wear the large jewels. It's actually a vintage Weiss rhinestone set and a vintage hat. Even though my grandmother was a milliner, I look terrible in hats! Never could wear them. I was worried a bit about wearing all black to a wedding but was relieved to see that Victoria Beckham wore all black to the wedding. What does that say about me? I must be fashion forward. Or, as Betty's husband commented, "You look like someone's immigrant grandmother, all dressed in black!" He's right!!!
Here's a peek at some of the decor. Union Jacks, British magazines and a black-and-white photo taken by Jacki's uncle of Liz Taylor and others being presented to the Queen.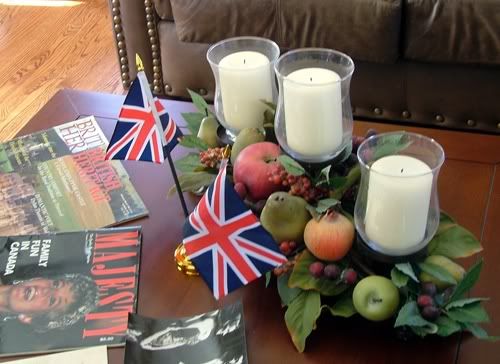 Help yourself to a mimosa. There's also tea and because we're Americans - coffee.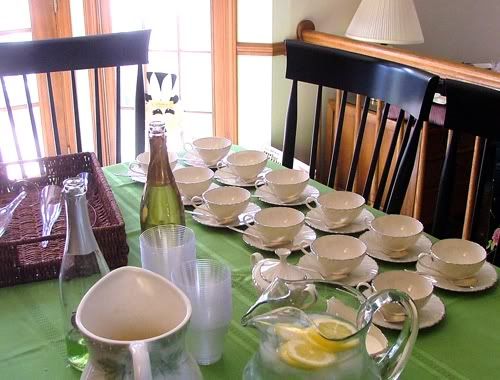 Love those mimosas.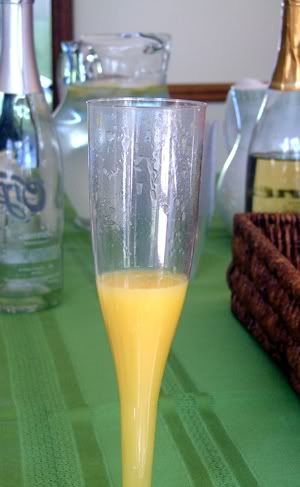 Here's neighbor Donna enjoying the coffee.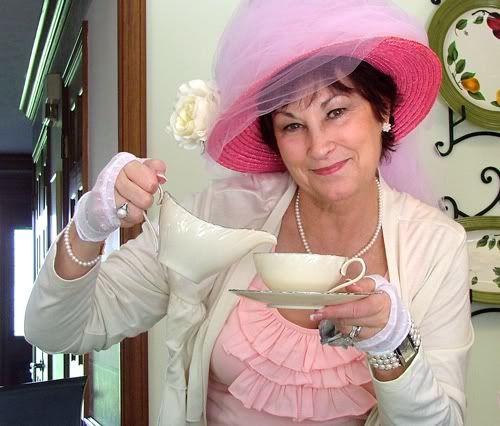 The Mother (my mom) was all dressed up in a royal purple dress with matching jacket. She has a tiny tiara on her head. She's a huge Princess Diana fan and so she wore a pearl choker, which was Diana's signature piece of jewelry. I wonder if Kate will embrace the jewelry wearing tradition.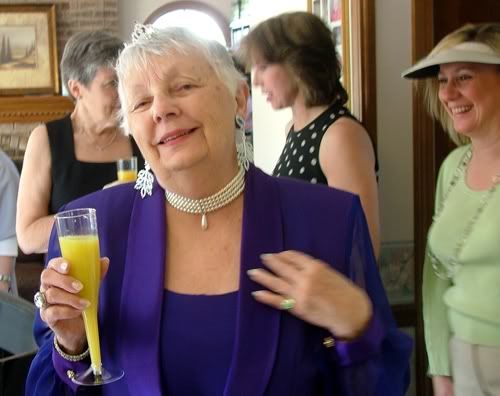 There was plenty of wonderful food including quiche, a pineapple and cheese casserole, wild Maine blueberries, cookies and petit fours.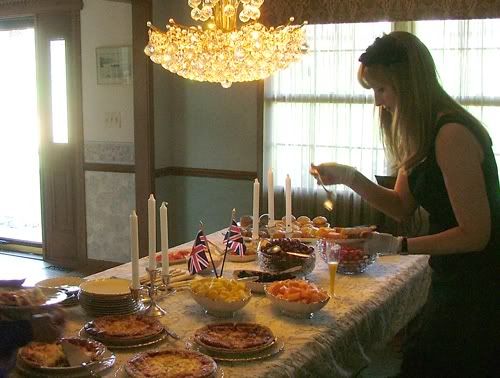 I've got to show you a close up of Queen Betty's gorgeous chandelier. I just don't want to be the one who cleans it!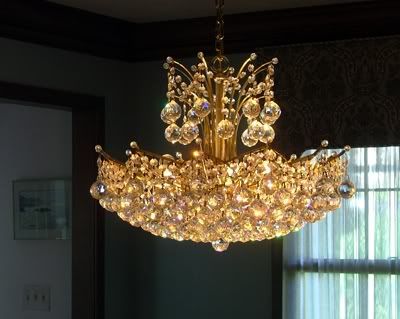 Here's the adorable Lynn and the ever-fashionable Ellen.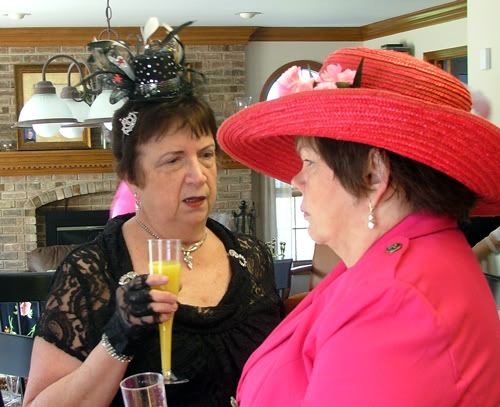 Neighbors Lynn and Ellen.
Lynn had the most adorable little hat and some sexy lacy fingerless gloves.
We had a great time visiting, discussing Kate's regal comportment, poise and great posture. Her mother did a good job telling her to, "Stand up straight!"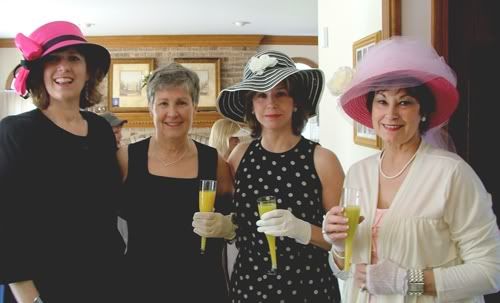 Jacki, Susan, Alyssa and Donna
Here's another neighbor wearing my favorite hat of all.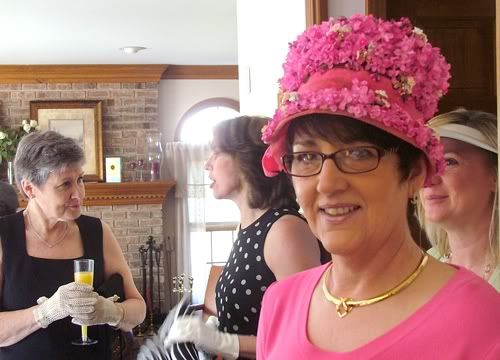 It belonged to her mother and I'm sure that I've got a photograph of my grandmother wearing this same style hat. She would sew all those little flowers on the hat base by hand!
Thanks for coming along to the Royal Wedding Tea. All through the services, with the tree lined aisle and her dress I kept thinking of the Lord of the Rings and Arwen.
I'd love to hear your thoughts about the wedding and the royal couple.