Do you remember awhile back when I pulled into Mickey D's and was dazzled by the beautiful photo of a strawberry shake? The image was so compelling I ordered one and pulled away with my mouth watering in anticipation. I was very disappointed. There were certainly bits of strawberry but somehow it had an odd fake taste.
I vowed never to be mesmerized again. But you know what they say, never say never.
On my way to run some errands I pulled into Mickey D's for a large diet Coke. I don't order food from there but I do stop for the Coke because a large is only a dollar.
SHAZZAM.....there was a beautiful image of their new drink - frozen strawberry lemonade. All my resolve and willpower went flying out the window. I ordered one. Two bucks. Half the size of the diet Coke and twice the money.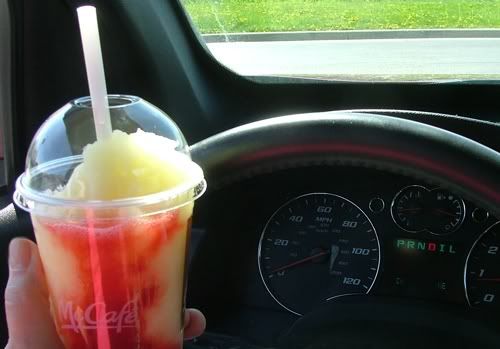 Bleccch. It was awful. Once again a fakey taste and besides that I had brain freeze, throat freeze and tooth freeze! Perhaps it's because I grew up in a neighborhood with fantastic frozen Italian lemon ice and everything pales in comparison.
OK, once again I'm going to vow not to order these specialty drinks. Coffee or Coke for me please.
How about you? Have you tried this frozen lemonade?