Here's the aftermath of last weekend.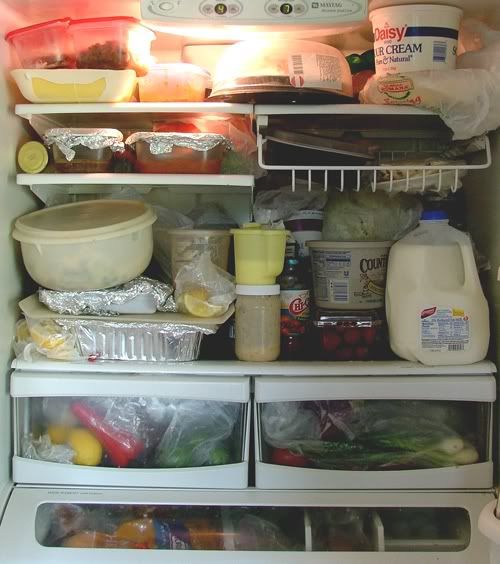 Can you guess what happened here? We hosted a graduation party for our son and by all accounts it was a great success. The weather was gorgeous! No rain, no tornados, just a beautiful sunny day.
The young-uns played volleyball and the rest of us watched from a shady spot. Our daughter made the 2 hour drive to be here and then had to turn around and drive back home. Sigh. There was plenty of food and just one hitch in the plans.
Years ago I had a friend who was a bit older than myself and a fabulous hostess. She set the bar very high. She gave me her best secret - organization and preparation. Those two things make all the difference in hosting a success event, whatever it may be.
Early in the week I gather up all the serving pieces and mentally map things out. This small dish and fork are for the pickles, this large basked for the buns, etc. The food was a little bit of a puzzle this time around because I was cooking for a larger crowd - 36-40 people. I check charts online that estimated meat per pound per person and such but in the end I just trusted my instincts.
Regardless of how packed the fridge looks, there wasn't a ton of leftovers seeing as how I had three beef briskets, a VERY large pan of hash brown casserole and salad for an army. My sister and sister-in-law thankfully lightened my load by bringing the desserts. Thank goodness for them.
The hitch? The barbecue beans were progressing along just fine in the oven, getting hot and entering into the bubbling zone but the hash brown casserole was still tepid. I had allowed the whole thing to sit out in advance so that the potatoes could defrost before baking but still the pan was large. Perhaps it would have worked better to bake it in two smaller pans.
I ran into the other room and spotted my sister.
9-1-1 - - POTATO EMERGENCY!!!
She came to the rescue and we figured out a solution. Moms have to be McGuyver's you know.
We scooped out the contents of the pan into two large bowls and heated the mixure in the microwave, returned it to the pan and it finished baking along with beans and they turned out fine. In fact, they were downright delicious.
The hit of the day? Cowboy caviar!! It's a black bean appetizer that's served with torilla chips.
Here's the recipe:
COWBOY CAVIAR
2 cans black beans, drain off a little bit of the liquid
1 can corn, drained
1 jalapeno, chopped fine
cilantro, chopped (amount to taste)
1/4 cup onion, chopped
1/2 cup red pepper, chopped
Dressing:
1/2 cup basalmic vinegar
1/3 cup vegetable oil
2 cloves minced garlic
2 TBSP. sugar
salt and pepper to taste
Mix together the first six ingredients in a large bowl. In a small bowl combine the dressing and mix well until the sugar dissolves. Pour over the bean mixture and refrigerate overnight to allow the flavors to combine.
Enjoy!
Can you believe I have NO pictures of the party? I was too busy dealing with potato emergencies!