Thanks to each and every one of my readers who were so supportive during our recent fix-up, re-paint, remodel adventure. Believe me, it was difficult to see the light at the end of the tunnel when we were going up and down a 10 foot ladder! Your message was always positive, assuring me that all the work would be worth it and you were right.
Thanks also for not admonishing me to quit-my-bi@#hing and just be thankful that we were able to do this project. In the midst of it you sometimes forget to be gracious and thankful for all the positives in our lives. The Farmer has found a long-term consulting gig that allows us some level of security. This allowed us to use some funds we'd squirreled away to buy new furniture.
Now let me say, I really love and appreciate the shabby/chippy artistic look but that's something I've been doing for many, many years. The Farmer and I have never had new furniture in the 33 years we've been married. Yes, a piece here and there but it's all been a hodge podge. We decided for a more Pottery Barn look.
This is the only piece left from the previous incarnation.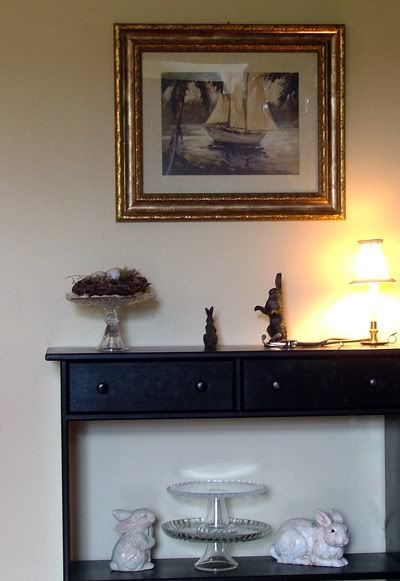 This little table was something I bought to use in one of my craft booths from the past. I was a honey colored pine but I painted it black to match the new look in the room. Instead of coating it with urethane I finished it with a paste furniture wax.
Here's a peek at the new floors. The space inside that dark walnut band was previously carpeted. This portion of the room had a picture frame border of wood with the carpet in the center. After 13 years the carpet was looking horrible. We added the band of walnut to define the area.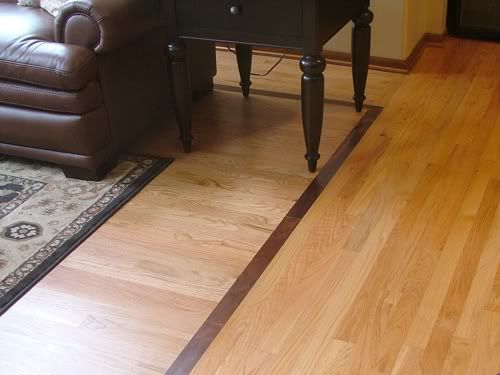 The wood has a matte finish and it's stained with a natural stain.
We chose a brown leather sofa. We've never had leather before but we love it. I call it the marshmallow sofa because it's that soft and squishy when you sit on it.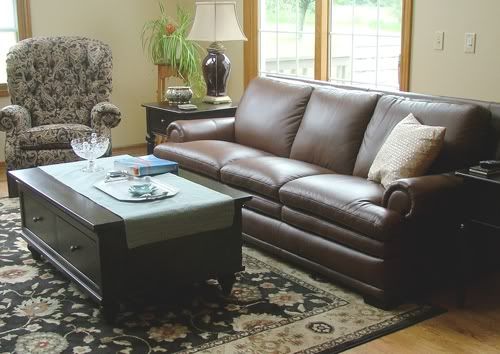 The coffee table has tons of storage. It's split down the middle and one half has drawers underneath. The other half has a lid that lifts up and allows you to store throws, games, whatever. It's a very clever design.
Here's what the lamps look like.
This little slipper chair faces the sofa and can easily be moved anywhere you need more seating. As you can see we kept our oak stained entertainment unit, mixing it up with the new dark furniture.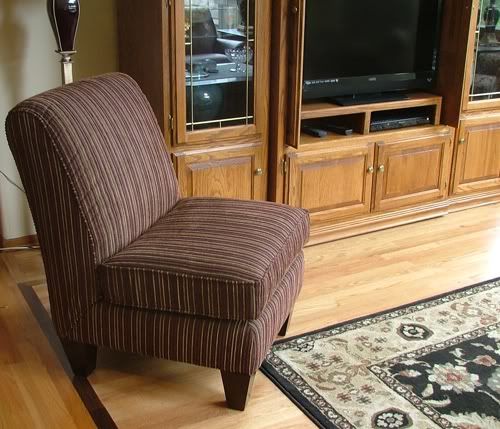 We chose a counter height table and chairs to place in front of the fireplace.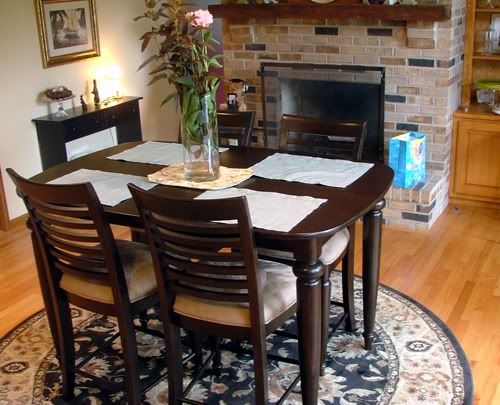 This is an amazing table. It has a leaf that is stored inside and folds out like a piece of origami.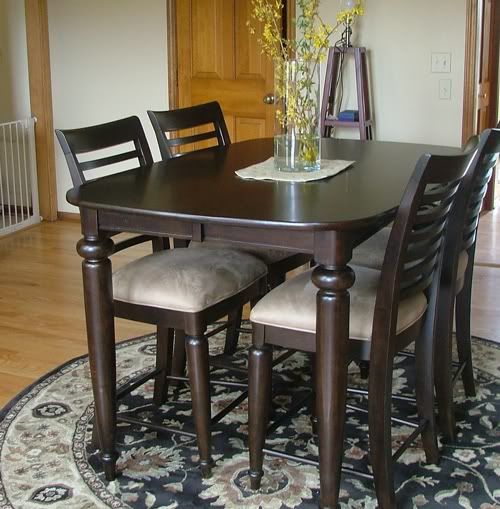 When the leaf is extended the table is very large, seating six people. When my daughter was home we extended it out and spent the evening playing games.
And last but not least, our bar cabinet. I'm totally in love with this piece. All the liquor is stored underneath, the drawers hold placemats, corkscrews, coasters and lots more. There was another piece that was more like a hutch but I wanted a flat surface that would allow me to set out food or set up the wine and glasses. For the recent party I served the appetizers here.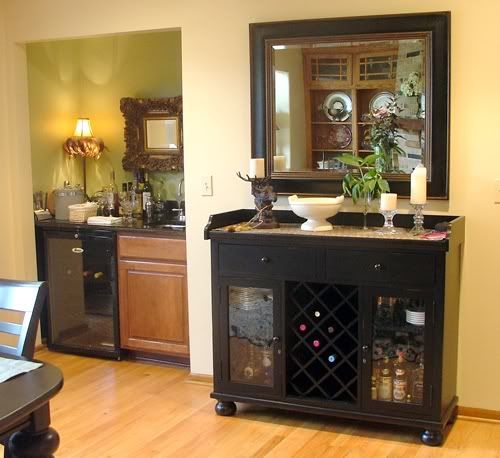 Now I need to get window treatment and work on accessorizing. I'm so thankful we were able to do this project and it's the last furniture we'll probably ever buy.
Thanks for coming along on the tour and thanks for all your supportive words along the way.
P.S. Everthing is from La-Z-Boy. They carry all kinds of furniture in addition to the La-Z-Boy constructed pieces. The bar cabinet is a Howard Miller piece.