This is progress! I realize that the Monday Morning Staff Meeting should actually be held on Monday, but Tuesday is certainly an improvement over Thursday.
This morning I invite everyone to have a big piece of birthday cake.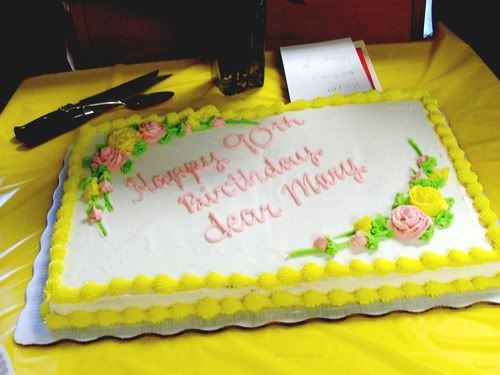 The Other Mother will turn 90 years old on July 3rd. Last weekend her church presented her with a cake and sang Happy Birthday at their annual picnic.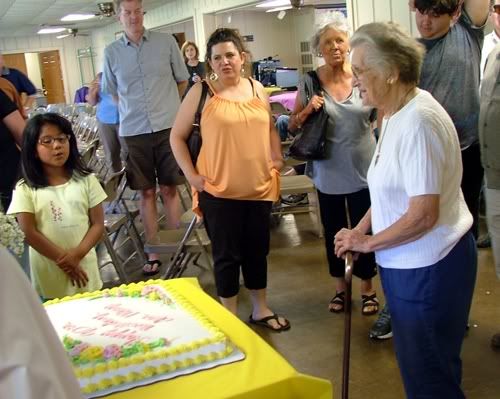 The Other Mother prepares to cut her cake.

Grab a piece of cake and let's get started.
- - - - - - - - - - - - - - - - - - - - - - - - - - - - - - - - - - - - - - - - - - - - - - - -
There are lots of very talented people in this world and we are able to connect via the internet. I want to introduce you to one designer who generously offers free patterns on her blog.
ARTSY CRAFTY BABE
Rebeka sells her handbags on Etsy but if you look on her right sidebar you'll also see that she has some free patterns and tutorials.
I love her market bag. Other patterns are available for sale here:
ARTSY CRAFTY PATTERNS
Thanks Rebeka for your generosity.
- - - - - - - - - - - - - - - - - - - - - - - - - - - - - - - - - - - - - - - - - - - - - - - -
My blog list is very, very eclectic. VERY eclectic. Along with a few decorating and personal "at home" type blogs, I follow a pillow astronaut.
PILLOW ASTRONAUT
What's a pillow astronaut you ask? Why, it's a test subject for NASA's microgravity tests to determine the effect of weightlessness on the human body.
She's my go-to person for all things NASA and space. And she's a Star Trek fan and all around fun and interesting person.
I also follow a theoretical physicist/super hero Ethan Siegel at:
STARTS WITH A BANG
Rounding out the science category is Scott Maxwell's blog, Mars and Me.
MARS AND ME
Scott drives for a living. He doesn't drive an 18 wheeler or an SUV. Scott is one of the Mars Rover drivers!
I also follow alot of the cookie bakers. These bakers/decorators make some of the most beautiful edible creations and they share some of their secrets.
If you remember, I attempted a decorated cookie for my niece's baby shower.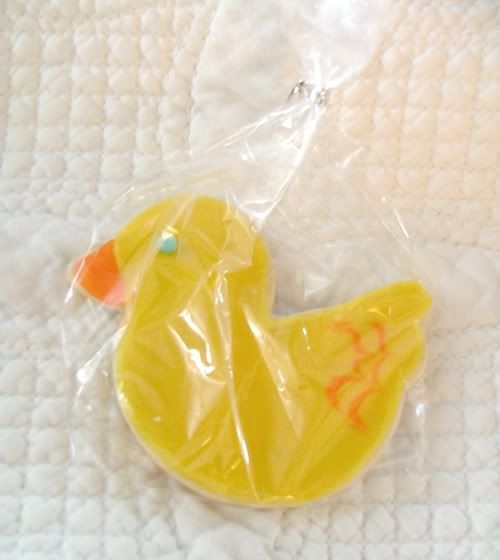 I was fun and they turned out pretty good but honestly this is SO MUCH work I can't imagine doing it for anything other than a very special occasion. These women bake and decorate thousands of cookies.
One of the bakers does wonderful things other than cookies. It's Bake at 350.
BAKE AT 350
Look at this crazy good thing.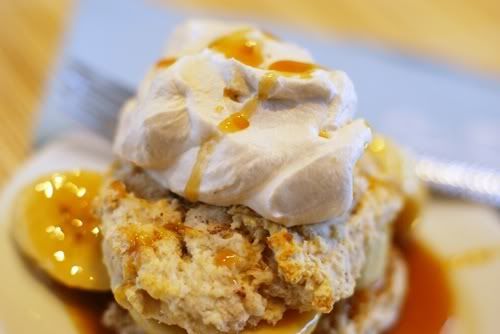 BAKE AT 350 CARAMEL BANANA SHORTCAKE
I am never disappointed at her offerings.
One of the other cookie bakers is Nicole. She lives on the Air Force base near Minot, North Dakota. Currently she is chronicling the devastating floods in Minot. It's hearbreaking to witness people losing everything.
I can't imagine what it will take for this community to rebound. The schools are all flooded, some up to the rooflines!
MINOT FLOOD 2011
You can follow her for further updates.
LIFES A BATCH
These are our neighbors, regardless of whether they live 1,000 yards away or 1,000 miles. If you want to help, donations are being accepted by the American Red Cross.
Lastly, it's curious how many bloggers are facing huge challenges right now. It seems that each and every day there's another blogger taking leave because of physical or personal challenges. It's life, I know, but it just seems like there's a wave of tough stuff hitting people right now.
To all those blogger who take their leave - you will remain on my blog list and I'll be anxiously awaiting your return.