Good morning everyone. It's been a long time since we've held a Monday Morning staff meeting.
This morning we're going to be sharing some apple pie a la mode. Help yourself. I apologize that this is a store bought pie but the crust is quite good, flaky and light.
- - - - - - - - - - - - - - - - - - - - - - - - - - - - - - - - - - - - - - - - - - - - - - - -
Grab the September edition of Country Living magazine, or maybe you have a subscription. Fellow northern Illinois blogger Jen Rizzo's kitchen makeover is included. She had a vision and created a wonderful and warm space.
The most important part of the article to me is that fact that they included the budget. I love looking at beautiful kitchens but always tell myself, "That's got to be impossible to accomplish on a small budget." Well, Jen shows how it's done.
First she shows you how to build a kitchen island.
KITCHEN ISLAND
Here's her original "oak cave".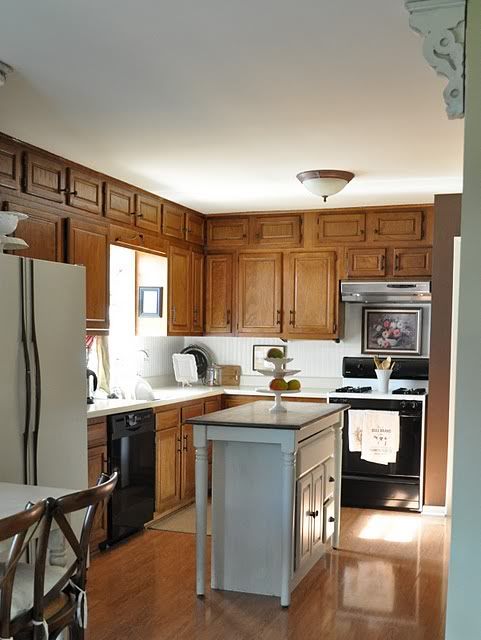 Source: Jennifer Rizzo
They saved money by painting the cabinets themselves and installing wood countertops rather than granite.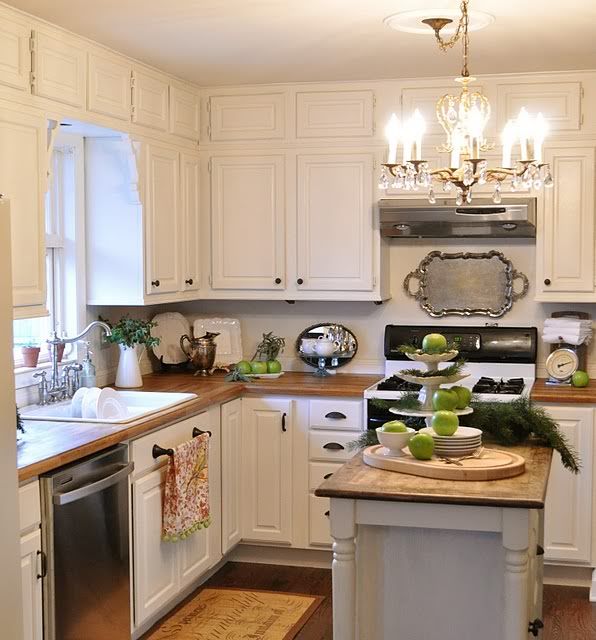 Source: Jennifer Rizzo
It just goes to show what you can accomplish with a vision and some hard work.
Congratulations Jen on your article in Country Living!
- - - - - - - - - - - - - - - - - - - - - - - - - - - - - - - - - - - - - - - - - - - - - - - -
The Help..
Have you read it? Have you seen the movie?
A friend and I are going to see it tomorrow. I finished reading the book in two days. Well, I wasn't working and just couldn't help but engage in a reading binge.
I liked the book but it was fiction and you know the problems I have with fiction. It seemed very true to the times, believe me I remember them vividly but I kept referring in my mind to Stephen King's book on writing. He bemoans the fact that authors rely on plot mechanisms that they chart out ahead of time and in this book I could see all those mechanisms at work. YIKES!!! A mind like mine can really pull all the enjoyment out of something. I can't help myself. HA.
SPOILERS AHEAD....skip down if necessary.
The "pie" part of the plot simply did not work. I could see that she was building a way that the maids could escape unscathed from their actions. That's not how life, revolution and progress work. There was a price to be paid and at the time it was bitter and dangerous. Someone like Hilly would never keep that a secret, certainly not from her husband who would have exacted revenge.
I do applaud the message that it was people who were brave and willing to put their necks (literally) on the line for equality. In some cases it was not an act of defiance. Rosa Parks was not a revolutionary. She's stated many times that she was just TIRED. She just was bone tired and didn't feel like giving up her seat. She never got on that bus to become a hero or to propel a movement.
By the way, the civil rights movement was actually sparked by the murder of Emmett Till, a Chicago teenager who was killed in Mississippi in 1955. His mother insisted on a public funeral, open casket with journalists present. Her insistance propelled the movement into existence.
The Help did bring back memories for me because as a kid being raised in the Chicago area, going to the deep rural south in the 50's was like going to the moon. The culture was so foreign to me. Don't me wrong, racism existed in the big city north but we lived in an integrated community and racism was more underground.
I'm glad that author Catherine Stockett was able to give the help a voice. I am anxious to see the movie because I believe in the hands of talented actors this story will be awesome.
- - - - - - - - - - - - - - - - - - - - - - - - - - - - - - - - - - - - - - - - - - - - - - - -
Do you sew? Would you like to help some neighbors in need?
I'm speaking of our neighbors in Joplin, Missouri and Tuscaloosa, Alabama. They're not right around the corner from us, but they are still our neighbors in need.
There are upwards of 14,000 families who have lost everything, including all their holiday decorations. Think about how you would feel if all those ornaments your children made over the years were destroyed? Christmas is fast approaching and these families could use the comfort of a handmade Christmas stocking.
Craft Hope has launched the Christmas in Dixie for tornado survivors project. You can help by creating a handmade stocking and mailing it off before September 23rd. The project coordinators will make sure they are delivered before Christmas. They are asking for standard size stockings (not minis) with a loop on the top and possibly a blank space for monogramming at a later date.
Complete information can be found here:
CHRISTMAS IN DIXIE PROJECT
There are plenty of free stocking patterns online.
- - - - - - - - - - - - - - - - - - - - - - - - - - - - - - - - - - - - - - - - - - - - - - -
Have a great day everyone. Thanks for taking time out of your busy day to visit with me.