Yesterday we talked about aprons. Vee had a question about the aprons in this photo.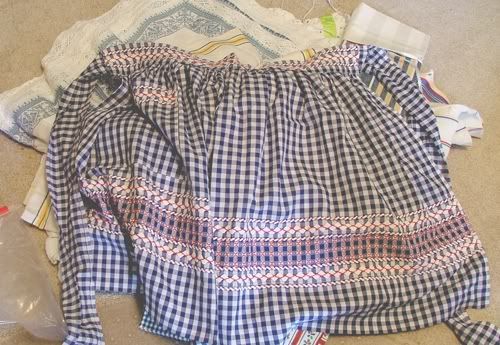 This apron is an examples of what is called chicken scratch embroidery. This involves doing cross stitch embroidery on a piece of gingham and creates different effects.
Vee asked, "Have you ever tried the chicken scratch embroidery for aprons?"
No, I have not. This is also on my list of things to try. I love doing hand sewing so this would be pleasurable and relaxing. Here's a close up.
This apron came from a church rummage sale and it's different than any others I've seen because this one has white rick rack applied to the fabric using embroider stitches. This was alot of work!
Have you ever tried chicken scratching? Have you ever sewn an apron? There are tons of patterns available and the fabric stores run sales that allow you to pick them up for as low as 99 cents. If you are a novice sewer, an apron is one of the easiest things to sew but still allowing you to gain some skills.
Here are a few of my favorite patterns:

Simplicity 4282
- Vintage style half and full aprons. One view includes directions for chicken scratch. Another view is an old fashioned smock-type apron with pockets. (six different aprons)
See & Sew B-5411
- Two styles of half-aprons. One has a ruffle at the bottom.
Butterick B5436
- Four style of aprons, two half aprons and two full. These aprons are sized from small (8-10) to large (16-18). This is a go-to apron pattern for me because of the larger sizes.
McCall's M6366
- Two full circle skirt half aprons and two full aprons. More modern style.
McCall's M6255
- Is your child wanting an apron, or asking to learn how to sew? This pattern is for you. It includes three different views that include patterns for both adult and child sizes. Very cute.
McCall's M6334
- Three styles of aprons, both half and full. This pattern has a twist. It include appliques designs including an owl on a branch, a chicken, tulip and a dress. Fresh and retro-modern style.
My favorite pattern?
Mary Mulari's Church Ladies Apron Pattern.
The traditional church ladies apron is a classic and just screams "good food - nurturing found here"! This pattern is one size fits most and can be made reversible. I found the pattern at a quilt shop but it is available online at Mary's shop:
CHURCH LADIES APRON
Challenge yourself. Make an apron!
- - - - - - - - - - - - - - - - - - - - - - - - - - - - - - - - - - - - - - - - - - - - - - - -
Disclaimer:
No, I'm not paid by Simplicity or McCalls. Downy fabric softener doesn't pay me to say good things about their Downy ball either. DRAT! It's OK. I don't have enough readers to be a paid product endorser or get my own cooking show on TV but I can assure you that it's better to be small and actually KNOW your readers. Many of you are pen pals and I appreciate your support and friendship.