I sew alot. My vintage sewing machines have thousands and thousands of miles on them. They are my trusty steeds.
The main focus of my sewing efforts are aprons. I was so happy to see them make a comeback because my grandmother and mom my always wore aprons. My grandmother's apron was utilitarian. My mom had a workhorse apron in the kitchen but I distinctly remember her changing just before guests arrived. She'd don a fancy hostess apron.
These aprons were made of dressy fabrics such as voile or netting and were more of a fashion accessory than clothing protection.
Aprons are symbols of nurturing, sustenance, love and the solid base that is a home.
My friend sent me the following piece, knowing my love for aprons, both new and vintage. I do not know the author, but I wanted to share it nonetheless.
- - - - - - - - - - - - - - - - - - - - - - - - - - - - - - - - - - - - - - - - - - - - - - -
I don't think our kids know what an apron is.

The principal use of grandma's apron was to protect the dress underneath, because she only had a few. It was easier to wash aprons than dresses and the used less material. But, along with that, it served as a potholder for removing hot pans from the oven.

It was wonderful for drying childrens tears, and on occasion was even used for cleaning out dirty ears.

From the chicken coop, the apron was used for carrying eggs, fussy chicks and sometimes half-hatched eggs to be finished in the warming oven.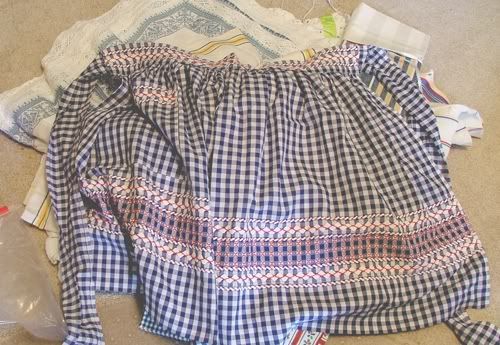 When company came, those aprons were ideal hiding places for shy kids.

When the weather was cold, grandma wrapped it around her arms.

Those big old aprons wiped many a perspiring brow, bent over the hot stove.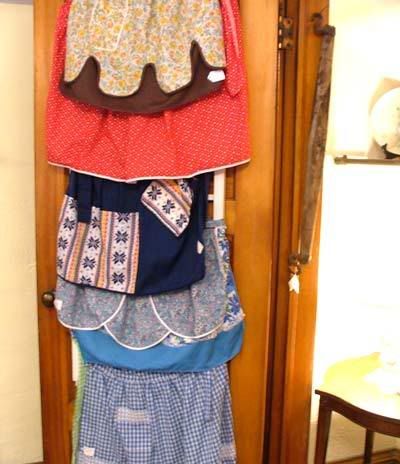 C
hips and kindling wood were brought into the house in that apron.

From the garden, it carried all sorts of vegetables. After the peas had been shelled, it carried out the hulls.

In the fall, the apron was used to bring in apples that had falled from the trees.

When unexpected company drove up the road, it was surprising how much furniture that old apron could dush in a matter of seconds.

When dinner was ready, Grandma walked out on the porch, waved her apron and the men knew it was time to come in from the fields for dinner.

It will be a long time before someone invents something that will replace the old-time apron that served so many purposes.

Did you cringe a little bit at some of these uses? Did you think about how many germs were on that apron?

Well, I can tell you I don't think I ever caught anything from an apron.
- - - - - - - - - - - - - - - - - - - - - - - - - - - - - - - - - - - - - - - - - - - - - - -
Did this piece bring back some memories for you? It did for me and not just of my grandmother but also my mom and my aunts. I'm grateful for alll the wonderful, strong and talented women in my life.
My aunt in the panhandle of Florida cooked fabulous meals on a wood cookstove, bringing in the wood and kindling in her apron. She didn't even have electricity!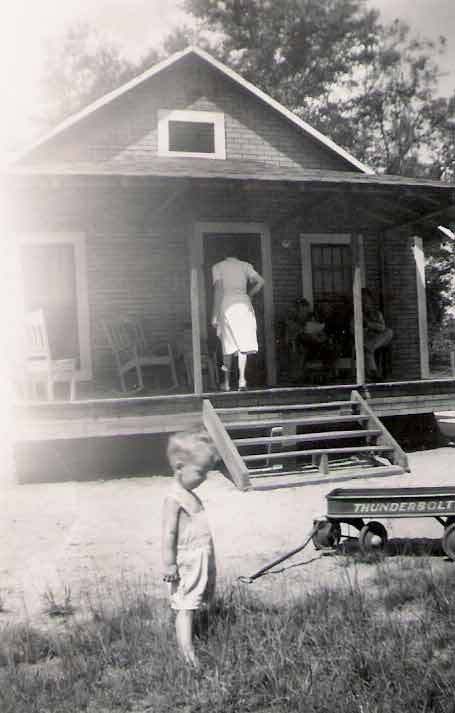 Florida panhandle - Circa 1953
My other aunt was horrible crippled by a virulent form of arthritis and yet she'd don her apron, make butter in a glass jar churn and cook a huge midday meal for all the farm hands.
Here's to the apron and what it represents.