If high tech is a ladder, I'm on the lowest low rung.
My cellphone is positively high tech to me because when I was growing up even the idea of a cellphone was in the realm of science fiction. No, not in the realm, it WAS science fiction.
Recently I had to get a new battery because the old one simply wouldn't take a charge anymore.
"Hmmmmm," said the very young girl at the phone store. "I haven't seen one like this in a very long time."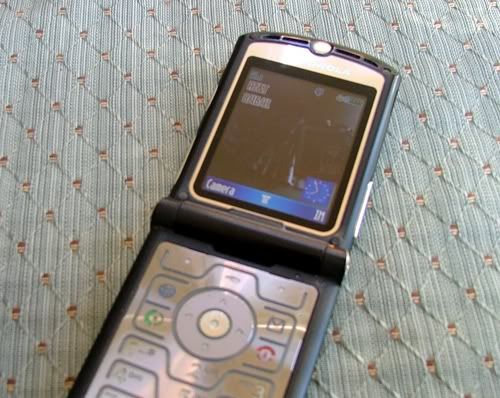 That's right honey. It's old, it still works and I haven't had a contract in probably five years.
"Did you know you can get the latest phone for free? Just sign up for a 20 year contract and you can have a phone that does everything for you. Why, you can get an app that allows you to simply speak into the phone and it will do a web search for you. Watch this...... Kim Kardashian. Look at all these hits."
"Ummmmmm, no thanks," I assured her. "I'm not going to live 20 years anyway and I kinda like doing my own web searches, certainly not for any Kardashian."
My phone takes calls and makes calls. Oh, and occasionally gets a voicemail. That's it. I did figure out how to take a photograph and save it as a screensaver. This is a cool apron I saw in the bathroom of a kitchen shop in Hot Springs. I give myself an A+ for somehow figuring that out.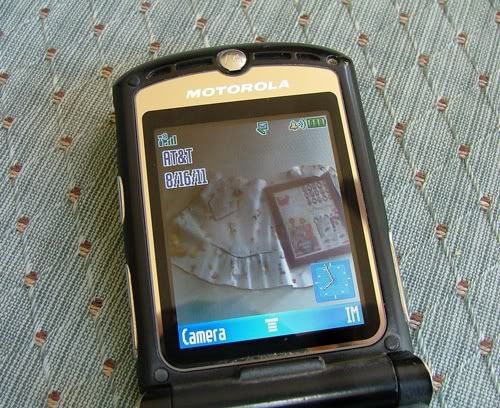 Low tech extends into the house also. I'm very happy to have a modern washing machine. My grandmother would have killed for one in her youth. She was the one in charge of scrubbing the clothes on a washboard in the nearby stream where she grew up in Tennessee.
Last year our old faithful machine finally gave out after 25 or 26 years of faithful service. Todd, our appliance repairman, came out and pronounced the machine beyond hope. I had been spying those slick, beautiful front loaders. I was dreaming about them, in fact. Todd warned me off. He said that he's doing $$$$ repairs on them as soon as three years into their life. He suggested buying the bottom of the line Whirlpool. Does the work, no bells or whistles.
It worked for us because, at the time the Farmer was newly unemployed. An $1,100 washing machine was not in the cards for us. So off I trudged to the local Sears appliance store and soon the bottom rung of the high tech washing appliances made it's way into our home. They forgot to mention the noise. This machine sounds like a machine gun when it's in the wash cycle. Ditto for the rinse cycle. OK, I can just close the laundry door and think about all the bucks we save.
There's just one more problem. No bells and whistles, remember? The handy-dandy fabric softener dispenser was non-existent. Drats. I hate having to catch the machine between cycles.
That's where this cool little thing comes in.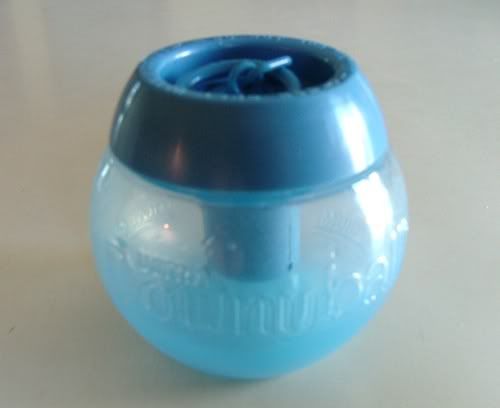 It's a fabric softener dispenser and it's positively, fabulously, low-tech and wonderful. You put in the correct amount of softener (store-bought or homemade) and pull the plug shut.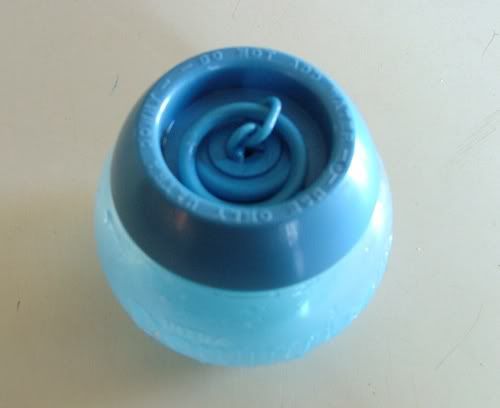 You toss it into the washer at the beginning of the wash cycle and magically it opens and dispenses the softener during the rinse cycle.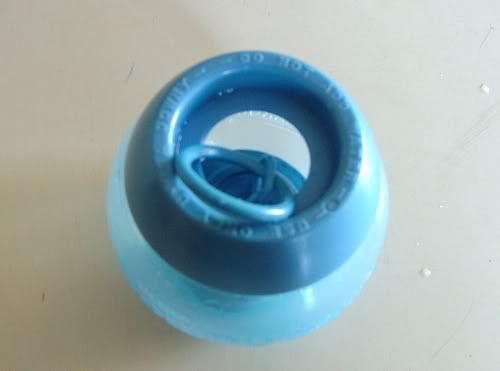 I just LOVE inventors. I guess that the motion of the spinning breaks the seal and allows the softener to escape. It's just a crazy little amazing piece of plastic.
I think it was $1.59.
How about you? Are you lower rung high tech or top of the ladder high tech?
"