I've mentioned the fact that I got a job. Yes, another job. I'm going to keep getting jobs until one sticks!
I did like the last job demonstrating food at the local Sam's Club. Then I danced on the two-edged sword. Our very, very, VERY expensive COBRA insurance ran out. No matter for the Farmer because he went on Medicare and supplement but since I'm a relatively young chick (yeah, right) I still needed insurance for two years. I was lucky enough to be accepted into a state program that acts as a big group policy, allowing those who can't find insurance anywhere else to obtain a good policy. AND, it's 1/3 the cost of what we were paying on COBRA. The only catch? You can't work for a company that offers health insurance. My little part-time job demonstrating food did offer a ridiculous policy which paid about $20 on a $20,000 hospital bill. And so, crazy as it may seem, I had to quit my job to get health insurance.
I still visit the women I worked with because they were fun and interesting people.
The new job is with a local furniture store and my first question before I filled out the application was, "Do you offer health insurance to part-time employees? No? Good!"
Now, that's crazy.
The new job is good, I like the people alot but this is tons and tons of product information and policies for this old brain to remember. I'm going to stick with it for awhile because the Farmer and I need to tie up some loose ends before we actually retire. Some days it doesn't seem like that will ever happen. We keep putting one foot in front of another and keep our eyes on the goals we've set.
Let me say this though..... you must be flexible and not be "married" to a dream. Dreams are good. Dreams keep us focused and moving forward but if, for some reason, that dream can't be realized you must be able to reset, reorganize and find another dream to be happy with.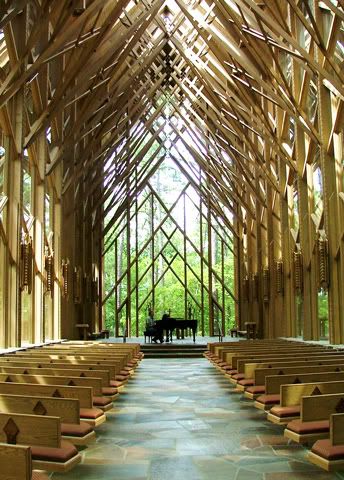 The Anthony Chapel - Hot Spings Village, Arkasas
No far from our retirement property.
Case in point. The Farmer and I have owned a piece of beautiful property and our intent has always been to build. The reality is that it makes no sense to build at $150 a square foot when we can find a beautiful home with a view equal to our lot for $80 a square foot. And so, like a computer we've reset and relaunched.
How about you? Is it easy for you to alter your dreams and expectations or is this something you struggle with?
Tomorrow I'll give you a heads up on some local events.