Amidst all the drama that swirls around us lately, we've discovered that the beat goes on. There are chores and responsibilies that remain static no matter what else befalls us. The truth is that at our age it gets a little pressing.
We are so grateful that our niece showed up last night while I was at work to visit the Other Mother and make the trip to the pharmacy for her meds. This woman is a bundle of energy, taking time out of raising her five girls to help us out. Thank God for family and friend is all I can say!
In between working a 12-20 hour job that has turned into 30 hours and dealing with the Other Mother's health issues, I've been trying to keep on top of my commitment to get the maintenance and updating chores on track. Translation: I'm painting again, trying to make that gallon work out just right so I'm not buying yet ANOTHER gallon.
As I near the bottom of the can and realize that it might just not be enough to finish a wall, I start hoping for the Loaves and Fishes miracle!
I'm in love with the color that I chose for the laundry room. It's from Sherwin Williams (my favorite paint) and it's called Austere Gray. Does it look austere to you, or grey? It's a beautiful shade of bluish, greenish gray.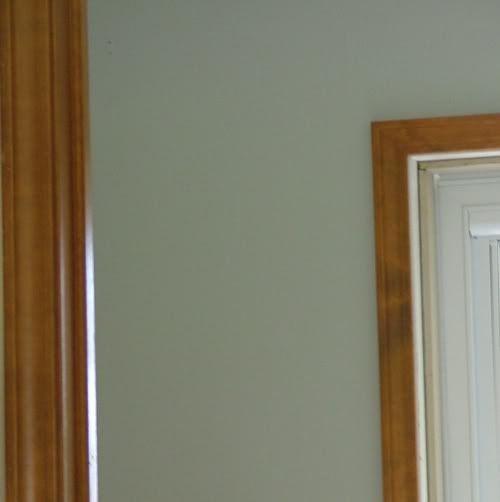 The Farmer saw the gleam in my eye concerning this color and he's afraid of arriving home to find that the entire first floor has been painted in this hue. No worries, just the laundry room, hall and half bath.
Also, the fairly new but very cheap washing machine decided to start making noises like a piece of space junk falling to Earth. A repair visit, parts and labor would amount to upwards of half of what we paid for thing so we decided to bit the bullet and replace both it and the ancient dryer with new front loading machines.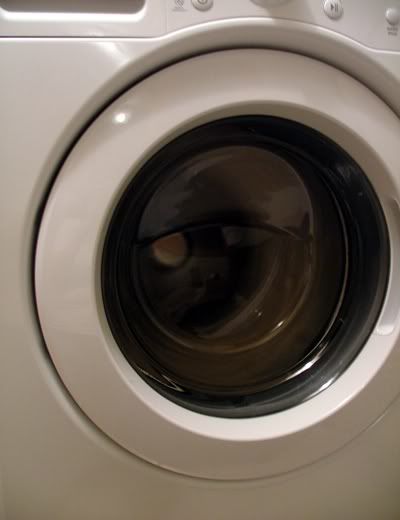 The cost of some of these machines make you take pause. We got the basic set with a mininum of bells and whistles, no steam and washwoman to run the things. The cost of the stacking bases irked me but we signed on the dotted line, they were delivered and the old ones hauled away.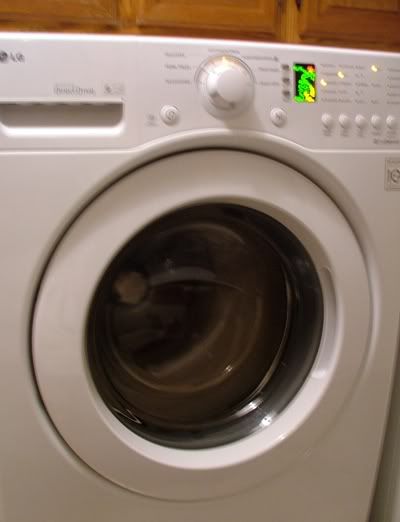 There's an added benefit to the front loaders.... it's hypnotic to watch them run through their cycles. I've been known to spend 20 minutes or so sitting on the bench mindlessly gazing at the action.
I was alarmed at the apparent lack of water. Do any of you have a front loader? It just doesn't seem like enough water to do the job. But after watching a cycle or 10 or 20 I've figured out that it gets the clothes plenty wet then drains off that water and the dirt removed, and repeats this cycle a number of times. This process means that the clothes aren't sloshing around in dirty water for 15 minutes but that the dirty water is removed throughout the process. At least that's what I deduce.
Do you have a front loader? Love it, hate it?
Thanks for visiting with me today. I will have pictures of my Halloween decor to share in the next couple of days. Better late than never, huh?