Yesterday the Other Mother struggled with the flu. On orders from our Son-the-Nurse I kept pushing fluids and making sure that she was eating and not putting herself in dangerous situations (walking down a flight of stairs).
At about 2:30 she made an incredibly rare request, "I think I should probably go to the hospital." Oh boy, let me tell you that if she requests help she's really in trouble. So I fired up the car as quickly as I could and navigated her down the stairs and into the car. Off to the emergency room we went.
Let me tell you a little background about the Other Mother. She was born in North Dakota to Polish immigrant parents. These were no-nonsense farmers who engaged in incredibly difficult physical labor every day of their lives. Her mother never helped with the farm chores except to tend to their chickens, so when the father fell ill the son left for the city to get a job to pay for his medication. Since her mother refused to do farm chores (seeing her chores inside the farmhouse as quite enough) the work fell to the Other Mother and her sister, probably only 10 and 12 years old at the time. Like I said, they were no nonsense and the theme formed that "work was God". Work and chores take precedence over anything and everything else.
Back to the tale. I pull the car up to the ER doors and duck inside for a wheelchair, admonishing the Other Mother to STAY PUT. I return, lock the wheels on the chair and she swings her legs out. This is when things go very wrong. She's so weak at this point that she kinds of melts before me, crumpling back and starting to slide out. OH MY!!! This has actually happened before.
I yelled at a passerby to get someone from the ER to help me. The Other Mother now swings into her I'm-tough-as-nails-and-I'm-going-to-get-myself-outta-this-car....nobody's-gonna-help-me mode. All this struggling and pulling is now making her slide further.
"Just stop it please!" I say. "You're making things so much worse".
All to no avail. She's gonna do what she's gonna do. A nurse arrives and we lift and navigate her into the chair. WHEW!
The ER is packed. It's full chaos mode. Later I discover that they've actually had to call in another doctor to help with the workload. She's registered and triaged and we return to the waiting room to wait. It's 3 p.m.
How long did we wait? This long: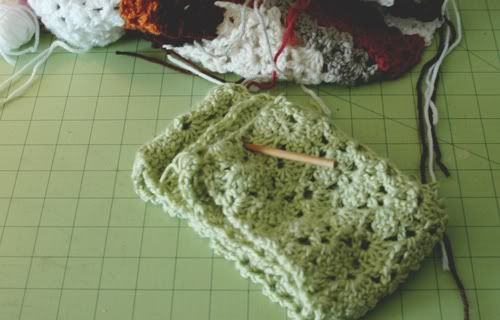 I brought along a small ball of yarn and my needle, thinking that I might be able to get a little crocheting in whilst we waited. Oh yeah......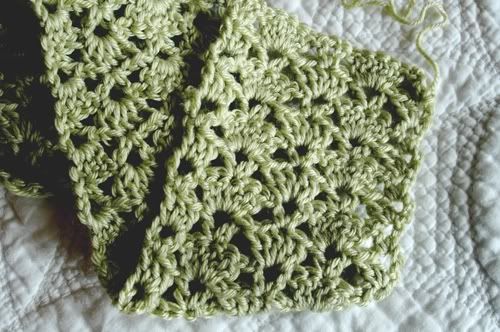 One yard of waiting and more. I finished a neck warmer and could have done two more if I'd had the yarn.
There were some very sick children in the room and it was hearbreaking to seem them literally passed out in their mothers arms. I'm am reminded that the very elderly are like two-year-olds and teenagers all rolled up in the same package.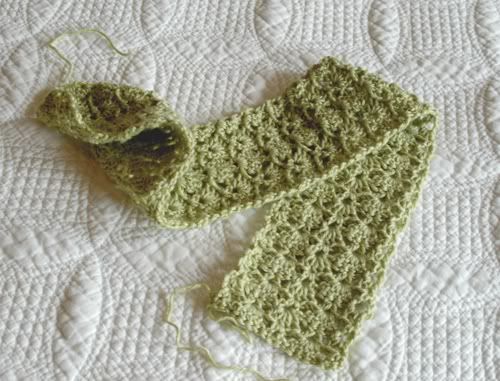 As I said, the Other Mother was raised to be tough as nails. There's a term in Polish - Bosca - which roughly translates to "Boss Lady". Let's just say that the Bosca is in charge and running the show at all times, and a Bosca
always
gets her way. The Other Mother epitomizes the Bosca tradition.
After some tests are done it's determined that she needs fluids and at least an overnight stay in the hospital to gain some strength. Time is eternal in the ER. All tests take an hour or two. Slow and steady as we go...... and soon it's past midnight!!
She's finally transported to her room and then the fun begins. She wants her house slippers so that she can walk to the bathroom. Walk??? No, you just collapsed a few hours ago and you're too weak for that task.
In walks a nurse right out of central casting. She's probably 6 foot tall and zaftig. This woman eminates power..... and she's Polish! She's a Bosca of the highest level. The War of the Bosca's is on!!!
The nurse takes information from us, including the fact that Other Mother does not use her cane in the house, navigating by holding on to furniture and walls.
"There vill be NO vall valking in my hospital!"
Oh my goodness. This is going to be quite interesting.
As the Farmer and I walk out into the freezing parking lot at 1:30 a.m., he turns to me and says, "Good luck to the nursing staff".
So, that's the status here "At Home". I'll keep you updated.
- - - - - - - - - - - - - - - - - - - - - - - - - - - - - - - - - - - - - - - - - - - - - - - - - -
In thanks for your friendship and care, I'll be giving away this "Emergency Room Neck Warmer" to one of my readers. Please leave me a comment and I'll through your name in the bucket.

More later..........