This week has been a flurry of home health nurse visits, physical therapist visits, doctor visits and more EKG's than you can shake a stick at. Thankfully the doctor has told the Other Mother that she cannot drive.... for now. The snow will fly soon and that will put an end to her driving for the winter and hopefully this will actually be the end of her driving forever.
I do not lament the loss of "independence" because it's just a fact of life. If we are lucky enough to live to an advanced age we will lose aspects of our independence. It's reality. Anyone diagnosed with a debilitating illness is forced to deal with this reality, some at very young ages. It just IS. The sooner you make peace with this idea the better off everyone will be.
I faced illness that left me never knowing if I'd be able to function on any given day. You just tell yourself, "I'll get up and do what I can do for this day. Tomorrow is another day and perhaps I'll be able to do more."
Yesterday the Other Mother thought she might like to go to the store and shop but I know that there are issues that could cause her to faint or become weak. On advice from the medical staff I told her that was not yet possible.
"Give me your list and I'll get everything you need," I told her.
You can be assured that she does not NEED coffee cake, cookies and biscuits. But I decided, what the heck, at 90 years old you should eat what you like. It's not going to cause a health crisis, so coffee cake and cookies it was!
She's particularly fond of cookies that are sold at a local grocery store. I cannot fathom how this particular cookie display has escaped the critical eye of the government. The cookies are displayed in a large display case. You lift up the lid and use tongs to choose which cookies you like, mixing and matching to your hearts desire. They're weighed at the register and sold by the pound.
Individual loose cookies, opening cabinet doors, tongs...... probably a recipe for disaster but oh well, the cookies are wonderful.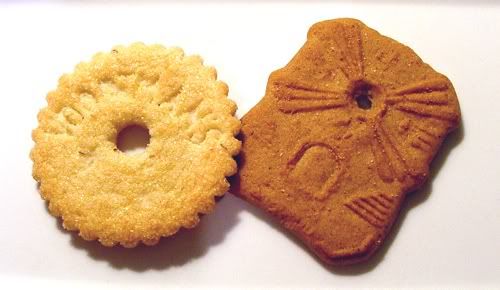 They're made by Voortman's and since I was the shopper for Other Mother, I got to choose my personal favorites. Be still my heart. The flat sugar cookie on the left has slivered almonds, a light almond taste and dusted with sugar crystals.
On the right is an all time favorite - the Windmill cookie! The shape has changed, they used to be larger and more "windmilley". That's not a word but you get my drift. They also used to have slivered almonds on the top. Those are missing but it still has that spicey flavor that probably has molasses in the batter. OH YUMMY!
Do you have a favorite store bought cookie? I don't think any of those packaged varieties can hold a candle to these Voortman cookies. Certainly not the Pecan Sandies. WHO changed the formula for that cookie? It tastes nothing like the Sandies I remember from years ago. I do love Lorna Doone's shortbread cookies.
I'm off to wait for the physical therapist and later the nurse, then it's off to work.
I need a cookie.