After months of hospital visits (both the Farmer and the Other Mother) and coordinating physical therapist and home health care nurse visits, I find myself able to get out this week. Not only once or twice but three, count 'em, THREE evenings.
Heck, I don't even know if I remember how to socialize. Remember when your children were little and you were known as "Katie's mom" or "Tommy's mom", as if you didn't actually have a name of your own?
It feels good to get out and be with friends. This week I've attended a holiday gathering with my co-workers. Did I mention this is also the season of grab bags? I never quite know what to get for a grab bag gift but I was very lucky being in the receving end of this holiday tradition. Here's the great serving plate and tall mug I received in the co-worker grab bag.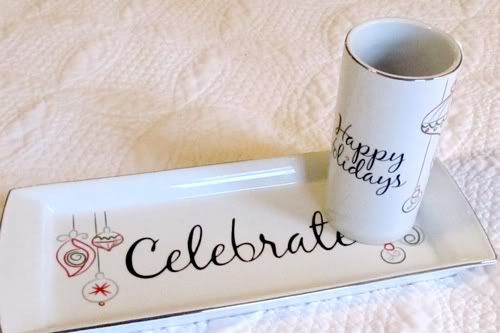 Aren't the just the cutest? They are from Kohl's department store, just in case you're wanting these for yourself.
Last night I attended the December Bunco gathering with my neighbors. Again, so good to mingle with friends. Neighbor Lynn and neighbor Betty have been so supportive of me during these last few months. I only hope I can be as good a friend to them.
Another grab bag. This time I scored something incredibly cute. It was tucked inside this bag.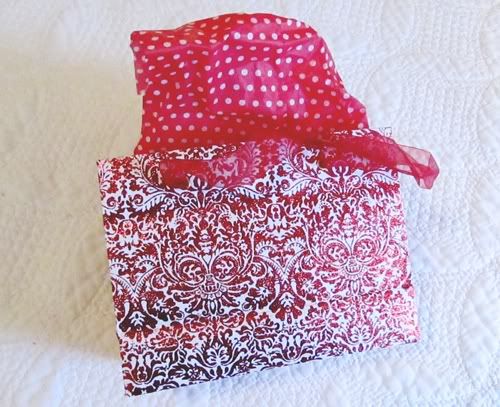 The pattern on the bag is all red glitter and I love the polka dot tissue paper. I'm a tissue paper ironer. How about you?
Here's what was tucked inside.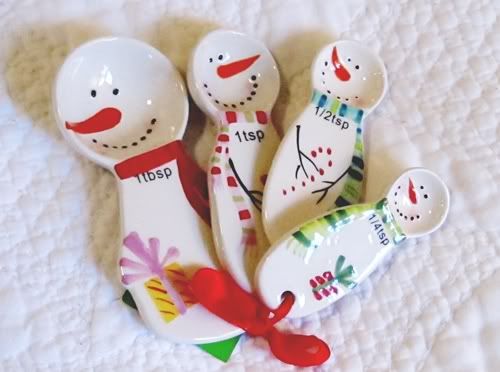 Ceramic snowman measuring spoons. So cute. The tag says they are from Pier One. You might want a set for yourself.
I'm going to use these measuring spoons to prepare for outing #3, which is a Christmas Cookie Exchange at neighbor Jacki's house. On Thursday evening I'll come home with 10 dozen assorted cookies. TEN DOZEN!! Gotta love cookie exchanges.
Have a great day everyone.