A couple of years ago the Farmer started doing something at Christmas that just makes us all laugh. One year our son was handing out gifts and came upon one that had him puzzled. The gift tag said, "To the Farmer, From Santa".
The only problem was that it was written in the Farmer's handwriting! We all looked at him in amazement and said, "You bought YOURSELF a Christmas gift, wrapped it up and tagged it from Santa?"
Really?
We all had a good laugh at that one. It seems that there was something he really wanted but couldn't justify spending the money. So, hey..... Santa was happy to oblige.
It became a yearly joke. What's "Santa" going to bring the Farmer this year?
I never had any intentions of following in the Farmer's footsteps but this past Sunday I was browsing through the sales flyers and spotted a camera for sale at Target. It was a terrific price. But the sales ad stated, "limited quantities".
I knew that if I really wanted the camera I'd need to be through the doors pretty early. Did I
really
want/need the camera? I could probably limp along with my trusy Fuji. Actually, I loved the Fuji so much that when the first died a quick death, I bought an identical used one on Ebay. I loved my Fuji Finepix!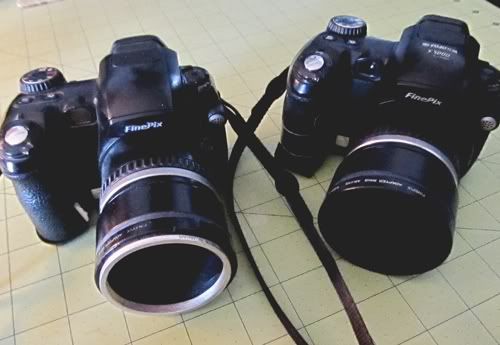 The trusty Fuji Finepix
The screen is teenie tiny though and every one of these cameras has the same flaw - the catch on the battery door breaks easily. For well over a year I've been taping the battery door closed, only to have to repeat the exercise every time I charge the batteries. It looked goofy too.
The new camera is a Canon. I've had a couple of the smaller point-and-click kind but was never happy with them. I like something a little heftier. The most important thing to me is a decent zoom. This has 12x optical zoom and 12 megapixels.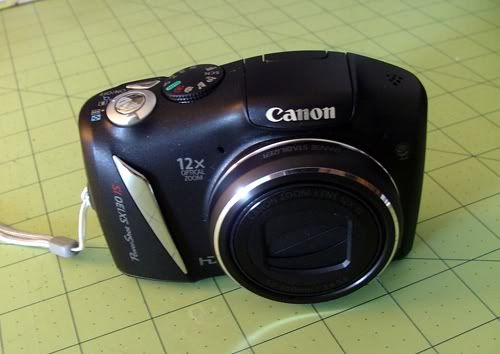 The Canon SX130 IS joins the stable of cameras.
In case you haven't figured it out by now, I have a real weakness for cameras and sewing machines. I suppose there are worse things to be attached to.
The Canon has some cool effects. I show you one of them tomorrow.
So anyway, this was my Christmas gift to myself. And, no.... I'm not going to wrap it up and tag it from Santa.