My hopes were high that I might get to seem some meteors on Tuesday night but alas, it had clouded up and started to drizzle. No meteors for me this time around.
This morning we were in full blown dreary mode. Here's the view from the garret window.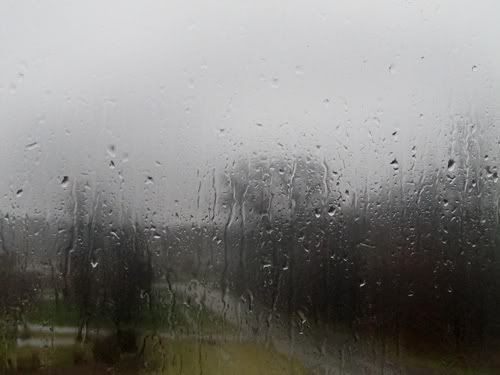 Actually, it looking out of my sewing room but garret sounds so much more interesting. Very Emily Dickenson. In order to take a photo from my attic I'd need to climb a ladder and enter through a small access panel in the hallway. Then I'd need to chop a hole in roof because there's no window up there. The sewing room "garret" will have to suffice.
It was so rainy and dreary that nothing seemed interesting except to go back to bed and sleep. Unfortunately cookies needed to be baked. Tonight is the Holiday Cookie Exchange. Sorry, there are no pictures of tutorials for the cookies. Y'all know how to bake cookies. You don't need any instruction from me. I made a Martha Stewart recipe called, Cranberry Coins. I'll post the recipe tomorrow. I thinks it's OK because the magazine it was published in is out of print.
Anyway, you don't want to see pictures of my kitchen when I'm cooking or baking. I agree with Paula Deen............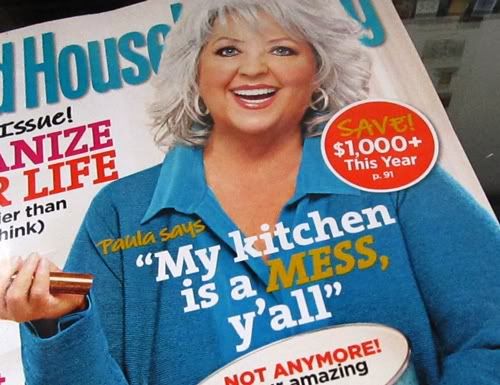 Paula Deen featured on January 2012 issue of Good Housekeeping.
My kitchen's a mess ya'll. There was flour and chopped cranberries bits everywhere. Not pretty. But Paula would be proud because I used lots of but-tah.
Are you a neat cook or a messy cook? I'm messy in most things I do. I like to start with a clean, neat slate but things deteriorate pretty quickly.
Tomorrow I'll show you some of the cool things my new camera can do. Today I wanted to share the rain and the cookie tales.