Holiday cookie exchanges are the best idea. Just think about it, I had to bake 10 dozen cookies, all from the same recipe. No problem. Then the cookie exchange magic happens. I come home with 10 dozen cookies in 28 different varieties. It's magic!
Here's my batch before I bagged them up.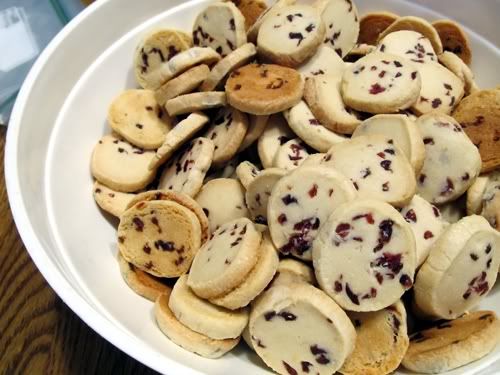 I prepared three batches of Martha Stewarts recipe for Cranberry Coins. There was no time this year for anything fancier than this. The are very good and have the texture of shortbread or the "sandy" cookies.
Here's the recipe, which is copied from Martha Stewarts Holiday Cookie magazine issue for 2010.
CRANBERRY COINS
1 cup (2 sticks) unsalted butter, softened
3/4 cup confectioner's sugar, sifted
1 tsp. pure vanilla extract
2 cups all purpose flour, sifted
1/2 tsp. salt
1/2 cup chopped dried cranberries
Beat butter, confectioner's sugar and vanilla with a wooden spoon until smooth. Add flour and salt; stir just till combined. Stir in dried cranberries. Divide dough into quarters.
On parchment, shape each portion into a log about 1-1/2 inches in diameter and 4 inches long. Wrap logs tightly in parchment or plastic wrap. Chill 30 minutes or up to 1 day. (Dough can be wrapped tightly in plastic and frozen for up to 1 month.)
Preheat oven to 325 degrees. With a sharp knife, slice dough into 1/4 inch thick rounds. Rotate log as you cut to keep it from flattening. Place rounds on parchment lined baking sheets, 1 inch apart.
Bake, rotating sheets halfway through, until the edges begin to turn golden, 20-22 minutes. Let cookies cool on sheets or wire racks. Cookies can be stored in an airtight container at room termperature for up to 2 weeks.
- - - - - - - - - - - - - - - - - - - - - - - - - - - - - - - - - - - - - - - - - - - - - - - -
These are nice, simple cookies that taste pretty good. They're not cloyingly sweet. I'll have to admit that I'm a big fan of dried cranberries. I love to throw them on my salad and while waiting for a batch of cookies to bake I threw them into my favorite breakfast.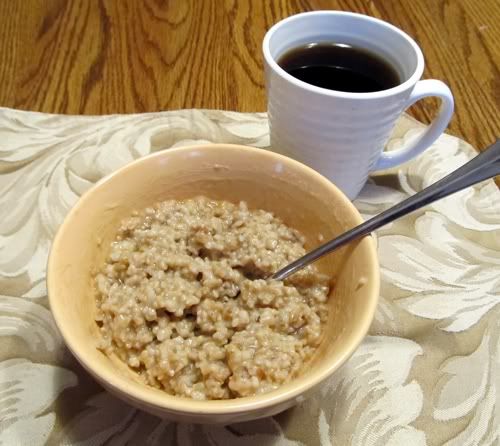 Steel cut oatmeal. This batch happens to be from Hodgson Mill but I've also tried Quaker and McCann's.
Add some dried cranberries.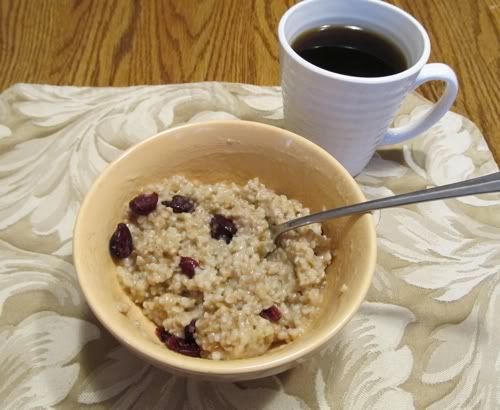 Delicious.
Have a great day everyone.