Yesterdays story about Seminole women aquiring and then divesting themselves of their beads is a perfect model for what has been going on in my life for the past few years.
Eighteen years ago when we combined households with the Other Mother we found ourselves with two of everything and sometimes three and four! The Other Mother worked for Sunbeam Corporation and was able to buy refurbished small household appliances at a song. We never winnowed the stuff down at the beginning and things began to take on a hoarding aspect. It doesn't look like a hoard because we have TONS of storage in the house but trust me, it's a mini-hoard.
I totally understand the Other Mother on this issue because when I worked as a manager in the fabric and crafts department I heavily took advantage of the $1 a yard promo every January and the 90% off craft markdowns. The result is that I rarely, if ever, have to buy an craft component when I'm in a creative mood. The downside is that four bookcases and the entire closet of my sewing room is chocked full.
Talking with some of my friends I find that the decluttering bug kicks in at a certain age. I know myself that sometimes it's hard to get to sleep at night because I'm thinking about all the "stuff" hiding in closets throughout the house. Let's not even talk about the 20 x 20 foot crawl space that packed with Christmas stuff and the aforementioned Sunbeam electric fry pans. It's unnerving!
In the last year I've become Goodwill's best friend. I use all the willpower I can muster to simply drop off the donations without pulling up to the front door to buy more. Gosh, it's hard sometimes because you know I've found some terrific treasures in those hallowed Goodwill halls.
I went on a spending fast awhile back and it's incredibly easy because I've pretty much lost the desire to acquire things. I jumped off the home decor bandwagon and besides repainting some rooms I'm pretty much contented to leave things in their state. I guess the fact that I've been through so many decorating phases (country, stiff traditional, shabby chic, just plain hand-me-down) that I don't have the energy to change things up. I have aging issues!
It's freeing to find yourself not wanting the latest whatever-it-is.... except a vintage travel trailer or as they say in England, caravan. Oh, I'd love a caravan.
However, a catalog came in the mail the other day that has me in a pickle. It has me longing for something. Do you remember yesterday when I mentioned the Seminole shelter called a Chickee? Here's an illustration showing how they were constructed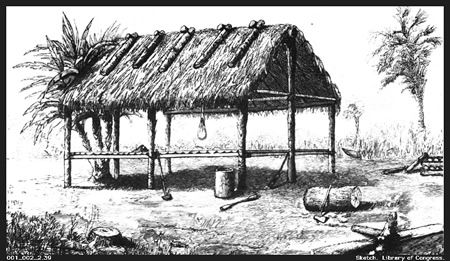 They originally lived in log homes, some were two stories, but when U.S. troops moved into hunt them down and relocate them west they developed the Chickee, which was fast to construct and disposable if they needed to move quickly. It got them up off the swampy ground and the open sides allowed total air flow in the heat and humidity of the Florida swamp.
Back to the catalog dilemma. I am on the mailing list for a company called Frontgate. They sell beautiful outdoor furniture and entertaining items. We need a new patio umbrella but that's not a priority at this point in our lives.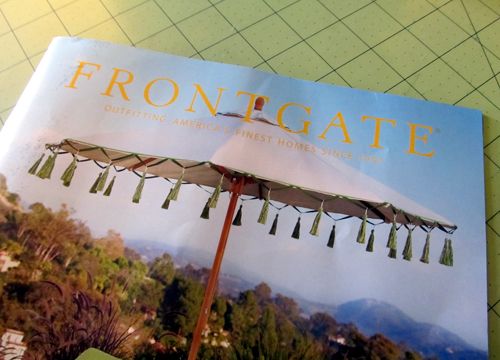 Anyway, how often do we entertain out on that deck? N-e-v-e-r. Still, that is a nice umbrella. That beautiful scenery is probably California. Sigh, it's cold and rainy here.
Further into the catalog I find a picture of this: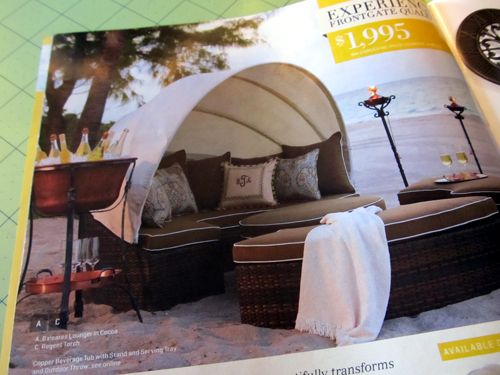 Looks like a Chickee for the 21st century, doesn't it? It's called the Baleares lounger and the ad copy promises that it will "create a cocoon of cushioned comfort." For sure. Do you notice that it's five pieces that can be arranged in different configurations?
It's sitting on sand but since I'm a thousand miles from any ocean I'd have to truck that in. That might get pricey.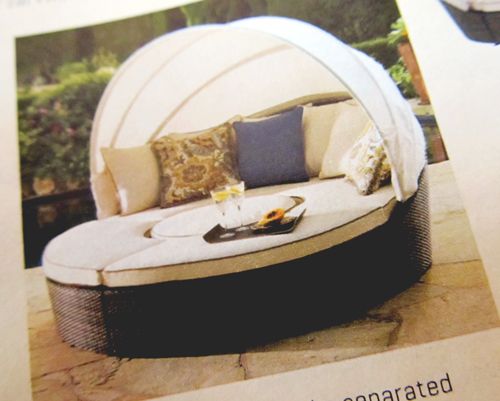 If I was Pioneer Woman, with her 4 gajillion followers, Frontgate would certainly send me one to use and review. That would be a marketing match made in heaven. But unfortunately I'm not PW and I don't have the $1,995 to obtain this little bit of heaven. Can you just imagine lounging around after scrubbing the toilets? You could read a nice book and drink Shark Attacks,
SHARK ATTACK
6 parts vodka
3 parts homemade lemonade
2 dashes grenadine
Combine all ingredients. Serve over ice.
Unfortunately, the "cocoon of cushioned comfort" is not in my future, unless of course Frontgate would like to swoop in - Publishers Clearing House style - and surprise me.
I think I'll just go looking for a hammock!