According to Wikipedia, "The classic bibliophile is one who loves to read, admire and collect books, often amassing a large and specialized collection." If a bibilophile refers to books, what does that make me? I love to read, admire and collect magazines!
Would I be a magaphile or a zineophile? Whatever it is, I'm one of them.
As far back as I can remember I've loved reading magazines in addition to the books that are always on my nightstand. They're a quick read with good ideas, inspiration, recipes and other helpful information. Back in the day when things we're really tight I'd buy a magazine at the checkout that was very, very inexpensive. The product reflected the low price as it was printed on paper that was just one step above toilet paper. It did contain interesting information though.
I'm constantly scanning all the magazine racks at the store and I'll stand for quite awhile looking through different publications. I can't say that there's one magazine that I'll buy sight unseen without first checking out the content.
Here's a good one that I found recently. It's the Food Network magazine and it's filled with good recipes. There's a little pull out section in the middle that has the 50 taco recipes promised on the cover. What I like about this one is that it's oversized and printed on quality stock with a slick cover. All this for only $3.99.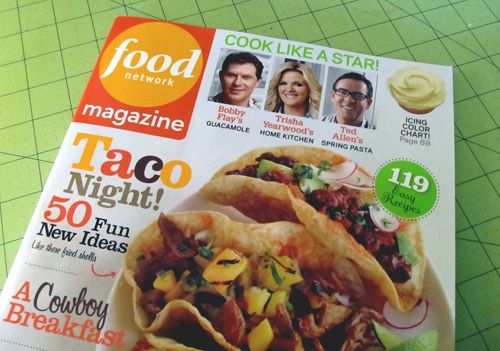 My next favorite magazine genre is the creative bunch which would include sewing, crocheting, knitting and of course anything with apron in the title.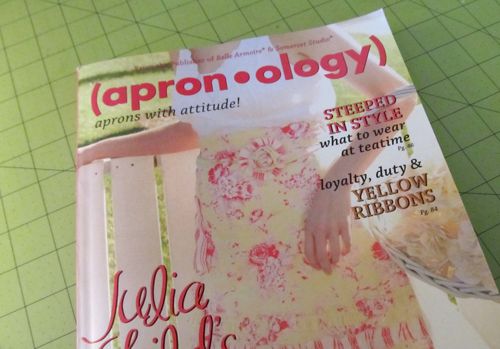 (apron-ology) is a yummy collection of inspiration aprons. Normally there isn't an actual apron pattern included. The apron designers tell the steps they took to achieve the look. This publication is $14.99 which means that I look it over pretty carefully before purchasing to make sure there's enough useful content. I also wait until I have a coupon.
Stitch is another favorite, but again, I don't buy every issue because not all the projects appeal to me and this one is also $14.99.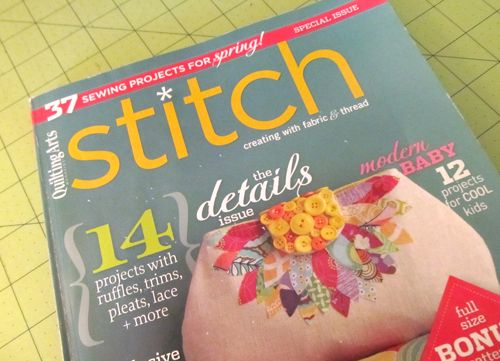 You know I'm going to pick it up if it contains an apron pattern.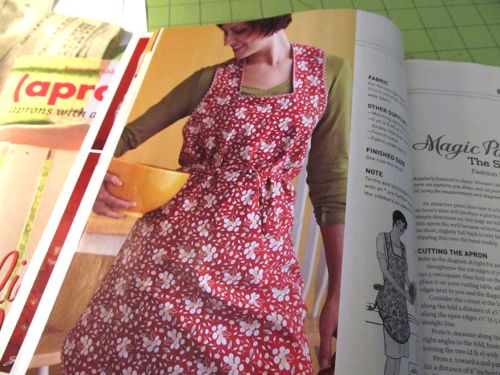 This apron turned out to be a real winner. It's based on a vintage pattern and only takes one yard of fabric. The downside is that you have to draft the pattern from the instructions. It wasn't all that hard actually. I have an end roll of blank newprint that I use for this purpose. It's laid out on the bias which means the apron hangs beautifully. The next time I make this I'll round that neckline because applying bias around that square was a challenge.
All this brings me to my magazine experience the other day when I was grocery shopping with the Other Mother. There was an issue with a beautiful photo on the cover. It was promising lots of terrific recipes inside. I scanned the pages and came across an article entitled, "The Other Pink Meat".
What could that be? The original pink meat is, of course, a nice medium rare steak. I'm wracking my brain to imagine what the other pink meat might be. Certainly not chicken. Salmon could be considered pink but it's a fish not a meat. The photo in this article looked suspiciously like a pork loin roast. YES, they were suggesting that you should try medium rare pork.
Seriously, I have the heebie jeebies just typing this. The article goes on to point out that the FDA or USDA assures us that pork is completely safe to eat in this manner. Don't care, it's ain't happening on my watch. I live in one of the countries major pork producers areas and I can't imagine the organizers of one of our many pork chop dinners serving up "pink" pork. It's a generational thing for sure. We were raised in the era when trichinosis was a very real danger. OK, I gotta end this post because I'm getting creeped out.
How about you? Favorite magazines? Any that you buy sight unseen? How about pink pork?
Yikes, what a post.