On Sunday morning the Farmer participated in a 5K run sponsored by our local library. It's called the Dewey dash and the fundraiser was to buy some new computers. The race was scheduled to start at 9 a.m. and we got there early because we weren't sure about how far away we'd have to park. Besides, the Farmer is fanatic about arriving early wherever we go.
He wore his Chicago Bears shirt.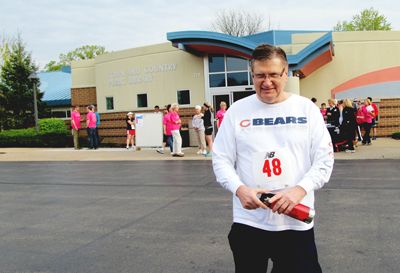 That's the library building behind him. Isn't it cool how some of the elements resemble an open book? He did some warm up exercises but was pacing around. It was obvious he was nervous. Did I mention this was his first race? Our kids can run a 5K in about 25 minutes. The Farmer advised me to go into town and have breakfast because he was sure it would take him an hour and half? Really?
The library's mascot was on hand to help with the event. It's Watson - the dog.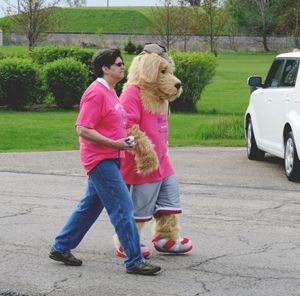 Everyone lined up for the start of the race. There were photographers from the local papers to cover the
event.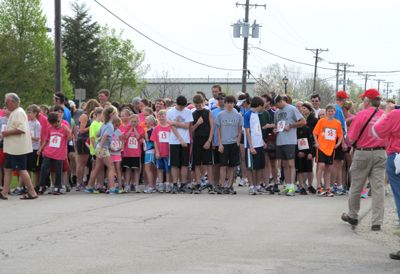 And they're off.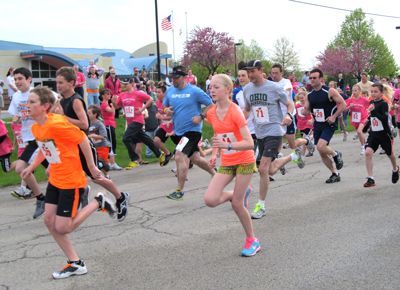 No, I didn't listen to the Farmer. I was pretty sure he wasn't going to take and hour and a half to finish. Anyway, he's always Mr. Worst Case Scenario. I went inside the library with my Emergency Room Bag and crocheted and had a cup of coffee. I positioned myself in front of a window that looked out towards the finish line. At about 19 minutes the first racer came down the chute. I waited awhile and went back outside to see if I could spot him. At the 43 minute mark he rounded the corner and came into the parking lot. He wasn't walking (as he had predicted), he was running!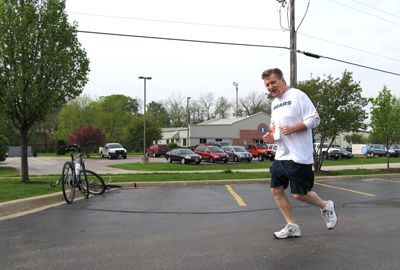 Not a bad showing. He felt good that he was able to finish, especially since part of the course was uphill. Another runner encouraged him throughout the race and for that I am thankful.