We are dealing with some thugs in the neighborhood. They're not what you might think. One has been hiding out in my yard, growing exponentially and taking over a corner.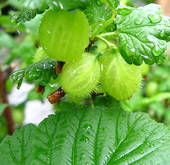 It looks lovely doesn't it? So green and inviting. This is a stock image and I can guarantee you that it's the cultivated variety because the wild gooseberry is evil incarnate. It has some of the wildest and dangerous thorns I've ever encountered in the plant world. The thorns make a rose bush seem like a powder puff.
These would create an impenetrable barrier in the wild. Are birds able to get close enough to feed on these? I'm not sure.
As if that wasn't enough we have another dangerous thug. One of my neighbors encountered this thug walking down the middle of the road late one night.
Yes folks, we have a BOBCAT roaming the area. And no, I didn't take this photo either.
Our neighbor is qualified to identify a bobcat when she sees one because her winter home is in Arizona and she sees them down there. A quick call to the local authorities confirmed that yes, bobcats have been sighted in the area.
What the??? I've never heard of bobcats in northern Illinois. We must warn all the new residents who have fled from the city and suburbia that you cannot leave your small dogs unattended outside. In addition to the bobcat there are coyotes, red tail hawks (very large) and large owls.
OK, how about you? What thugs are you dealing with?