What shall we celebrate? Waking up to a beautiful day is celebration enough but this morning we're going to celebrate baby Sal's birthday. She's not so much a baby anymore because she's one! Sal is my sister's grandchild. My baby sister. This should not continue to be shocking to me because my sister also has a grandchild that is almost 20 years old. Twenty years later I still cannot wrap my mind around this fact.
The party was held on Saturday afternoon, after I left the farmer's market. It was a nice day but about noon things started to heat up and the humidity kicked in a bit. Not as outrageous as it can get in Illinois but still a bit uncomfortable. After loading up all my stuff and driving the hour to their home I was not in the best mode to take alot of photos but I did manage a few.
My sister was holding Sal and doing her darndest to lean backwards to remove herself from the frame.
"Leave grandma out of this," she said.
"OK, OK..." I replied.
But I didn't comply. It was a perfect moment. Sal was happily enjoying the festivities in her honor and my sister just looked peaceful and happy, a kind of Mona Lisa moment. Believe me, rarely is her daily life peaceful so this was particularly lovely to me. Here's Sal in her crocheted birthday crown headband and my sister-the-grandmother.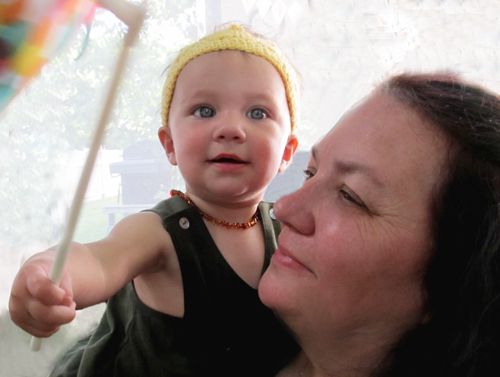 They just aren't making grandmothers like the used to. Ours had a fully white head of hair for all the time she was in our life.
Sal was this happy the entire day and in general she is a super contended and happy baby. Did I mention she's never had sugar? Not on this day either as my sister baked some cupcakes that were made with black beans.
My son has always told my sister and I that we should have been party planners because we love to put elements together for a party. We always try to coordinate food and decorations to make a celebration fun. Sal is holding her pinwheel, one of many that my sister put together for the party. My niece Heaether found colorful tie-dye kites from Oriental Trading Company and my sister made banners that draped across the porch. Sorry, no pictures of those as I was slacking in the heat.
I did get pictures of the cupcakes though. My niece is a cupcake lover of the highest degree. She had cupcakes at her wedding instead of a traditional wedding cake. My sister is a cupcake baker of the highest degree which became somewhat of a problem. The previous day was cupcake baking day and my sister was covered head to toe in flour. We are not know to be neat when we cook. The heat and humidity was playing havoc with her frosting but even though one of the frostings degraded a bit, they were all delicious.
When I say cupcakes I don't mean many cupcakes of one variety. Oh no...... that would not do as her creative juices get going big time. Here are a few of the varieties. I think there was at least one more that I missed.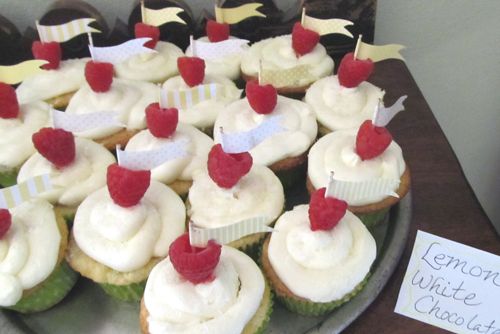 Lemon White Chocolate
These were the lemon cupcakes with white chocolate frosting. They are filled with homemade lemon curd and dusted with sanding sugar. They were absolutely delicious.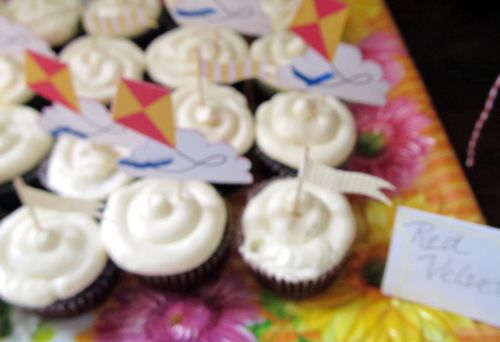 Red Velvet
Sorry for the fuzzy image on this one. You will notice that all the cupcakes had little banners, or in this case little kites. These red velvet cupcakes are topped with the most wonderful roux based frosting. Yes, you read that correctly, you make a roux and beat it with butter and sugar to make a most wonderful emulsion that is smooth, creamy and not overpoweringly sweet. I dig out the recipe and post it another day.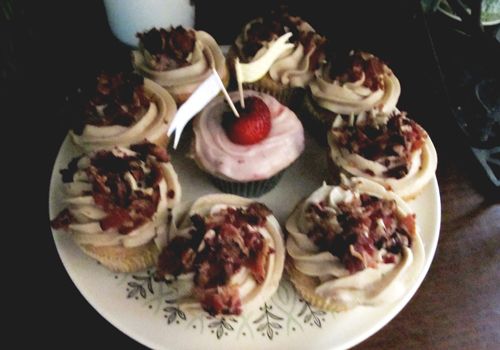 Cupcake surprises
These two cupcakes were surprises to me. Omigosh, beyond the pale.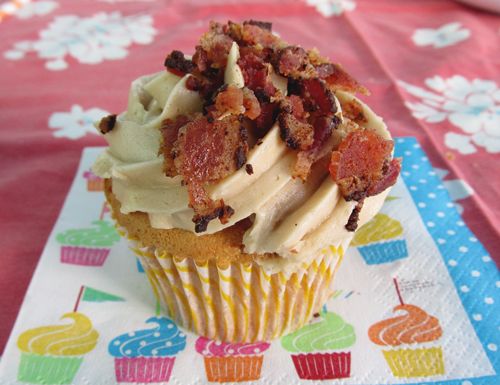 French toast cupcake
What is this you ask? A french toast cupcake. My head is swirling just looking at this photo. I wish to heaven I hadn't eaten a large pulled pork sandwich earlier because I'd have room to eat several more of these. They were terrific. Yes, that's bacon on the top! It's a vanilla bean cake topped with maple frosting (superb) and sprinkled with bacon. Keep in mind my sister is a vegetarian so she didn't get to enjoy this combo. It tasted all the world like a piece of french toast with a side of bacon. I'll try and squeeze the recipe out of her, especially the frosting.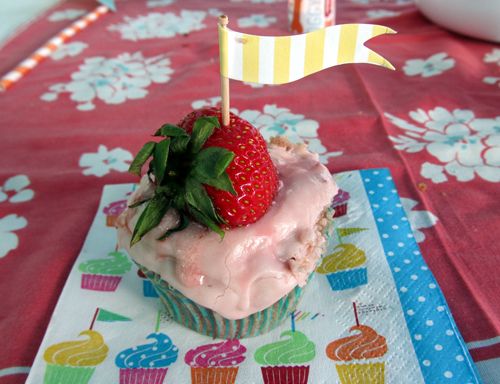 Strawberry basalmic
This was the number one cupcake of the day in my book. The heat caused the frosting to go into meltdown but I did not care. I'd scoop the frosting up off the plate or off the ground, no matter to me. The cake was dense and most, like a good carrot cake. She had steeped strawberries in vanilla basalmic vinegar and mashed them into the frosting. This is the basalmic that she'd purchased from a chef at the farmer's market and she was anxious to put it to good use. The plan was to drizzle a little basalmic reduction over the top but in her haste she'd left it at home.
People eating this cupcake were raving. One woman kept telling her husband, "This is the BEST strawberry cupcake I've ever eaten."
"No kidding, this strawberry cupcake is fabulous. You've got to try it. This is seriously delicious."
The woman went on and on, raving between each bite. Her husband finally turned to her and said, "How many strawberry cupcakes have you eaten in your life?"
Thanks for celebrating with us. I'll be lobbying my sister for a few of the recipes to share with you, especially the strawberry cupcake.
What's the most unusual cupcake you've ever eaten? Have you had one with bacon?