Here's the roux based frosting I promised to share with you. It's also known as butter roux or boiled milk frosting. It's so delicious. There's a bakery around here that is known for it's delicious cupcakes topped with this frosting.
It's light and smooth as you eat it, not cloyingly sweet as some buttercreams and don't get me going about the "bettercream" that is foisted upon us by some of the grocery store bakeries. I've been in the back room and I'll tell you that it's shipped to the store in HUGE buckets.
A couple of weeks ago I hosted our neighborhood Bunco game. This is the inspiration for the cake I made. It's from a past issue of Better Homes and Gardens.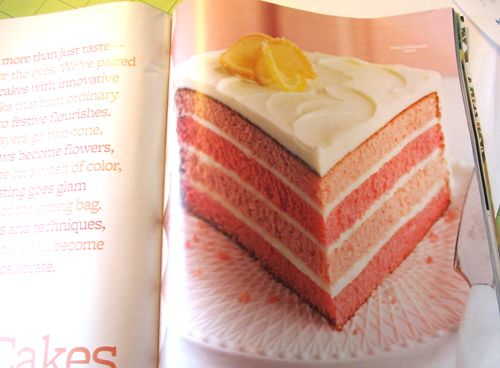 I didn't have a copy of the magazine but was simply going off my memory of what it looked like. I made a batch of white cake batter and tinted it two shades of pink. Instead of four layers, I went with two.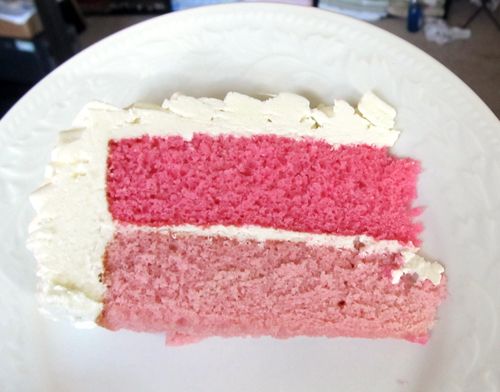 I remembered that they also showed a ribbon type frosting treatment. Here's the inspiration.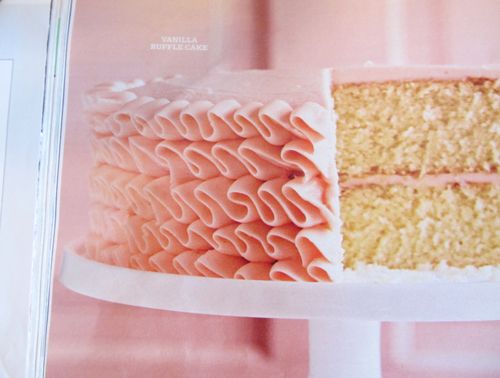 Since my cake was pink I did the frosting in white. It's very easy, just a back and forth motion with a bag and frosting tip.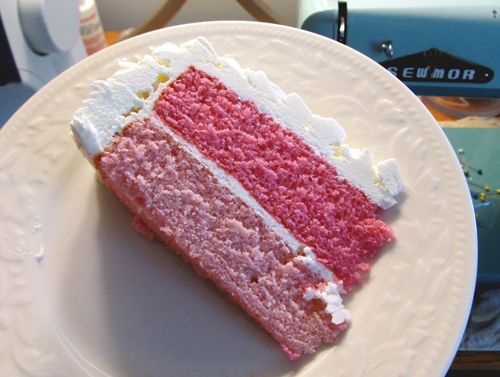 Sorry, I didn't get a picture of the outside of my cake before it got eaten, but it looked fairly similar to the Better Homes and Gardens version.
Here's the recipe. Please try and it let me know what you think.
ERMINE FROSTING
1 cup whole milk
3 TBSP. all purpose flour
pinch of salt
1 cup unsalted butter
1 cup granulated sugar
1 tsp. vanilla extract
Whisk the flour into the milk in a small saucepan and heat over medium high heat. Cook mixture until thickened, whisking constantly to prevent lumps.
Remove from heat and add salt. Pour the mixutre into a clean bowl and cover the surface with plastic wrap. This will stop the cooking and prevent a skin for forming. Set aside to cool slightly.
In a stand mixer, begin creaming the butter and sugar until fluffy. Add the vanilla extract and mix to combine. When milk mixture is slightly cooled, add 1 TBSP. at a time to the creamed butter mixture while the mixer is running on medium speed.
Keep beating..... slowly the gluten will pull the butter into a pseudo emulsion. You should have a very fluffy, light and buttery frosting.
NOTE: Do not let the milk mixture cool completely as you need some heat to melt and emulsify the butter. Also, if it's a hot and humid day you may have to refrigerate the finished product to keep it from sliding off the cake or cupcake.
Made from scratch cake is so delicious and head and shoulders above any box mix. It doesn't take that much more time or steps for a wonderful result. This cake was moist and dense and so yummy.
Let me know if you love Ermine frosting as much as I do.