Yesterday I had to run an errand for the Farmer. It seems that his Ipod quit working and I had to pick up the replacement at the nearest Apple store. The store is in the largest shopping in the Chicago area. It's 29 miles as the crow flies but takes me 50-60 minutes to get there depending on traffic. I dread this trip because of the traffic and the crush of humanity and development. Fifty years ago Schaumburg was a rural farming community with lots of dairy farmers. They moved west to our area when development started.
The only saving grace of this trip is that I knew I could visit a great costume jewelry and accessory store, Forever 21. They have a store in Woodfield that sells only accessories, no clothing as in their other stores. I'm am crazy for their fun jewelry that allows you to be playful without going broke. The store design is fun also.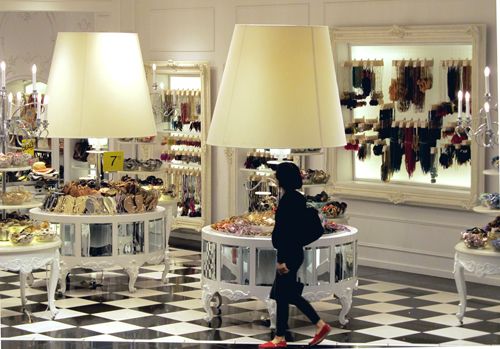 Those are LAMPS on the tables and those are huge lampshades. I'm not quite sure how they stand up but they are not suspended from the ceiling. You'll see just a peek of the plastic "crystal" chandeliers on each side. I love the display tables and also the lighted display alcoves that are framed with picture frames.
Yes, I bought something but I haven't taken a photo of it yet. Stay tuned.
On the drive down the crazy busy highway leading to the mall I saw something out of the corner of my eye. Now keep in mind that this highway is a crazy jumble of businesses, all stacked on top of one another. I was trying to pay attention to the heavy traffic but my radar caught something.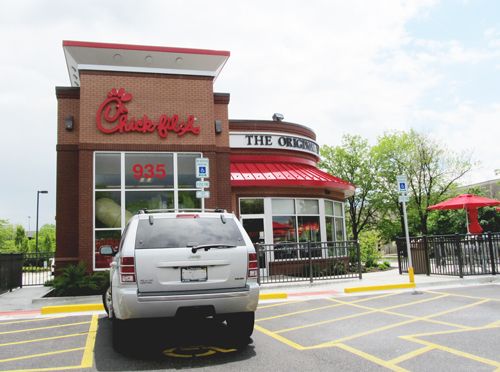 This was tucked behind some trees so it's a wonder I spotted it at all. The sight of it almost got me into an accident. (This photo was taken later when I returned after my errand).
Do you recognize it? If you live outside the American south, probably not. This place hold memories for me. It's.......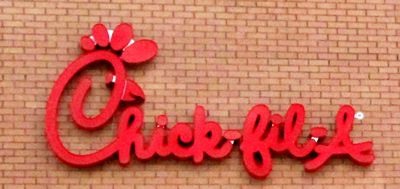 Chick-fil-A! This is a fast food restaurant that serves wonderful chicken sandwiches every day of the week except Sundays. At least I think they still close on Sundays.
In the mid-1970's my dad had retired to Florida and I made a trip down at least once a year to celebrate his birthday. On one of these trips my dad introduced me to Chick-fil-A and I was hooked. I'd eat there everyday and on the last day of my trip I'd stop and get a bag full to carry on the plane. The Farmer would pick me up at the airport and we'd chow down on the sandwiches.
After my father died my visits to Florida were infrequent. The last time I had a Chick-fil-A was when the Farmer participated in a golf tournament in Orlando. (Can you believe I stayed in Orlando and never once visited Disneyworld? It's true.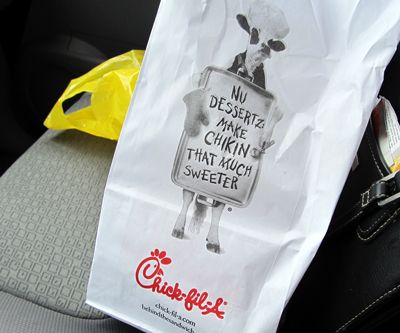 So what's so special about this sandwich besides the fact that it was unobtainable here in northern Illinois?
Number one - it's a REAL chicken breast. Not some chopped up, reconstitued chicken patty. And it comes with their terrific sauce, a combination of honey mustard and barbecue sauce.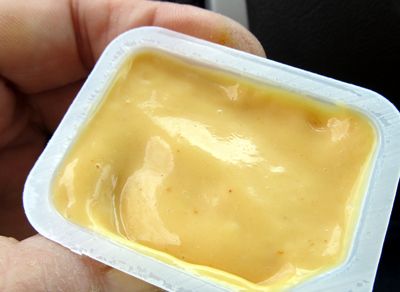 If you order the meal, it comes with waffle fries. (Sorry, no picture of those)
Beware if you're allergic because the chicken is fried in peanut oil. My father was from a long line of peanut and cotton farmers so everything, especially chicken, was fried in peanut oil.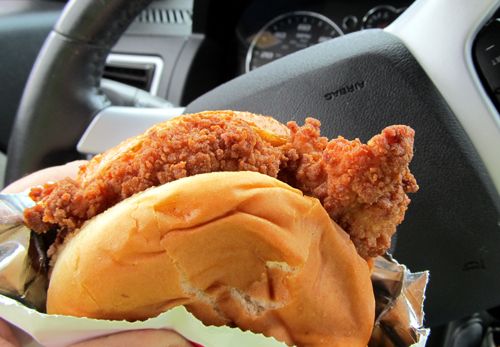 Crispy goodness. As you can see I went through the drive-through and ate in my car, not wanting to share the experience with anyone. No music, no talking, no ambient noise, just me and my Chick-fil-A.
I visit this area infrequently, so I have no clue how long it's been here. I could have been missing out for years? Who forgot to mention this to me? Heads are gonna roll, I tell you.
How about you? Have you ever had a Chick-fil-A? How about some local specialty that you crave when you're far from home?