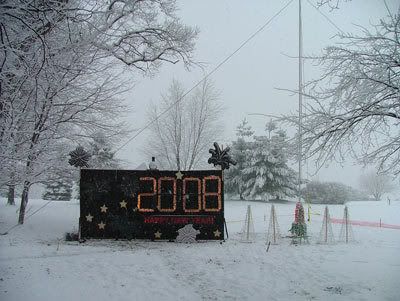 Dateline: Rural Lily Lake, Illinios. Population 750 including pets and livestock.
Neighbors Ed and Betty are transplanted Long Islanders. Several years after moving to Illinois they were talking about how they missed the ball drop in Times Square on New Years Eve. They're the kind of people that live the philosophy of bloom where you are planted and being the fun loving couple that they are they decided to invent the corn drop. Their son Edward John and son-in-law Bryan were in on the plan.
Since they're in the midwest what could be more appropriate than to drop an ear of corn? These guys are creative and wield power tools like an artist works in clay. They fashioned an ear of corn that is covered with yellow and green Christmas lights. Each year the countdown mechanisms have gotten more and more elaborate. Once year there was a big screen TV set up outside and the display was fed through a computer.
Here's Edward John and Bryan working hard on the last minute adjustments to the display.
They duck around back into the command post.
Bryan makes some adjustments behind the scenes.
SPECIAL NOTE TO RESIDENTS OF ILLINOIS, IOWA AND WISCONSIN - Expect a brown out sometime around midnight!
Is it an alien spacecraft? No...it's a 4 1/2 foot ear of corn!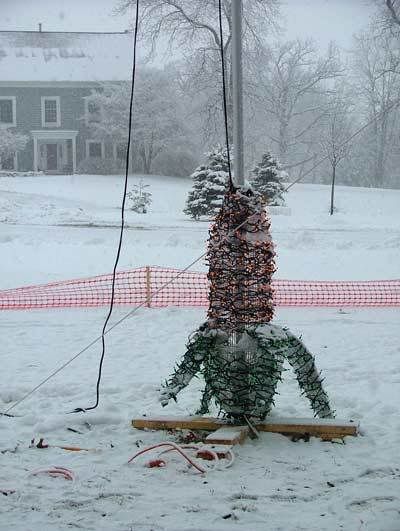 And what's New Year's Eve without music and a disco ball?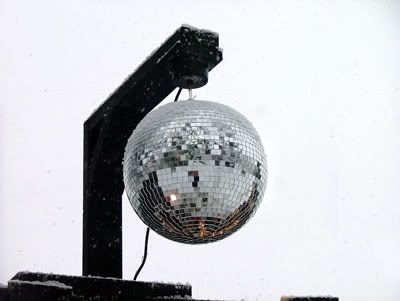 You'll find a list of other drops
HERE.
Thanks for visiting us in rural Illinois. The lesson is that you make your fun wherever you are. If you're living in a place that has winter 3 months or more, you better find a way to get outside and enjoy. We're experiencing a mini-snow storm here and fast approaching white out conditions. Have fun this evening and everyone stay safe!
Tomorrow: We're going to attempt to play paparazzi this evening and get pics of all the local celebs. Also we'll see how Betty looks in her crown!