Yesterday I promised you we'd lie down on the bed and look up at my ceiling. You were probably asking yourself why. There's a story behind the ceiling. Our home was built with a beautiful coffered ceiling in our bedroom that adds volume and makes the room seem very spacious. But it was painted white and was incredibly boring to wake up to each morning or from a heavenly nap.
One day I opened my eyes and something snapped inside of me. Quickly I got dressed and grabbed the keys and drove straight to Sears where I bought a gallon of Oops! paint for $3.00. You know about Ooops! paint don't you? They are the mis-mixed paints that the store gets stuck with. They had a gallon of an interesting dark blue and it was just what I needed for the project. I really liked that fact that it wasn't a "clear-blue-sunny-day-with-bluebirds-flying-amonst-the-clouds" kind of blue because I'm normally thinking outside the box.
The next week was spent up and down a ladder, circling the room at least 8 times.
Note to readers: This kind of activity will build up beatiful calf muscles that will look awesome in spike heels!
For each pass I would add a bit of creamy white paint and slowly the layers of clouds were built up.
Finally after a week I opened my eyes to this: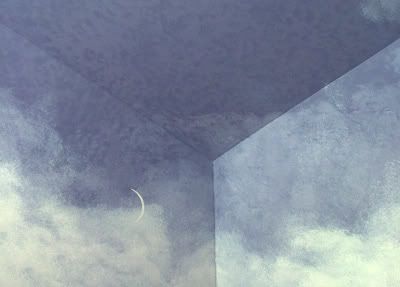 If I didn't lift my head off the pillow I wouldn't see the doorway and could pretend that I was sleeping outdoors.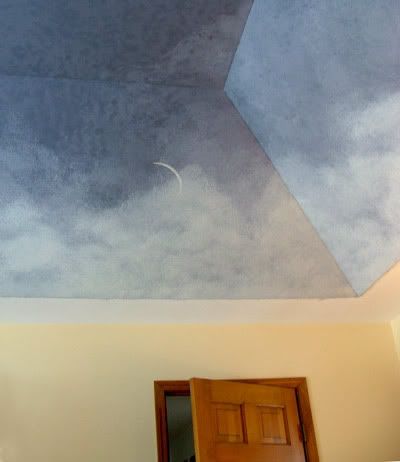 And now I'm going to teach you a lesson about reality and the importance of framing a photograph to tell a story. Looking at those pictures you might have been thinking, "Wow, the farmer and his wife live in a really swell place. A Corn Palace for heaven's sake!" And that's where you'd be wrong because if I pan the camera a little to the left you'll see something else: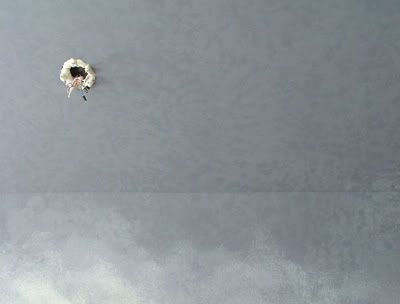 OH!! That's a hole in the ceiling where the farmer removed a ceiling fan about
three years ago.
What's the white stuff? It's some type of expanding foam goop that he squirted around the electrical box. I'm not quite sure why. Perhaps he thought there's an alternate universe on the other side of the ceiling, filled with monsters waiting to descend upon us when we sleep.
And why am I posting this you ask? Two reasons. First I thought perhaps he might be embarrassed into installing a beautiful chandelier. He doesn't read this blog so I'm counting on the neighbors to mention it at the next cocktail party and humiliate him into dealing with it.
Secondly, and most important, I want to remind everyone that if you look at beautiful blogs and feel that perhaps your life doesn't quite measure up, just remember that just out of the camera frame there's probably a big pile of dirty laundry.
Tomorrow there will be a discussion about dead mixmasters!