It seems to me that I've been talking for weeks without taking a break so that we can cook together or crochet together or something!
So today I'm going to quit talking and start cooking! We're going to make one of my favorite pasta sauces, Pink Vodka Sauce. If you don't want to use alcohol, that's fine, it's really good without the Vodka also.
PINK VODKA SAUCE
1 jar pasta sauce (good quality, slightly chunky)
1 TBSP. butter
1 tsp. minced garlic
1/4 cup Vodka
1 TBSP. each fresh minced basil & Italian parsley (also called flat-leafed parsley)
1 1/4 cup whipping cream
1 - 16 oz. package pasta, cooked and drained
Melt the butter in a large pot. Saute the garlic, basil and parsley for a few minutes, until the herbs wilt and release their oils. Add the vodka and heat it begins to give off steam. Pour in the pasta sauce and mix well. Heat for a few minutes and add the whipping cream. Cook on low heat until the sauce thickens. Serve over hot pasta. May be made ahead and slowly heated.
- - - - - - - - - - - - - - - - - - - - - - - - - - - - - - - - - - - - - - - - - - - - - - - - - - - - - - - - - - - - - - - - -
Let's start by getting all our ingredients together. This is one of the few times in my life that I'm organized. I like to measure the food out so that I can just move along without having to stop. We're going to need the following: Vodka, whipping cream, bottled pasta sauce, minced garlic, fresh Italian parsley & basil, butter and pasta of your choice. I'm using Rigatoni because it holds the sauce well.
Let's get started. Mince the garlic and the herbs.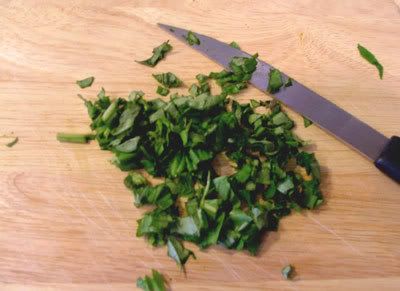 Melt the butter, add the garlic and herbs, saute lightly.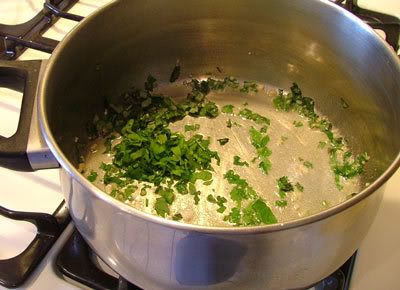 Add the vodka and heat until it begins to steam.
Add the pasta sauce and mix well. Allow to heat through.
There will be pasta sauce left in the jar. Here's a helpful tip. Pour the whipping cream into the pasta jar, replace cap and shake vigorously.
This will loosen the remaining sauce. Pour this mixture into the pan and slowly heat to a simmer.
You've added quite a bit of additional liquid to the pasta sauce, so you're going to need to simmer this down until it thickens up a little. I grate some fresh provolone cheese to sprinkle on top.
Serve on top of hot pasta.
I served this with garlic toast and a bocconcini salad, which is fresh mozzarella balls tossed with olive oil, garlic, cherry tomatoes, minced parsley and basil.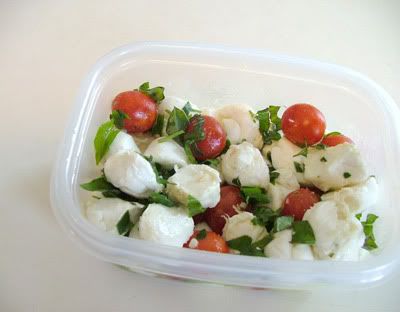 Enjoy!
NOTE: If you look down, just under this post you'll see another post that include a You Tube video. Don't miss it. It's very exciting stuff.