Sometimes my life out here in the cornfields is so exciting I can hardly stand it. The weather was clear on Friday which meant the house move that was scheduled for the previous week could finally take place. The historic Byron Kendall home was moved from Elburn, Illinois to nearby LaFox. The original portion of the home was built from hand hewn logs in 1840.
This move required a 4 mile journey including a tense crossing over an older bridge and a sharp left hand turn onto LaFox Road. Here's the house as it approaches the first hurdle, a set of power lines which must be removed.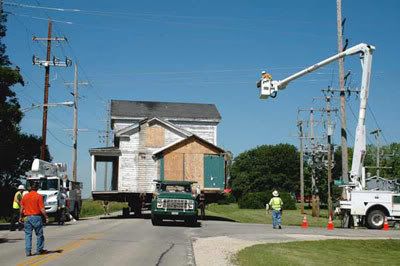 There were large crews from the power company and the phone company on hand to pave the way for the passing home. The house comes down a hill towards the small bridge. This was the most dangerous and difficult part of the journey. The home was stalled here for quite some time while crews reinforced everything before the crossing.
You ain't seen nothing till you've seen a house come down the road. It's certainly not something you see everyday, but it's more common around here than you'd think. The last move I witnessed was when an old two-story country store was moved about a mile from here.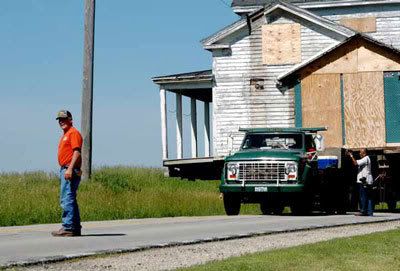 Here's a video of the house pulling out onto the road and heading down the highway.
It reaches it's new home, a spot cleared out of a small cornfield. Do you think it will live on at this location for another 168 years?
I could not believe those guys were under the house adjusting the metal skids WHILE the house was moving. I bet their mother's don't know what they do this.
When I uploaded these onto You Tube I came across quite a few (and more professionally recorded) videos of house and building moves. I love this video of the Trinity Lutheran Church in rural Iowa. The congregation had dwindled from 250 to only 13 members. Unwilling to allow the church to slowly disintegrate out in the cornfields the parishoners managed to have it moved to town, 12 miles away. This video is part of a National Geographic feature called "Monster Moves". This is amazing, funny and as described on You Tube, sometimes resembles a Fellini movie. I love the part when church comes up over the hill.
Well, that was the big excitement around here. Anything as exciting in your part of the world?