A nearby town constructed a butterfly house a couple of years ago. It's a nice place to take my nieces for an afternoon and I often go there by myself to take photos.
Since many of the butterflies are not native to this area there are stringent rules laid down by the U.S.D.A. The entrance and exits have an airlock room. Before you leave the space you're examined to make sure there are no butterflies trying to bust out and cause havoc on the prairie.
It's not a huge space but there's a bench where you can sit and watch these creatures engage in behavior such as puddling. Last season they hosted about 17,000 visitors and many of those were children. It's a great educational opportunity, but only if we want to educate our children and not simply entertain them.
Someone I know home schools her children and one of their activities is to read a farm blog. Her goal is to educate her children in how food is grown, how livestock is raised and what goes on in the day-to-day operation of a family farm. This includes the losses. Livestock die due to many reasons and farm kids grow up with a realistic view on this aspect of the natural world.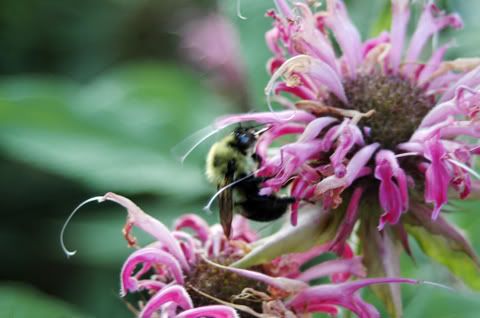 Not so, it seems, in the butterfly house.
It was a hot afternoon when I decided to stop and capture some photos. I left my donation and entered through the airlock room. The sun filtered through the mesh screen covering the hoop structure, giving me the perfect lighting. It was hot and I'd skipped lunch which meant I was feeling crabby.
A number of moms arrived with their children in tow. One of the women insisted on using her child's name in every breath she took, and his name assumed an annoying quality.
"Look, McIntire, look! The butterflies are at the edge of the pool, McIntire. What do you think they're doing McIntire?"
She insisted on continuing this conversation even though little McIntire was obviously not listening.
"Oh look, McIntire, the butterfly has landed on your shoulder!"
At this point the young college student who was working in the butterfly house reminded the mother that the butterflies shouldn't be touched. Luckily the child listened.
The mom asked question, hoping to enlighten her son on the future of the butterflies. She turned to the college kid and asked, "What happens to these butterflies in the wintertime? Where do you send them?"
HUH?????
The poor college kid looked at me, and I looked at him in astonishment. What's he gonna say? At this point the heat has gotten to me big time and I want to turn to little McIntosh and say,
THEY DIE.....ALL THE BUTTERFLIES DIE!!!!!!!!!
Did I mention I was hot and crabby?
Discretion being the better part of valor, I kept my mouth shut and turned to watch how the college student would handle this. Maybe he'd tell McIntire that they're all sent to Miami to hang out with blue haired ladies.
"Well, ma'am, butterflies only live for two weeks.....so, actually they die."
The word "die" had barely left his lips when the mom leapt forward to cover her son's ears. No, no.....little McIntire can't hear the terrible words...the butterflies DIE.
The college kid seem astounded by her actions.
I was not.