We have lots of new guests joining us today via the SITS, otherwise known as
The Secret is in the Sauce.
Those of you who haven't joined in the fun, take a hop over there and check it out.
Instead of just hanging out in the kitchen I thought we'd head outside and have an old fashioned picnic! People don't seem to picnic like they did when I was a kid. We didn't have the money for big excursions and theme parks didn't even exist at that time. Yeah, I know, ancient history. We made our fun by organizing a loosely planned day at a forest preserve or state park. Grab the old quilt and I'll carry the picnic basket.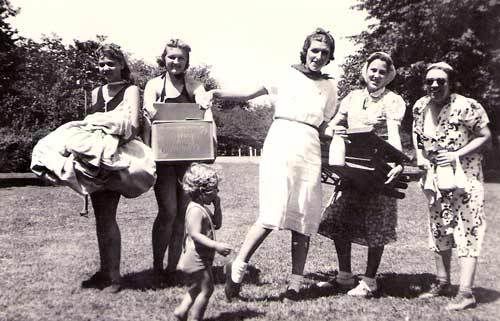 We were all outside in the sunshine for the day and it was a good excuse to leave behind the household chores. I remember playing ball,
eating
, taking naps on old quilts,
eating
, taking hikes,
eating
catching fireflies at dusk and eating. The best thing about the picnics of my childhood was the "potluck element". Everyone brought their favorite family recipe, whether it be an appetizer, casserole, pie or homemade ice cream cranked in an old wooden freezer. I think I see someone cutting a pie in this photo! (For the newcomers - I'm on a lifelong quest to find the perfect piece of pie.)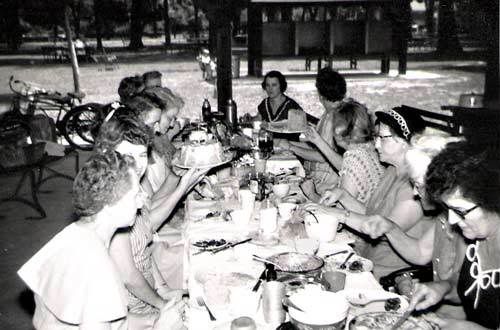 Today we're going to gather in the back forty under the trees. There are plenty of vintage picnic baskets to hold all the food. There's a covered cake plate if someone wants to bake a cake.
I've got a special surprise - I'm giving away one of my aprons which is made from Mary Jane Butter's pattern. Don't worry if you don't win the prize because I'm going to post a tutorial next week and show you how to make one for yourself. It's made from a man's dress shirt and it's easy, I promise!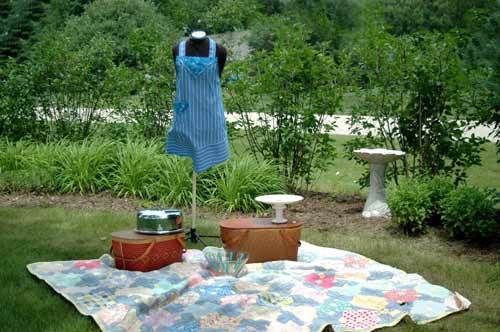 Just leave an comment and let me know what you'd like to bring to the vitual picnic. I'm not going to assign any categories because I hate when people do that. So what if we end up with 52 desserts? It's more fun that way. Just tell us what you're bringing. You don't need to include the recipe. The drawing will be on Sunday morning.
I'll close off entries at midnight (Central Standard Time) on Saturday..... because I seriously need my beauty sleep.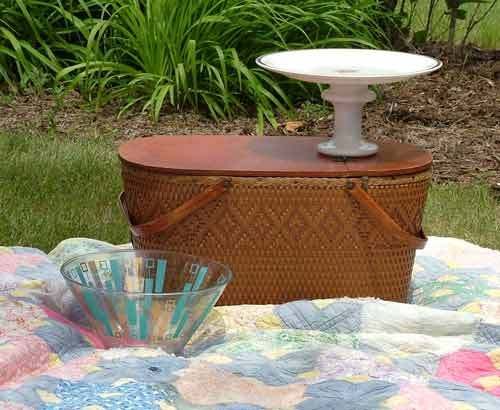 I'm bringing Edna's Fruit Salad which is a recipe my mom has been making since the late 1950's when our neighbor Edna brought it to a picnic. Here's the recipe: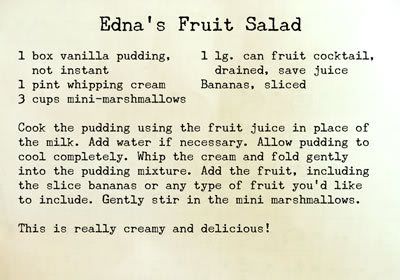 Omigosh, I just thought about that cherry jello dish that has pretzels in it. AHHHH...it's so delicious. Does anyone have the recipe? I'd be forever grateful.
DON'T FORGET - Subscriptions are always FREE here "At Home....." If you like what you see, please subscribe. Don't miss a minute of our exciting life here on the prairie. We're going to go out again next week and watch the corn grow. Remember what I told you, it needs to be knee high by the Fourth of July.