I want to thank EVERYONE who took the time to visit and leave comments yesterday at the Summertime Picnic planning event.
And a special thanks to
Heather
and
Tiffany
at
The Secret in the Sauce
for creating such a great place. In case you haven't guess by now, my blog was their Feature of the Day. What a great idea these ladies have come up with. The comments are so appreciated because we all spend time writing and gathering photographs for our daily posts and we like to know that we're not talking to ourselves!
The entire day was good for my self esteem. HECK, I felt like queen of the prom or better yet
Parade Queen
riding in a nifty vintage car.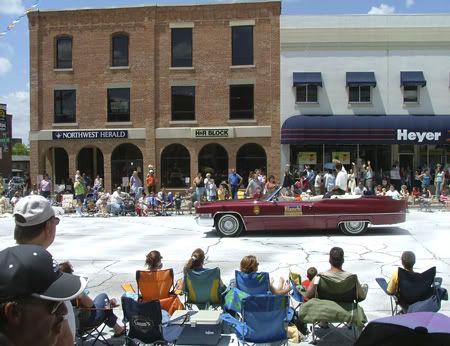 (Milk Days Parade - Harvard, Illinois)
The vintage photos are all from my collection. I have plenty of old family photos but that never stops me from buying other people's family pics at estate sales and flea markets. I can spend hours pouring over old photos. All the other photos on this site are taken by me, I have probably 10,000 images stored here and there. Feel free to use them, just remember to "credit source".
The rendition of "Summertime" that was accompanying yesterday and today's post is by the Preservation Hall Band from New Orleans. It's where the Farmer and I spent our honeymoon, and many hours were spent sitting on the floor at Preservation Hall, listening to their jazz band.
Be sure to come back tomorrow because it's our weekly trip in the Wayback Machine. The picture will be vintage but I'll be putting all the picnic food out. I've had to rent extra tables and hire some crowd control.
Don't miss it, it's going to be fun. We're also going to draw the winner for the apron.
- Suzanne, the Farmer's Wife