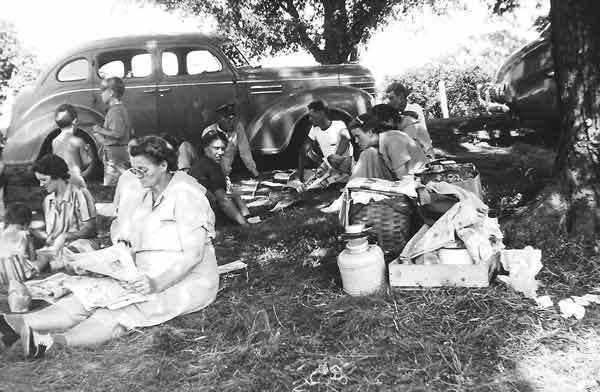 The time: 1941
The place: A picnic grove, somewhere
For those of you who thought the picnic was held on Friday ...... you're wrong! That was just the invitation and the sign up sheet, giving you time to whip up all those fabulous treats you volunteered to bring.
Today is the picnic and the weather is perfect.
If you have time load up your plate and tell us what you've chosen. Like me, I'm sure you've got some questions about some of the food....Pig Pickin' Cake for example. We are seriously going to need the recipe for that one. Keep an eye out for an e-mail because I'm going to be asking some of you for some recipes. I'd love to cook them and post the results. I promise to try and not BURN anything as I've been known to do in the past.
Before we hit the food table, we're going to draw for that apron.
The winner is NUMBER 16 - - -
THIRKELLGIRL
. E-mail me to claim your prize. Remember to send me your address.
OK...grab your plates. Here's the line up. Sorry I couldn't create links and I had to stop adding menu items around noonish on Saturday. There are only so many hours in a day and the Farmer needs his laundry done!

APPETIZERS
Cowboy Caviar with Tortilla chips - Embee
Celery filled with Peanut butter & Raisins - Harper
Deviled Eggs - Chris, Refining Life
Mango Salsa - Trish
Bacon Wrapped Dates - Jill
Artichoke dip with Pita Chips = Mrs. r
Hummus - mrs. R
Potato Skins - Mrs. R
Chips & Salsa - Ginny
Green onions fresh from the garden - Dejoni
Baked Crab Rangoons - Caroline
Onion Dip & Lay's Potato Chips - Romi
SALADS
Marinated Vegetable Salad - Nan
Tortellini Salad - thirkellgirl
Green Salad with Strawberries, Pear, Pecans & gorgonzola -- Angie
Three Bean Salad - Chris, Refining Life
Black Bean & Rice Salad - Trish
Snickers Salad - Heather
Ramen Noodle Salad - Hot Tub Lizzy
Taco Salad - Hot Tub Lizzy
Corn Salad - Amy
Spinach Chicken Salad - Lucy
Macaroni Salad - marty 52
Macaroni Salad - Julie n
Cookie Salad = Tinabean1988
Pasta Salad - Dejoni
Tandori Chicken Salad - Mommy Meryl
Oreo Salad - Kimberly
Orzo salad - Cara
Watergate Salad - Trixi
Pasta Salad - Michelle
Quinoa Tabbouleh salad - Windycityvegan
BREADS
Family Reunion Rolls - Chandra
Homemade Sausage Rolls Trasha
Garlic Bread - Adrienne
MAIN COURSE
Egg Salad Sandwiches - Vee
Buttermilk Fried Chicken - Dara
Ham & cheese sandwiches - Kat
Frikadeller - Jacki
Bacon & Egg Pie = Karen
Ham & Biscuits - Tam
Fried Chicken - Liberty Post Editor
Smoked Brisket & homemade flour tortillas - deanna
Spaghetti with angel hair pasta - adrienne
CASSEROLES
Paula Deen's Squash Casserole - Laura
Pioneer Woman's Green Beans - Trasha
FRUIT
Watermelon - mamahut
Fresh Fruit tray - party of 5
Smith County Watermelon - Deanna
Fresh Fruit - The Millers
Watermelon - Nona
Watermelon - Half Past kissin time
FRUIT SALAD
Cherry Fluff Salad - Heidi
Fruit Pizza - Anonymous
Ambrosia Salad - Ann
Mango Mousse - C.C.
POTATO SALAD
Baked Potato Salad - Ashley
Pat's Potato Salad - Pat
Roasted New Potato Salad - Melissa Lester
MIL's potato Salad - Mom Taxi Julie
Mom's Potato Salad -Dejoni
Sweet Potato Hash = mamasphere
DRINK
Ice Tea & lemonade - Chris, Refining Life
Huge Cooler with Southern Sweet Iced Tea - The epps family
Fresh Squeezed Lemonade - Kacey
Gallon of Sweet Tea - Kimmyj
HOMEMADE ROOT BEER!!!!! - Tinabean 1988
Lemonade - Swirl Girl
Mojito's - Swirl Girl
Thermos jug filled with homemade pink lemonade - Karenann
Homemade lemonade - Jenn
CAKE
Pig Pickin Cake - Laura
Black Magic Cake - Tiffany
Strawberry Rhubarb Coffee Cake - Kim's treasures
Pea Pickin' Cake - Kimmy J
Banana Cake - Christie
Yellow Cake, lemon curd filling, buttercream icing...decorated~Katkit13
Cake - Jessica G.
COOKIES
Chocolate Chip Cookies - Angie
Snickerdoodles - Hot Tub Lizzy
Best Chocolate Chip Cookies = Mrs. S
Oatmeal Cookies with Raisins & Walnuts - Jenn
Grandma's Sugar Cookies - Cottage Rose
Chocolate Chip Cookies - Romi
Potato Chip Cookies - Rue
DESSERT
Oreo Cheesecake - Tara
Pioneer Woman's Pie - Sheri
Old Fashioned Banana Pudding - Graham Shenanigans
Peanut Butter & Jelly Bars - Rhiana
The Perfect Pie - Apple Joos
Texas Sheet Cake - Simple Answer
Brownies - Tracy P.
Pavlova = Karen
Caramel Chocolate Brownies - TinaBean 1988
Awesome Brownies - Trasha
Grasshopper Brownies - Themama
Derby Pie - dejoni
Banana Pudding - Neurotically Yours
Muddy Buddies - Adrienne
Lemon Meringue Ice Cream Pie - Nichole
Blackberry Cobbler -Kara
Killer Brownies - Katkit 13
Granny's homemade apple pie with apricot Brandy = Missy
Gooseberry pie - Missy
Strawberry Shortcake = Cara
Strawberry Pie - Stacey Moore
OTHER
Books - Bobbi
Horseshoes, Badminton, croquet - Stefanie
Basket to hold all the cell phones, and other modern annoyances - Stefani
extra Quilts - Marty 52
Tea towels to wipe your hands - Karenann
Sparklers - Amy
We'll light the sparklers later, after the fireflies go to sleep for the night.
-Suzanne