When I am old I shall watch parades in my wheelchair! Hopefully I will be interested and engaged enough in life to get dressed up and venture into town for a celebration.
While digging through my external hard drive in search of the Harvard Milk Days Parade photo, I came across a little gem. The entire day was a slice of small town America and everywhere my photographer's eye looked I found another interesting scene.
The street had been coated with a mixture that transformed it into a white carpet. Families arrived early to stake their claim and arrange their chairs. Kids darted out onto the parade route, rushing back to their parents when the fire truck sirens signaled the arrival of the first marching band. The Farmer found his spot and held fast while I walked both sides of the street hunting down photo ops.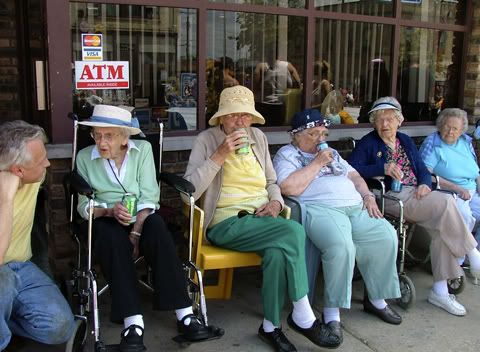 These adorable ladies had been transported to the parade route from their senior living facility. They were set up on a prime piece of real estate along the parade route, lined up under the awning of a local restaurant and provided with cold drinks. As you can see they got all dolled up for the event. It was a VERY HOT day and I was shocked to see them dressed in long pants and sweaters! I guess this is proof positive that hot flashes eventually subside and the internal thermostat runs in the opposite direction.
I was so drawn to the woman on the left. They were all characters, trust me, but the woman on the left was so engaged in telling her story and the man was so intent on listening. It was such a precious moment. I hope they didn't mind the intrusion of a camera lens.
Can you imagine her tale? Perhaps it was a memory from days gone by, or what she had for breakfast that morning. There's no way to know. The gentleman seemed truly interested in her words as if she were imparting some rare wisdom.
Don't we all hope to have someone to listen to our stories.....when we are old?