Shortly after logging on to the internet for the first time I landed on a gardening site where I met some great friends. They were the cyber variety that eventually became the kind you meet in person.
One of those early cyber friends was Maggie, who lived in Texas. She had a lovely garden. Well, as lovely as is possible under the blazing Texas sun. She was always unhappy with the fact that she coudn't grow things like peonies and delphiniums. Her greatest sadness though, was the inability to grow a hosta of any type. No matter how much nurturing and shade she provided them, they burned into crispy bits.
I was unaware of the depth of her despair when I posted a photo of my "Big Blue" hosta (Hosta Elegans). The caption to the photo read, "This Hosta Elegans grows to a width of between 6 to 8 feet, depending on the weather conditions."
Maggie was beside herself.
"WHAT??? That's can't be true. It's one of those urban myths," she posted.
I went back out into the garden, grabbing my camera and the first item within reach that would offer a sense of scale. What did I grab? A martini glass. And thereafter the martini glass became the standard of measurement here at the farmhouse.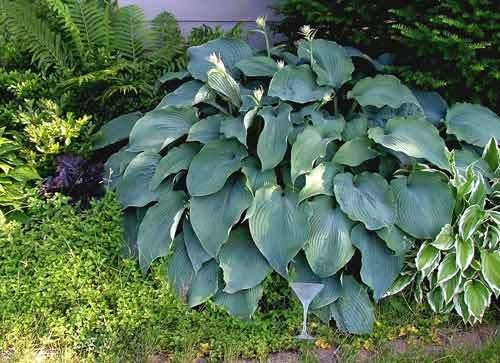 (Where's Waldo? the martini glass? Can you spot it?)

Even with the martini glass as evidence Maggie found it impossible to imagine a hosta that was wider than she was tall.
The online gardening group planned a get-together here in northern Illinois and Maggie made plans to come and see the monster for herself.
She arrived at our home early on a Sunday morning, before the appointed time for the brunch. The dew was still hanging on Big Blue's leaves, like transparent pearls. Maggie stopped in her tracks at the sight of the legendary blue hosta. Her shocked quickly turned to a flood of emotions and she laughed and cried all at the same time. Tears of pure joy at the sight of the plant and distraught that she would never be able to have one in her garden.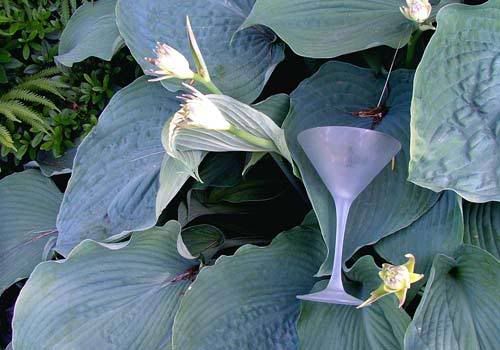 "It's a monster!" she exclaimed. "You must take my picture sitting in front of it, otherwise my friends will never believe me."
She went back home to Texas, giving up her dreams of hosta in the garden. A short time later she e-mailed me:
"Sometimes we must pay attention to our limitations. If we try to swim against our own reality we only end up making ourselves miserable."
- - - - - - - - - - - - - - - - - - - - - - - - - - - - - - - - - - - - - - - - - - - - - - - - - - - - - - - - - - - - - - - - - - - -
THE REST OF THE STORY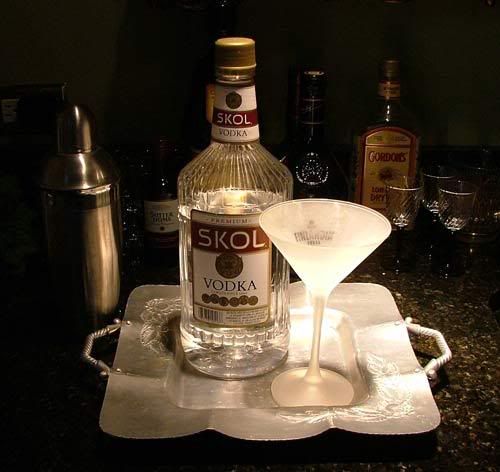 The morning of the brunch, after I took photos of Maggie and hosta, I dragged her inside to help me pop the breakfast casserole in the oven. I wanted to fix her a Bloody Mary to cheer her up, but instead I created a martini and named it "Blue Hosta Martini". She had drank three. But heck, she had a ride back to her hotel.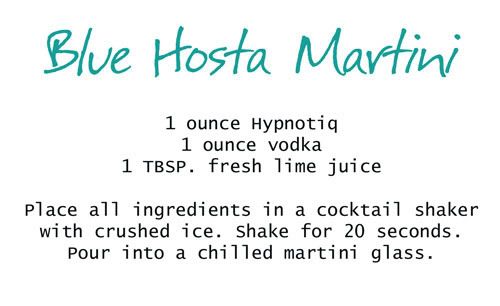 Thanks for visiting my garden and don't forget to pull some weeds on your way out.