HERE'S MY HOROSCOPE:
Be careful not to disclose family matters to people who aren't involved, even if it seems innocent to you. What you say might be misunderstood or misconstrued.
KEEP THAT IN MIND AS YOU READ THIS STORY.
The Farmer is out of town on business and that's a good thing because it allowed me the chance to get over to Sam's Club and buy a stockpile of toilet tissue. I was on a budget so I only bought 40 rolls this trip, usually I buy at least 80. Why? Because the Farmer gets very, very nervous if the toilet tissue stockpile falls below a certain level.
I'm serious. It causes him some type of psychological distress. If he sees there are only 2 or 3 rolls in the linen closet he starts to panic. You'd think that the linen closet was a nuclear reactor threatening to melt down and the rolls of toilet paper were the only thing keeping us from doom. I'm not quite sure what it's all about. I don't think his family ever used a Sears & Roebuck catalog, that would have be MY family! He was stationed at Fort Knox so maybe he developed this stockpiling behavior in the Army.
I dream about getting creative with 80 rolls of toilet paper. Perhaps I could construct a model of the Taj Mahal or the Great Pyramid at Giza. Perhaps not. I think the pyramid would require at least 120 rolls but after a quick attempt .....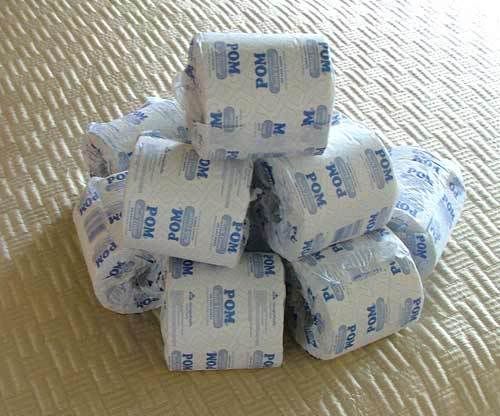 it's apparent that it would require some engineering skills and at least 1,200 rolls of toilet paper. The budget just won't stand for that.
We have 2 bathrooms and 2 half baths which means if you divide the 40 rolls equally you'll only have 10 rolls in each closet. That's below his comfort level so I've taken to cheating. I place a few rolls in the half baths, storing the remainder in our bathroom.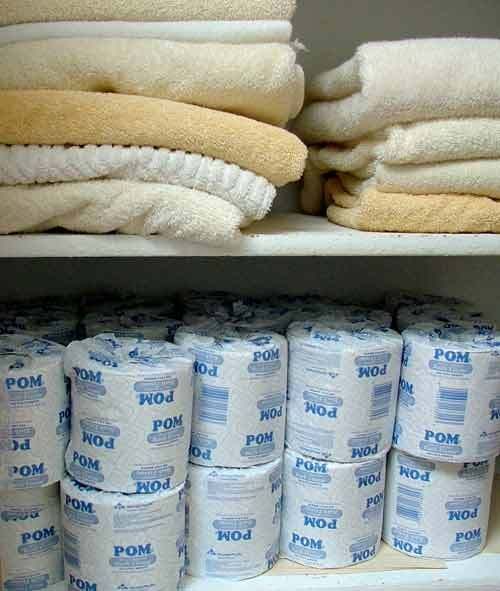 Toilet paper oddities continue through the generations. The Farmer's Son could care less but the Farmer's Daughter comes to visit she brings her own super-soft toilet paper. She has declared that the stuff I buy in bulk is equal to using a piece of kindling wood. That's quite a graphic image, isn't it?
To clear up any controversy concerning the display of toilet paper, it should come up and OVER the top. Why is this the correct method? Because it allows you to impress your guests with your expertise in origami folding.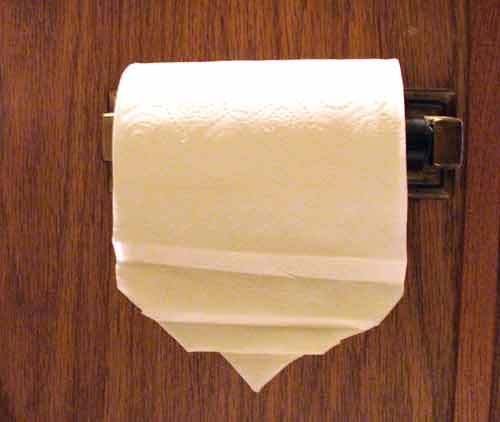 Fort Knox
The linen closet is re-stocked, the planets are aligned and all is right with the world.
Remember my horoscope? Let me ask you.....

- As readers of my blog, you're involved, right?
- Did you misunderstand?
- Did you misconstrue?

Good. I didn't think so.