Are you a procrastinator, or one of those super organized people who makes sure that things don't pile up on them?
My name is Suzanne, and I'm a procrastinator! Honestly, I try very hard not to be. You think by now I'd learn my lesson but NO...........
So I had promised the second installment of the Make-Do Apron. I knew it was due. But I waited and put it off till the last minute. No problem I told myself. You've made tons of these aprons, it's a no brainer. HA!
When humans are feeling all confident that they're in control, the Master of the Universe steps in and says, "Whoa. Get off your high horse."
It was a slightly overcast day on Thursday and the light was perfect for photographing my work as I went along. Just beautiful. Perfect. But the universe had other ideas. My little in-home studio faces south. While I was gathering my materials together the universe cooked this up on the north side of the house. That is a VERY LARGE house that is dwarfed by those clouds.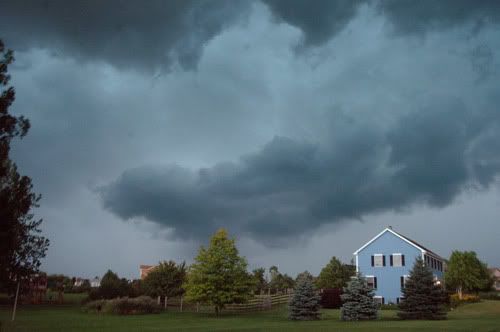 It suddenly seemed a little dark in the studio as I turned my sewing machine and iron on. Hmmmm, what could it be, this dark pall that was threatening to ruin my sewing and photo session? Ahhhhhh, it's Armageddon a comin'.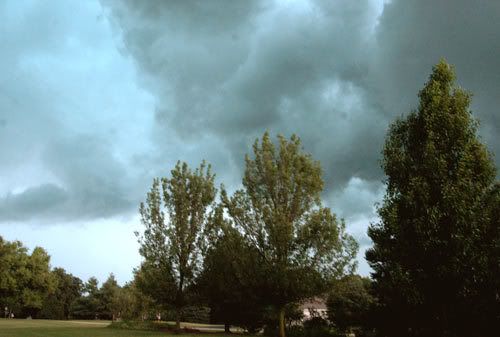 Not only is the tutorial threatened, I'm now possibly facing the task of herding two chihuahua's, one cat and one 87-year-old mother-in-law into the basement. Living in the midwest you become a very good judge of weather conditions. And wait, if you don't like the weather wait ten minutes, it will change.
I went outside and found this roaring overhead at 50 miles per hour!!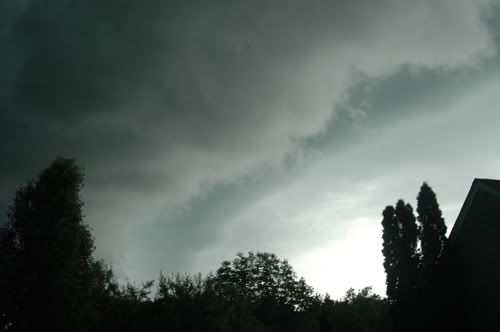 It's called a bow echo cloud. I only know that because Ginger Zee, the really cute and perky weather person on the local news told me so. The cloud didn't alarm me though because it's not something that breeds tornadoes. If you see something like this.......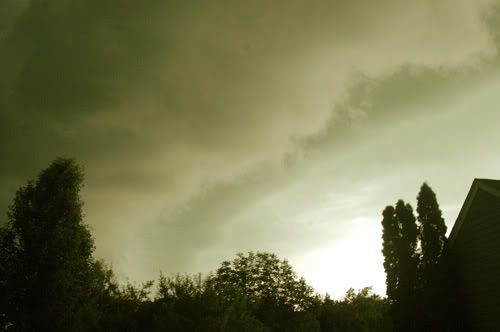 you run for cover because the hammer's coming down and you're the nail. I can't even recreate in Photoshop the sick green that the sky turns before a tornado strikes.
But I digress. The storm produced it's quick and furious rain, the electricity was off for awhile, the wonderful light was dashed and I was putting the apron together in all types of weird ways. Translation: I did some ripping out and re-sewing.
You think I'd learn a lesson, but I found myself once again dancing at the
Procrastinator's Ball.
Anybody else want to join me?