Last week in an attempt to keep up with the 2 acres of mowing I set out on a mission to keep ahead of the grass. Anytime it rains there's a growing spurt and you want to try and mow often, otherwise if you let it get too long you end up with what looks like two acres of hay. Then you'll be dragging the grass catcher behind the tractor and hunting for somewhere to dump it all and that is not fun. Speaking of the onslaught of rain lately, someone (who will remain nameless) took the long pipe off the sump pump discharge pipe. The result was that the force of the water flooded the basement window well and YES, cause some water to leak into the basement. All together now......ARRRGGGHHHH. Had to clean that mess up and then I fired up my trusty steed - - - - - the Cub Cadet.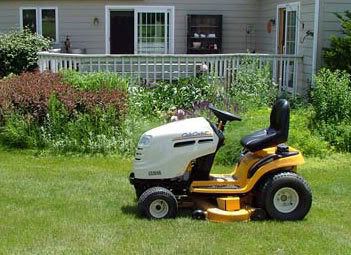 What I didn't realize was that the force of the water also eroded a large hole in the side of the yard. I proceeded to drive the tractor directly into the hole. The left front wheel went in with a thud and it was apparent I wasn't getting out until a certain weight-lifting son got home. He lifted the tractor out and we discovered that the wheel was bent. That meant I needed to put in a call to one of my peeps. If you look at my peep list on the sidebar, you'll see that R. F. Houtz is my tractor guy. "R" stands for Rob, I don't know what the "F" stands for. Here he is in his office.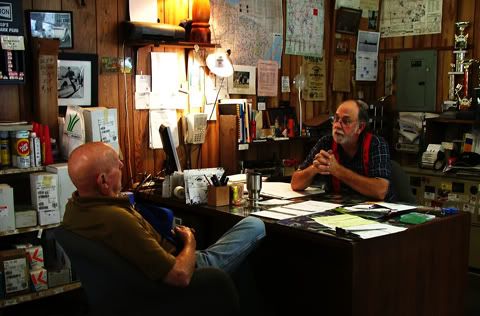 '
Out in the country we call this the "sit a spell" style of doing business.
They remodeled the showroom, pulling down the paneling and painting the walls in Cub Cadet blue and white. It's OK, I guess. He's brought back in some of his stuff, I see there's deer head on the wall but I miss the lamps and the mood lighting!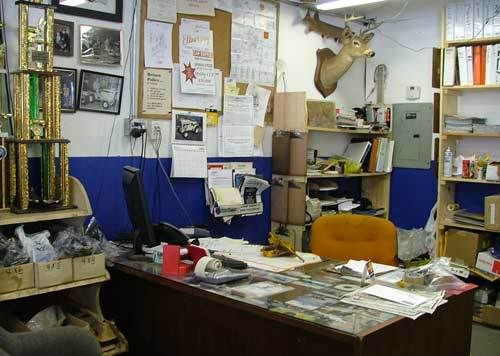 R.F. sent his crew out to pick up the tractor. It was back in no time and I'm back in the saddle. His fast service was indispensable in keeping me out of the business of making hay (dry grass).
Have you developed relationship with local business people that allow you to add them to your list of "Trusty Peeps"? Do you have peeps who help you grease the wheels of living day-to-day? Maybe you have a housekeeper....I could only wish I had someone like that.
So, let me know and make me green with envy over your wonderful peeps!
NOTE: I've got a terrific addition to my Peeps list that I will announce tomorrow. This entailed negotiations and everything!!