Do you remember
the day I saw elephants and touring bands?
The most amazing things can happen when you venture out from homebase and drive the 9 miles towards something!
A tour bus was parked at a local gas station and I took a photo because I'd never heard of Tin Horse and it occurred to me that maybe I should have.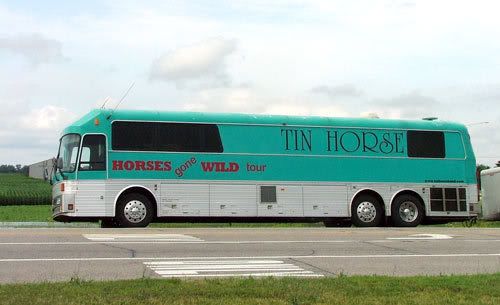 I went home and looked them up on
Dogpile.
Sure enough, there they were - a Chicago country group made up of three women. I listened and I liked what I heard. At first, due to my deep southern roots, I was skeptical of the concept of a country group from Chicago, of all places.
You have to understand that my family has been living about 50 miles from Nashville since the late 1700's and my great-great-great-grandfather has a roadside marker. I'm no slouch when it comes to bar hopping in Nashville. The Farmer and I spent many a night in
Tootie's Orchid Lounge.
What happens in Tootsie's, stays in Tootsie's. It was the spot where country music stars would hang out after the Opry show. They'd sit around and jam together.
After listening to a bit of Tin Horse, I filled out a questionnaire, put myself on their mailing list and became a "Pony", which is basically one of their peeps.
I was surprised to discover that my tour bus sighting was covered on their website. After heated negotiations.....OK, it was just one e-mail, the ladies of Tin Horse have agreed to be the official band of this blog! I'm a real music lover and the chance to have my own official blog band was more than I could resist!
There's a cute video of them visiting
Dolly at the Speedway gas station
in Indiana on one of their road trips. Be sure to turn the music off first.
Unfortunately they're music isn't on Playlist yet, but hopefully soon. Today you're listening to Keith Urban, just to get you in the country mood.
Be sure to pop over to the
Tin Horse Website
and check them out. They'll be playing nearby in the middle of August and we're all going to the show. Maybe they'll give me an interview. I'll need to start working on some questions now.
Thanks for visting today. I hope you like Tin Horse!