Last week I promised to show you how to make your own bias tape and Vee's apron project is hinged on this information. There's just nothing like making your ownb because you can create bias tape from different fabrics and that gives you great creative potential.
Perhaps I should just go into the bias-tape-making business! No, maybe not.
I'm going to show you the method I learned in a quilting class. A yard of fabric makes LOTS of bias tape. The piece of fabric that I chose for the Make-Do Apron was only 26 inches long and I got 8 1/2 yards of bias tape from that. So, let's get started.
You're going to need:
- fabric
- a ruler
- a disappearing marking pen
- pins
- an iron
I'm going to take a moment here to say that if you want to learn how to sew, you're going to need to make friends with your iron. There's no way to get good results unless you press, press, press and press some more.
Lay out your fabric on a flat surface. Grab the selvage edge and fold it over to line up with the opposite edge, like this: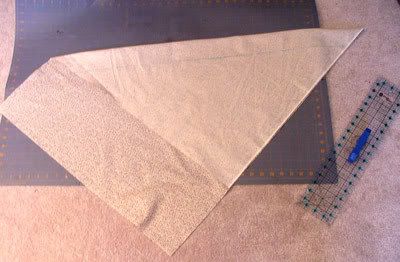 Finger press the diagonal. To finger press just put pressure on the fabric, open the fabric and you'll have a diagonal line. Mark this with the pen and a ruler. Now you need to decide how wide you want the tape to be. You're going to be folding it in twice, so figure the final width X 4. I just make the 2-1/2 inches wide and after it's all folded it's a nice final size.
Using your ruler, make marks every 2-1/2 inches and "connect-the-dots". Do this all across the fabric.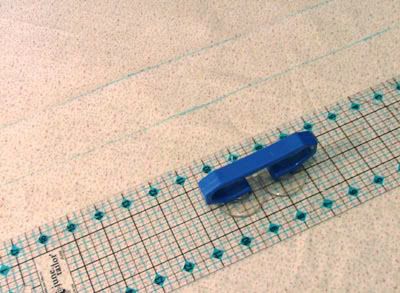 It's going to start looking like this: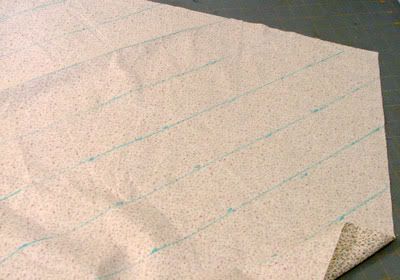 Now you're going to match the edge together, but instead of lining up exactly, you're going to move the fabric to the next line, so it's jogged one over. Pin the edges, matching the blue lines.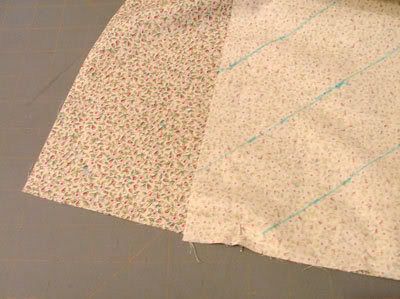 Sew a 1/4 inch seam.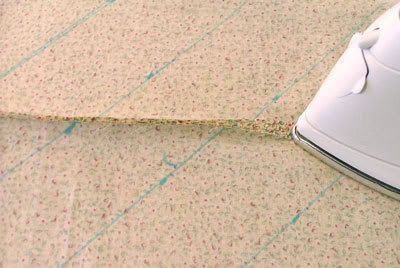 Here's my sewing machine "Beverly". She's been complaining that she's not getting enough face time here "At Home.....".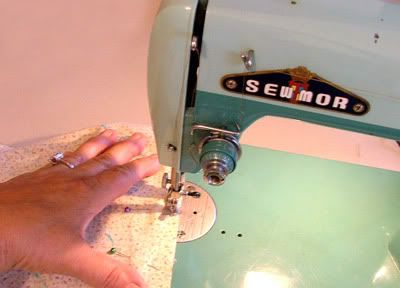 Press the seam open and flat.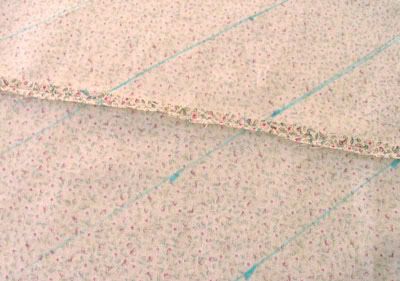 Now start cutting on the line. What's going to happen is that you're going to be cutting one continuous strip around and around the tube. You're going to end up with long strips of bias cut fabric.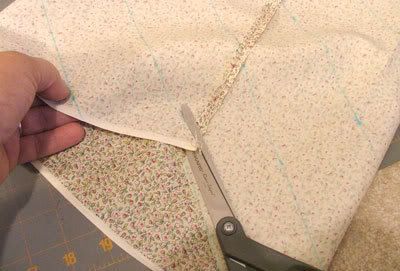 Fold the tape in half and press.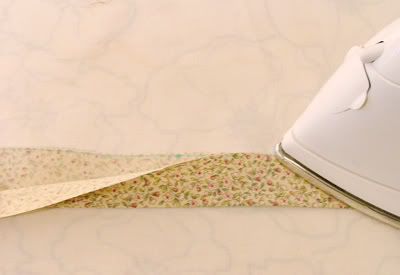 Open it up and fold one edge to the center line. Press the outside edge being careful not to press the center line flat.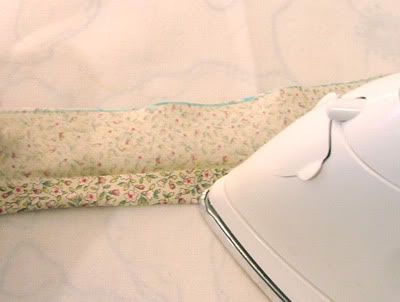 Fold the opposite side in, but this time don't go to the center line. Make this a smaller fold.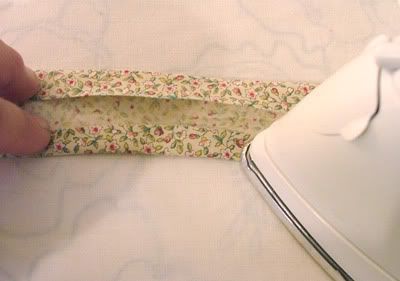 When it's folded it will look like this.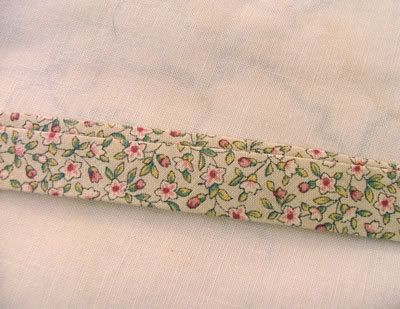 That's what you're looking for, one wider side and one narrower side.
If you have any questions, please feel free to ask. Now.....go make some bias tape in fantastic patterns!!